Parking10 Aeropuerto Barajas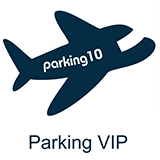 Best value for money and... FREE CAR WASH!. Cheap, practical and convenient car park specialising in a rapid vehicle pick up and drop off service for all terminals at Madrid Barajas Airport. Car park protected by a metal perimeter fence and enhanced by an integral 24 hour security system.
Enjoy the most convenient and expedient car parking service on offer within the airport grounds. 24 hour service All you have to do is make your way to your required terminal at Madrid Barajas Airport. A Meet and Greet service will be provided by a clearly identifiable driver who will take charge of your vehicle and transfer it to an open air car park enhanced by an integral security system in operation 24 hours a day, 365 days of the year. PROCEDURE:
Obtain a quote at any time of day or night by using the search engine to check availability.
Complete the on line booking form.
Receive an immediate confirmation by SMS text to your mobile phone and by email, including the contact telephone number for the car park drivers, and detailed instructions regarding the drop-off and pick-up of your vehicle.
OUTBOUND:
Call the driver 20 minutes before you expect to arrive at the airport. Make your way towards your designated terminal at Madrid Barajas Airport and a chauffeur, easily identifiable by his blue waistcoat with the Parking 10 (previously Aparkar) company logo, will immediately take charge of your vehicle. Terminal T1: the drop off will be at "DEPARTURES". Terminal T2: the drop off will be at "DEPARTURES". Terminal T4: the drop off will be at "DEPARTURES".
To establish the condition of your vehicle, he will carry out checks both inside and out. For this reason you are advised to allow plenty of time and not arrive at the last minute, as the process may take several minutes to complete.
Once the checks have been concluded, the driver will give you a signed copy of the audit he made of the vehicle, which will remain under surveillance in a protected compound with 24 hour security systems in place.
In the event that some incident should arise either during transit or in situ in the car park, the vehicle is protected by civil liability insurance for quick and comprehensive cover.
ON YOUR RETURN:
When you have disembarked, call the driver to let him know you have landed and he will bring your vehicle to the airport terminal. Terminal T1: the pick up will be at "DEPARTURES". Terminal T2: the pick up will be at "DEPARTURES". Terminal T4: the pick up will be at "DEPARTURES".
Finally, you can ask the chauffeur to inspect the condition of the vehicle with you before leaving.
Please Note: Remember that you must leave your car keys with the chauffeur so that he can transfer the vehicle to the car park. Additional Services: The car park also offers mechanic services, paintwork and bodywork repairs. Ask the chauffeur for further information regarding these services when you hand over your car.
Directions
You will receive a booking voucher containing the car park's address and telephone number, along with any relevant instructions and directions, upon confirming your reservation.
To view the location of the car park, please see the map on the website.
Features
Meet and Greet

Secure

Tarmaced

Vehicle Condition Check

Barrier Entry

Insured Car Park

Car Servicing

CCTV

24 Hour
Customer Reviews
Manuel
Friday, March 20, 2020

contrate el servicio de entrega y recogida del coche en el aeropuerto y cuando llegue a Madrid, me recogieron en un coche para levarme a un parking. Page un servicio u un tiempo que despues no se cumplio.
MARIA ARANTZAZU
Monday, March 16, 2020

TUVIMOS UNA CANCELACION DEL VUELO Y NO NOS QUSIERON COBRAR NADA, DESPUES DE HABERSE LLEVADO EL VEHICULO Y TODO. GRANDES!!!!!!
Davide
Sunday, March 15, 2020

todavia estoy esperando el rembolso , ya que m coche se quedo aparcado 3 dias en vez de 7 y de la oficina central me remandan a la pagina parkia como responsable de la reserva!
Antonio
Saturday, March 14, 2020

Todo perfecto, recogida y entrega rápidas e incluso habían lavado el coche. Repetiré sin duda
ESTEBAN
Thursday, March 12, 2020

Excelente en todos los sentidos.
alba
Wednesday, March 11, 2020

Muy amables , a la hora de entregar el vehiculo llegue antes de lo previsto llamé y no me pusieron ningun inconveniente en recogerlo antes. Lo volveria a usar sin dudarlo
Concepción
Wednesday, March 11, 2020

ANTONIO
Wednesday, March 11, 2020

tatiana
Tuesday, March 10, 2020

servicio excelente rapido amable y facil de identificar y ademas me devolvieron el coche limpio. sin duda repetire con ellos.
ENRIQUE
Tuesday, March 10, 2020

Antonio
Tuesday, March 10, 2020

Cuando nos entregó el coche, el chico insistió que no estaba pagada y que teníamos que pagarle ahí mismo. Cuando le enseñé el justificante de pago que imprimí al hacer la reserva, se enfadó, nos devolvió la llave casi tirándomela y se fue. Muy desagradable el chico. Me da lástima, porque gente así os hace perder clientes!
RAMON FRANCISCO
Monday, March 9, 2020

Engaño publicitario, dicen que te la an el coche y no fue asi
JOSE LUIS
Saturday, March 7, 2020

JUAN MANUEL
Thursday, March 5, 2020

PILAR
Thursday, March 5, 2020

Genial como siempre, las personas super amables y profesionales, un 10
Vivienne
Wednesday, March 4, 2020

Jorge
Tuesday, March 3, 2020

Francisco
Monday, March 2, 2020

El servicio fue pagado en el momento de la reserva y al entregarme el vehículo me lo volvieron a cobrar. Ahora tengo que perder mi tiempo que también vale dinero en reclamar el correspondiente abono. Esto hace que nunca pueda volver a contar con su empresa ni aconsejarla a nadie. Todo esto después de un buen trabajo de sus trabajadores es una lastima para su empresa y una molestia desagradable para mi. Rogaría una solución que no me implique más molestias. Espero su respuesta
José Miguel
Sunday, March 1, 2020

Antonio
Thursday, February 27, 2020

Púes menos mal que no borre el mensaje del pago, porque me intentaron cobrar otra vez, me daun recibo de entrega y no pone nada pero cuando me enseña la otra mitad el conductor me dice que le tengo que abonar y que me de prisa en buscarlo, me parece un intento de engaño