Larga Estancia AENA Barajas T4 Airport
Due to the global pandemic (COVID-19), we are receiving an extremely high amount of contacts from customers. Please bear with us.
If you would like to manage your booking please click here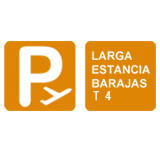 AENA'S LONG AWAITED SOLUTION INSIDE T4 Park in the Long Stay Car Park with its covered premises and continuous transfers to T4. This is the official car park offered by AENA as a concession.
PROCEDURE FOR USE OF CAR PARK:
AT THE ENTRANCE:
Take a ticket at the entrance to the car park. If this is closed, go to the Customer Service Office to let the staff know that you are waiting. They will look after you and sort out any problems.
Drive into the car park and park your car. Note down on the ticket the number of the parking space where you have left your car. This will help you to locate it on your return.
Show your booking confirmation voucher to the staff at the Customer Service Office. Remember that you also need to show the ticket that you took on entering the car park. Take the opportunity at this stage to ask any questions that you might have regarding the operational procedures in place at the car park or about the terminal that you need to go to for your flight.
Make your way to the minibus stop located alongside the Customer Service Office.
ON YOUR RETURN:
At the airport, once you have collected all your luggage, make your way to the Terminal 4 Car Park minibus stop next to the Hotels minibus stop outside Arrivals. As you exit the Arrivals hall, the bus stop is to your left.
---
BUS LINKS:
If your flight has landed between 07.00 and midnight, just wait at the bus stop. The minibus comes by every 10 minutes.
If your flight has landed between midnight and 07.00, once you get to the minibus stop, press the intercom button on the signpost indicating the Long Stay Car Park at T4. You will be collected within a very short time.
---
IMPORTANT, PLEASE NOTE:
Back at the car park, return to your vehicle and hand over your parking ticket together with your Booking Voucher, which will have been stamped on entry, to the car park staff manning the Customer Service Office.
The Customer Service Office is open 24 hours a day, in any event, to deal with any issue that might arise and assist car park customers as required.
.
The parking bays are under cover.
You are not required to leave your car keys with the car park staff.
Directions
You will receive a booking voucher containing the car park's address and telephone number, along with any relevant instructions and directions, upon confirming your reservation.
To view the location of the car park, please see the map on the website.
Features
Barrier Entry

Disabled Parking

No Pre-Payment

Perimeter Fence

Secure

Well Lit

Tarmaced

Free Transfers

Insured Car Park

CCTV

Undercover

24 Hour

Shuttle bus
Customer Reviews
Enrique
Thursday, March 19, 2020

Joaquin
Sunday, March 8, 2020

jean louis
Friday, February 28, 2020

Parking idéal pour l'aéroport de Madrid, une navette nous amène au terminal 4. Attention toute fois, pour les longs courriers, le terminal 4S se trouve à une station de métro après l'enregistrement des bagages, prévoyez 30 min supplémentaires pour l'atteindre. Le parking est couvert et surveillé. J'ai réservé sur internet, à la barrière une caméra reconnait votre plaque d'immatriculation et vous délivre un ticket à garder pour le paiement et la sortie à la fin de votre séjour.
Jose Antonio
Monday, February 24, 2020

Sistema de traslados muy deficiente. No cumplió horarios.
Oscar
Thursday, February 20, 2020

Julian
Thursday, February 20, 2020

Gabino Vicente
Tuesday, February 18, 2020

Paul
Monday, February 10, 2020

José Ramón
Tuesday, February 4, 2020

Edmundo Alberto
Monday, January 20, 2020

Leyó mal mi matrícula. En vez de 2810 leyó 8100. Pero no pasó nada, lo entendieron y fue todo bien.
JOSÉ
Tuesday, January 14, 2020

Francisco Javier
Wednesday, January 8, 2020

Silvia Patricia
Sunday, January 5, 2020

Gracias!!. Os recomendaré.
Ramón
Thursday, January 2, 2020

Eladio Manuel
Monday, December 30, 2019

Antonio
Monday, December 23, 2019

Miguel Ángel
Sunday, December 15, 2019

Antonio jose
Tuesday, December 10, 2019

Cristina
Tuesday, December 10, 2019

Todo perfecto, tanto la entrega del vehículo como la recogida y el servicio del traslado también estupendo a pesar de necesitarlo de madrugada
Iñigo
Monday, December 9, 2019