Rated Excellent
Bristol Airport Parking
All our car parks have anti-covid measures
Number of Car Parks
Best Priced per day
Best Rated Car Park
Closest Car Park

5

Oakwood Parking Bristol

£0.18

Multi-Storey Bristol Airport

0.22 Km
Compare Bristol Airport Parking
Already this year, over 8 million passengers have used Bristol airport for their overseas travel. With an increasing number of people choosing to use the airport, we have made partnered with a range of car parking facilities to ensure that ample choice is offered to our customers.
With this in mind, we have approved and secured five reliable and safe car parks for Bristol Airport. Thanks to the low pricing available of ParkVia, booking Bristol Airport parking through our platform offers significantly greater value than other companies are able to provide.
Booking car parking at Bristol Airport shouldn't be a stressful experience, and with ParkVia we strive to make it hassle-free and easy! It was this idea that led us to launch our quick and simple booking system, which allows you to pay online, cutting-out another step in the process when the day of travel comes around.
The next question you might ask yourself is: will you choose to park on official 'on-site' spaces, or prefer to take advantage of Bristol Airport's off-site parking options? Both have advantages, such as proximity and cost, it's simply your personal preference.
What our customers say about parking at Bristol.
Compare Parking at Bristol
View and compare approved car park operators at this location
Car park map
Find the most conveniently located Bristol car parks.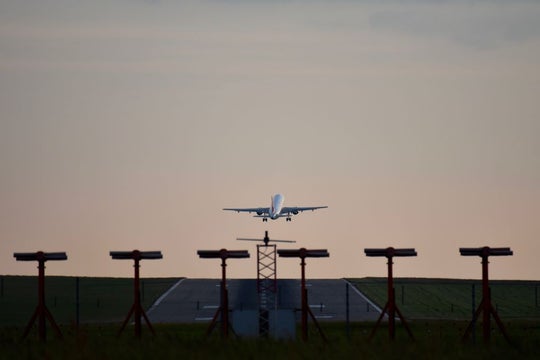 Cheap Bristol Airport Parking
Most people looking for car parking at Bristol Airport will have cost-efficiency in mind. Whether you're travelling for business or leisure, we know that small fees and charges can quickly add up when you go abroad, so keeping parking costs low and transparent is paramount to us.
When thinking about cost, we always like to advise that you explore the tariffs of each car park to find out how much it will cost you for your stay. When it comes to Bristol Airport parking, prices vary depending on the car park and the length of your stay, so it's fortunate that our filtering tool makes it easy to do your research!
You'll already know that booking airport car parking with ParkVia is great value, but how can we guarantee cheap airport parking in Bristol? It's simple: we promise our very own ParkVia Best Price Guarantee, which ensures that you will never pay more with us that you would have done if you had turned up and paid on the day.
Our Best Price Guarantee allows us to price match a whole range of parking options at Bristol airport, including those that tie in premium products, such as covered parking and valet services.
Find out more about our cheap car parking at Bristol International Airport.
Bristol Airport Parking Services and Options
Whilst it is worth reading reviews of the car parks and their facilities (as previous travellers will have a good idea of what guests can expect when parking their car at Bristol airport), here is some information on our Bristol Airport parking services and options to help you make a decision that's right for your trip.
Bristol Airport Park and Ride
Due to a combination of value and convenience, park and ride car parks remain one of the most popular choices for travellers. With the relative speed with which you can transfer from your vehicle to your departure terminal thanks to regular shuttle bus running times and the guarantee of knowing you'll be dropped off at the correct location, Park and Ride options make a lot of sense.
We work with a number of trusted car parks, both off and on-site, to ensure that our customers can book a fully-reserved space, giving them peace of mind about that particular part of their journey.
Bristol Airport Valet Parking
For those looking for airport valet parking, we offer a number of different options in Bristol. From meet and greet, to handy, convenient transfer connections, valet parking often takes less time to collect your car after your holiday, not to mention the personal service you'll get from professional and friendly staff.
Here you can find the right valet car parking option for you.
Bristol Airport Disabled Parking
At ParkVia, we work with operators who provide parking spaces that are accessible for all travellers. We also offer additional services at Bristol, such as: car washing on request (additional cost), transfers between airports, luggage wrapping and more.
Bristol Airport Parking Tips
Looking for the best Bristol airport parking tips? We like to be as helpful as possible to our customers to make your journey simple. With that in mind, here are some recommendations and useful bits of information about parking a Bristol Airport from the ParkVia team:
Book early. It is possible to save up to 60% when you book your Bristol airport car park in advance. This isn't always possible, especially for last minute trips, but it is worth checking because even short notice advanced bookings can save money on an on-site or off-site car park.
Read reviews. If you're planning on using Bristol airport parking, then it's worth checking the reviews that users have left on the specific car park you require. This can help you be sure that it's the right car park for you.
Arrive early for shuttles. The free shuttle service at Bristol airport requires that you arrive at the airport 3 hours before departure.
Although all car parks we use are secure, for extra peace of mind, consider those with CCTV, night surveillance or protective gates.
Bristol Airport Information
Bristol airport opened in 1957 at Lulsgate Bottom in North Somerset under the name of Lulsgate airport replacing what was known as then as Whitchurch airport. Between the years 1997 to 2010, the airport was known as Bristol International Airport. Airlines currently operating out of Bristol Airport include Easyjet, Ryanair and BMI Regional.
Bristol airport is a commercial airport serving the city of Bristol in England. In 2013 it handled 6.1 million passengers, making it the 9th busiest airport in the United Kingdom after London Heathrow, London Gatwick, Manchester airport, London Stansted, London Luton, Birmingham and Glasgow International. To avoid the problem of being not able to find a car parking space at the airport be sure to pre-book your parking with ParkVia.
Stay connected to receive exclusive deals & offers
Something went wrong.
Thank you!