Rated Excellent
Heathrow Airport Parking
All our car parks have anti-covid measures
Number of Car Parks
Best Priced per day
Best Rated Car Park
Closest Car Park
27
Lion Parking - Meet and greet

£7.23

Airtime - Meet and Greet - All Terminals
Lion Parking - Meet and greet

0.53 Km
About Heathrow airport parking
Finding a parking space at the airport can often be a stressful experience. With ParkVia you can take the hassle out of finding a parking space by pre-booking your Heathrow airport parking online.
All car parks come with CCTV, a perimeter fence and are also well-lit so you can be confident that your vehicle is safe and secure. The car park has also been rewarded with the Park Mark award - an award given only to those car parks with the highest level of security.
You can easily pre-book your Heathrow airport car park through ParkVia. To secure your Heathrow airport parking just visit ParkVia and complete your booking online - it's fast and easy. Should you need further help please visit our How to book page.
What our customers say about parking at Heathrow.
Compare Parking at Heathrow
View and compare approved car park operators at this location
Car park map
Find the most conveniently located Heathrow car parks.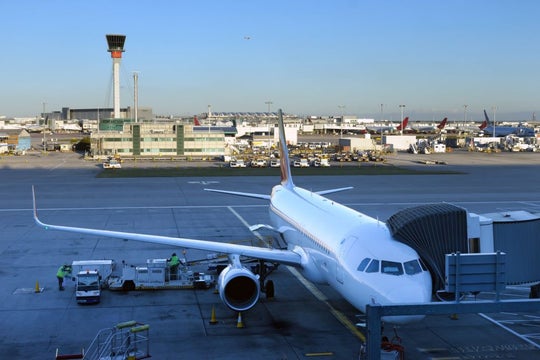 Compare Heathrow parking & book in under 5 minutes!
With a large number of car parks available both at Heathrow Airport and in the nearby area, choosing the one that's right for your budget and requirements isn't always as easy as it should be. That's why ParkVia makes it as easy as possible to compare Heathrow parking options!
Simply enter the dates you need parking, and we will show you all the car parks that have availability on those dates. You are then able to quickly and easily filter the results based on features and considerations that are important to you such as price, distance from your terminal and previous customer ratings, as well as being able to choose whether you only want to book one of the official Heathrow on site car parks.
We currently work with over 20 car parks at Heathrow airport, so when you use ParkVia you can be confident that not only will we have plenty of car parks with availability for the days of your trip, but that there will be a wide selection of different options to choose from, so that you can always find a car park that suits your needs.
When you are comparing the available Heathrow parking options, we provide a handy bullet point list of features to make it as simple as possible to choose from. Once you've selected a car park, the booking and payment process is quick and you will shortly receive a confirmation email with the details you need to be able to turn up and park hassle-free on the day of your flight!
Pre-book for cheap Heathrow parking
If you are looking for the cheapest parking at Heathrow Airport, then you will be pleased to know that by booking in advance with ParkVia it's possible to save up to 60% of the cost of your parking compared with the price of booking the same car park on the day of your flight.
We also offer a Best Price Guarantee which means that if, after booking your parking, you find that you could have booked the same parking for less directly at the airport, then we will refund the difference, no questions asked!
You can therefore be confident when booking with ParkVia that you will be getting your chosen parking for the best available price!
When comparing Heathrow car park prices you will find that the lowest cost parking is often a little further away from the terminal buildings. If you choose this parking then you will be provided with a free shuttle transfer to your terminal, so you can still guarantee a smooth and stress-free experience! Parking near Heathrow Airport is a great way to save money however we recommend that you arrive at your car park slightly earlier to build in time for the transfer.
Travellers looking to save money on their Heathrow Airport parking should book as far in advance as possible, as prices are always lower, further away from the planned day of arrival at the car park.
Heathrow Long Stay Parking & Short Stay Parking
Whatever the length of your trip, when you drive to the airport you can guarantee that there will be a wide choice of suitable parking options available for you to book through ParkVia.
For long term parking at Heathrow Airport, you can reserve a space at the official Heathrow car parks which are conveniently located directly in front of the various terminal buildings. You may pay slightly more for these car parks than some of the off-site options, however, this is not always the case, and with on-site parking, you are guaranteed the ultimate convenience for your trip.
When booking a long stay car park at Heathrow you will find that the daily cost of your parking is cheaper than for short stay parking.
For Heathrow short stay parking we also offer both on-site and off-site options, including meet and greet parking, which is ideal for a short trip where you want to spend as little time as possible at the airport both before and after your flight. Many short stay car parks at Heathrow also offer free cancellation, so if you are planning a spontaneous short break away and have to cancel for any reason then you can rest assured that you won't end up out of pocket!
Heathrow car parking options
ParkVia aims to provide not only the widest selection of Heathrow car parks available to book in one place but also the car parks which offer the features that are most popular with travellers. You can guarantee that any car park that you book through our website is fully secure, however, you may wish for example to book covered parking, or valet parking at Heathrow that includes a full car wash while you are away!
Heathrow airport information
Heathrow is London's main airport and is the busiest airport in the United Kingdom. Heathrow is 14 miles west of central London and located near the south end of the London Borough of Hillingdon.
Heathrow Airport is used by over 90 airlines flying to 170 destinations worldwide. The airport is the main hub for British Airways and Virgin Atlantic. Heathrow has two parallel east–west runways and five terminals on a site that covers 12.14 square kilometres.
Stay connected to receive exclusive deals & offers
Something went wrong.
Thank you!