Parking Bajo Coste Barajas AENA T1 - T2 - T3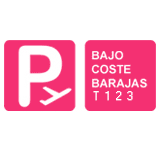 The OFFICIAL CAR PARK OF BARAJAS AIRPORT - now provides a LOW COST T1-T2-T3 parking option (P6) at Madrid Airport. AENA is offering a solution for the Airport's customers who are seeking a low cost car park within the official airport complex. Park your car and benefit from a free transfer in the courtesy bus, day or night. The car park is offered under concession by AENA.
PROCEDURE FOR USE OF THE CAR PARK
ON ENTERING THE CAR PARK:

Take a ticket at the entrance barrier to access the car park.
Enter the car park and stop briefly alongside the Customer Service Office.
Hand over your email confirmation of booking to the staff in the Customer Service Office (the email will be sent to you when you complete a booking and is the proof of your reservation), and take the opportunity to ask about anything that is concerning you as regards the system in operation at the car park, or to check which terminal you need to go to to catch your flight.
Then park your car in any available parking bay. The car park staff will point you in the right direction.
Make your way to the Airport transit bus stop; ask at the Customer Service Office to find out which is the nearest.
Once you are on board the bus, if you are unsure about which terminal you are going to, show the driver where you are aiming to get to. He/she will help you.
ON LEAVING THE AIRPORT AND THE CAR PARK:
At the airport, once you have collected all your luggage, make your way to the transit bus stop serving Terminal 2 Arrivals for your direct transfer to the Low Cost T1-T2-T3 car park.
If your flight arrives between 06:30 and 23:30 hours, simply wait at the bus stop. A bus comes roughly every five minutes.
If your flight arrives between 23:30 and 02:00 hours, wait at the bus stop. A bus comes every 20 minutes.
If your flight arrives between 02:30 and 06:30 hours, wait at the bus stop. A bus comes every 40 minutes.
At the car park return to your car and, as you are leaving, hand over the ticket that you took on entering the car park to pay at the exit.
The Customer Service Office is open 24 hours a day, without exception, to deal with any queries and assist the car park's customers with whatever problems they might have. The telephone number for the office will be sent in the email confirming your booking.
IMPORTANT, PLEASE NOTE:
The transit bus serves all the Airport terminals.
Rates are charged based on time of entry to the car park, with one hour's grace on leaving.
We regret that we cannot guarantee that the parking space will be under cover.
It is NOT necessary to leave your car keys with the car park staff.
You are strongly advised to allow plenty of time to get to the airport and to factor in transfer schedules. We suggest that you make such considerations when planning your arrival time at the car park.
---
The shuttle bus runs on a loop circuit as follows:

Flight departure terminals served from the car park in order are T1, T2, and T4.


Service to the car park from Flight Arrivals terminals in order are T4, T3 llegadas, T2 , Bajo Coste, T1.
Directions
You will receive a booking voucher containing the car park's address and telephone number, along with any relevant instructions and directions, upon confirming your reservation.
To view the location of the car park, please see the map on the website.
Features
Barrier Entry

Disabled Parking

Free Transfers

No Pre-Payment

Perimeter Fence

Secure

Shuttle bus

Well Lit

Concreted

Keep your Car Keys

CCTV

24 Hour
Customer Reviews
Antonio
Tuesday, March 10, 2020

Manuel
Tuesday, February 11, 2020

Lorenzo
Thursday, February 6, 2020

Hernando
Saturday, January 25, 2020

Lo que mas valoro es la relación precio y calidad
Izzat
Sunday, January 5, 2020

Francisco Jesús
Monday, December 16, 2019

Conviene que aclaren en la página web, que no es necesario imprimir la reserva. De hecho, no pude imprimir la reserva
Mario
Tuesday, December 10, 2019

Raúl
Sunday, December 1, 2019

Elisa
Saturday, November 23, 2019

Falta señalizacion e información de donde está el parking y para recoger el coche costo muchísimo encontrar la parada del autobús de tránsito correspondiente... Pésima orientacion
José Antonio
Monday, November 18, 2019

Indicador de Google Maps incorrecto
EULOGIO
Monday, November 11, 2019

Joao
Monday, November 4, 2019

La sinalizacion para el autobus es mui mala
RAFAEL
Wednesday, October 30, 2019

Se debería informar mejor, sobre dónde efectuar el pago por la web. Alli, en el parking, pensaba que se pagaba en la caseta, y tuve que volver al Dique Sur, a pagar en ventanilla lo andado (que lo indica, pero cuando uno vuelve cansado del viaje, no se da cuenta de primeras).
Jesus
Monday, October 28, 2019

ABEL
Sunday, October 20, 2019

Juan José
Friday, October 18, 2019

Todo prefecto y fácil. Y un precio razonable
Jose Antonio
Monday, October 14, 2019

Jose Antonio
Monday, September 30, 2019

Alexis
Saturday, September 28, 2019

JESUS ANGEL
Tuesday, September 10, 2019