Bajo Coste Barajas AENA T4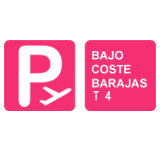 THE MOST LONG AWAITED SOLUTION FOR TERMINAL T4: The T4 AENA Low Cost Car Park at Madrid-Barajas Airport. This car park is a concession offered by AENA for low cost parking within the official airport premises. Park your car in a covered installation and benefit from a free transfer to Terminal 4 24 hours a day.
PROCEDURE FOR USE OF THE CAR PARK:
AT THE ENTRANCE:
Take a ticket at the entrance barrier allowing access to the car park.
Enter the car park and park your car. Make a note on your ticket of the number of the parking space where you have left your car. This will help you to find it again on your return.
Show the printout of your Car Parking Reservation to the staff manning the Customer Service Office. Remember that you must also show the ticket that you took on entering the car park.
Take this opportunity to ask any questions concerning the operational procedure at the car park or about the terminal that you have to go to for your flight.
Make your way to the bus stop located beside the Customer Service Office.
ON YOUR RETURN:
At the airport, once you have collected all your luggage, make your way to the Terminal 4 Car Park minibus stop outside Arrivals. This bus stop is next to the Hotels' minibus stop, and is to your left as you exit the Arrivals terminal.
BUS LINKS TO TERMINAL 4:
If your flight lands between 07.00 and midnight, just wait at the bus stop. The minibus comes along every 30 minutes.
If your flight is due to land between midnight and 07.00, once you are at the bus stop, press the intercom button on the signpost indicating the Low Cost Car Park at T4. You will be collected within a very short time.
Back at the car park, return to your vehicle and hand over your parking ticket together with your Booking Voucher, which will have been stamped on entry, to the car park staff manning the Customer Service Office. The Customer Service Office is open 24 hours a day, in any event, to deal with any issue that might arise and assist car park customers as required.
IMPORTANT, PLEASE NOTE:
Prices are calculated from the moment each customer enters the car park and include one hour's grace period on leaving.
You are NOT required to leave your car keys with the car park staff.
All the parking bays are under cover.
Parking for saloon cars and vans/campervans (not suitable for caravans and trailers).
Please Note: It is very important to plan your journey well in advance. Please allow plenty of time for parking and transfers.
When the car park is very full, you may be offered the use of an alternative car park which you are not obliged to accept; the alternative site will be of a higher standard at no extra cost.
Timetable for shuttle transfers to Terminal 4:
07.00, 07.30, 08.00, 08.30 and so on, on each hour and half hour until midnight.
During the night from midnight until 07.00 the shuttle bus will remain at its base at the car park and will operate only when required. Reserve a parking space, make your way to the car park and take advantage of the free courtesy transfer service to Terminal 4.
Timetable of shuttle transfers back to the car park:
07.10, 07.40, 08.10, 08.40 and so on, at 10 minutes and 40 minutes past each hour until 00.10 (10 past midnight).
During the night from midnight until 07.00 the shuttle bus will remain at its base at the car park and will operate only when required.
If your flight arrives during the night-time hours, please call the telephone number sent in the email confirming your booking and ask for the shuttle bus to be sent to collect you.
Directions
You will receive a booking voucher containing the car park's address and telephone number, along with any relevant instructions and directions, upon confirming your reservation.
To view the location of the car park, please see the map on the website.
Features
Barrier Entry

Disabled Parking

Free Transfers

No Pre-Payment

Perimeter Fence

Secure

Well Lit

Tarmaced

Height Restriction

CCTV

Undercover

24 Hour

Shuttle bus
Customer Reviews
Angel
Wednesday, July 27, 2016

Dolores
Sunday, April 17, 2016

Muy satisfecha con el servicio. Gracias.
Juan Carlos
Wednesday, November 25, 2015

muy contento con el servicio
MIGUEL ANGEL
Monday, October 19, 2015

ME HA PARECIDO MUY COMODO Y MUY RAPIDO EL SERVICIO DE BUS A LA TERMINAL
Cesar
Wednesday, October 7, 2015

Muy contento con el servicio, aunque es mucho mas barato en otros aeropuertos
LUIS-FERNANDO
Monday, August 24, 2015

Todo correcto, desde el principio, hasta el final.
Raul
Monday, August 24, 2015

sara
Friday, August 14, 2015

Recomendable. Satisfecha con el servicio.
Jose Manuel
Friday, June 12, 2015

un servicio excelente, frecuencia de microbus cada 10 min y muy cerca de la T4, repetire....
Daniel
Monday, May 4, 2015

Buen servicio muy recomendable
encarnacion
Monday, January 27, 2014

Tania
Wednesday, January 8, 2014

Excelente ubicacion, mucho sitio para aparcar. Muy practico
Luis Fabian
Tuesday, January 7, 2014

El servicio ha estado satisfactorio, la recogida en aeropuerto correcta. He quedado muy confome con vuestras prestaciones.
María
Tuesday, January 7, 2014

Todo perfecto. La única pega es la baja frecuencia (cada 30 minutos) de los autobuses que comunican el parking con la terminal. Por lo demás muy bien, un servicio muy profesional y cómodo.
Jesús
Tuesday, January 7, 2014

Una muy buena opción para dejar el coche. Seguramente repetiré, sobre todo por la cercanía con la T4.
José María
Monday, January 6, 2014

Un buen servicio. Puntualidad en el transporte al aeropuerto y desde el aeropuerto. Buena atención y, sobre todo, muy buena relación calidad precio.
marcelino
Monday, January 6, 2014

PHILIPPE
Monday, December 30, 2013

Frecuencia del bus entre parking y aeropuerto insuficiente. Debería de ser mínimo cada 20 minutos, idealmente cada 15 minutos.
Almudena
Saturday, December 28, 2013

Todo muy bien, puntualidad en el autobus. En relacion con Las indicaciones para la llegada , en un momento dado nos confundimos con el parking de larga estancia. Podrian poner uno mas significativo en la rotonda de la entrada.
Jose Manuel
Friday, December 27, 2013

Las dos veces que contraté una plaza en el parking no tuve ningún tipo de problema.Gracias.