Rated Excellent
Book Manchester Airport Parking
We have 29 trusted car parks to choose from at Manchester
Number of Car Parks
Best Priced per day
Best Rated Car Park
Closest Car Park
29
NCP Manchester Flightpath - Meet and Greet

£3.86

LCS Manchester Meet and Greet
T3 Multi-Storey Manchester Airport

0.13 Km
Easily Compare & Book Off-site & Official Car Parks with ParkVia
ParkVia is proud to serve more than 4 million customers worldwide from our HQ in Manchester. From over 500,000 reviews we have received, most of our customers rate their experience with our approved car parks and customer service teams as '5 stars'. We hope you, like many in our Trustpilot customer reviews, will have an excellent experience with us that is easy, quick and helpful.
Our dynamic, fast and reliable search engine will get you instant results on available car parks, prices and consumer reviews. We allow you to compare and choose the best product for you, without having to look at multiple websites.
Our aim is to give all customers a unique and competitive service at all times. This ensures they get their travel off to a smooth start when they book and a stress-free finish when they pick up their car.
What our customers say about parking at Manchester.
Compare Parking at Manchester
View and compare approved car park operators at this location
Car park map
Find the most conveniently located Manchester car parks.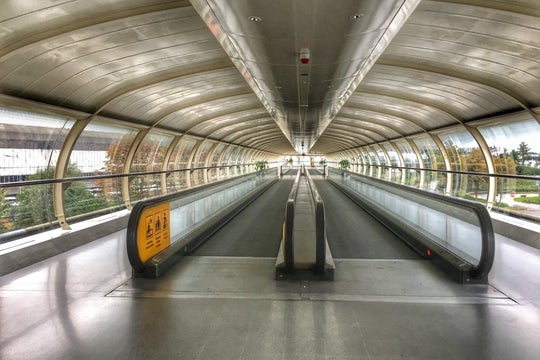 Types of Parking at Manchester Airport
There are tons of parking options at the airport to choose from with ParkVia. Choose from the official airport car parks, as well as a wide choice of independent off-site car parks too. We offer Manchester indoor, multi-storey and outdoor parking, APH, Airport Secure Parking JetParks Manchester, LSC and Skypark.
Manchester Airport offers short-, mid-and long-term parking options, as well as Meet and Greet and valet services, Park & Ride providers, and hotels with their own parking.
Meet and Greet Services
Meet-and-greet parking is a great option for families and those who want convenience. Simply arrange to meet and hand over your car at the airport to be safely parked by the company. This means you can arrive and get on with your travel plans, without the stress of having to locate a parking space or finding your way.
Our M&G Providers
All drivers are fully insured and cars are parked in a secure compound.
Park and Ride Services
Park and ride is another popular option for people travelling from Manchester Airport. Park and Ride involves leaving your vehicle in a designated car park, then taking a shuttle bus or other form of arranged transport to the airport. Great if you're looking for a cost-effective option or you prefer to keep your keys. This transfer service is designed to be as fast and efficient as possible, reliably getting you to the airport in plenty of time to make your flight.
Park and Ride Providers
Park and ride is almost always the most cost-effective option and usually includes the added bonus of security and CCTV for your vehicle.
APH is a reputable Park Mark Awarded company offering this service to Manchester Airport. Offering spaces with transfers only 5 minutes from Airport Terminals 1, 2 and 3, they are a popular choice.
Manchester Airport Parking at Terminals 1, 2 and 3
Manchester Airport has three terminals, with more than 60 airlines providing short and long-haul flights to Europe and the rest of the world. Manchester Airport provides flights to around 225 destinations – more than any other airport in the United Kingdom.
If you're looking for great value parking close to the terminal, JetParks is your best bet. We also offer official, secure T1, T2 and T3 Manchester Airport multi-storey covered parking. The T3 Multi-Storey Car Park is only a 2-minute walk from Terminal 3 and is the closest on foot.
Long & Short Stay Car Parks
Regardless of the purpose of your trip and the length of your stay, you can be certain that our Manchester Airport parking will meet your needs. ParkVia offers off-site car parks, which are situated only a few minutes away from the airport. T2 Multi-Storey and T1+T3 Long Stay Manchester Airport are the closest to the terminals.
You can get to your flight terminal quickly and conveniently with a range of free-of-charge options for transport - Meet Greet, Park Fly or Shuttle services. The car parks we offer are available 24 hours per day, 7 days per week and provide a secure place for your car with CCTV, night patrol and barrier entry.
Manchester Airport has free drop-off and pickup zones with a free shuttle to your terminal.
Getting the Best Parking Deals at Manchester Airport
Considering its high number of passengers, Manchester Airport offers various car parks and parking services on-site, which vary greatly in price, features and distance.
Save yourself money by booking your Manchester airport parking through ParkVia. It's the easiest and fastest way to get an overview of the best deal for you and your vehicle. A great car parking deal is about more than just price: it's about convenience and flexibility, and knowing your vehicle is in safe hands until you come to pick it up.
Not only does booking in advance save you money (up to 60%) compared to turning up on the day, but it also saves you time and stress once you arrive at the airport. This means that you can focus on getting your flight and enjoying your trip knowing your vehicle is in good hands.
Manchester Airport Information
Manchester Airport is the UK's busiest airport outside London, the largest serving the north-west of England, and the 21st busiest airport in Europe. It is part of the Manchester Airports Group Plc (M.A.G), which included London Stansted and East Midlands, forming the country's largest UK-owned airport operator.
Manchester airport opened on 25 June 1938. During World War II it was called RAF Ringway, as a base for the Royal Air Force, and from 1975 until 1986, was known as "Manchester International Airport".
Manchester Airport is easily accessible, with a range of transport links as well as served by the M56 motorway.
Compare prices and save your Manchester Airport parking space now with ParkVia
Stay connected to receive exclusive deals & offers
Something went wrong.
Thank you!