Rated Excellent
Glasgow Airport Parking
All our car parks have anti-covid measures
Number of Car Parks
Best Priced per day
Best Rated Car Park
Closest Car Park
4
Flying Scot Parking

£3.39

SkyPort Park and Ride
Short Stay

0.26 Km
Book parking at Glasgow Airport
Whether you're going on a short break, a business trip or a long family holiday, you'll find plenty of options when it comes to Glasgow Airport parking. Choose Short Stay parking from up to 20 minutes to up to 72 hours - perfect if you're meeting someone or going on a short trip. Long Stay Parking is also available for longer trips and includes a complimentary shuttle bus which will take you to the airport terminal in under five minutes (running every 10-15 minutes). Alternatively, you can book Fast Track parking with fast-track security, or a simple pick-up or drop-off from up to 10 minutes to an hour. Remember that you can also use the long-stay car park for free for up to 30 minutes. You'll also find a wide choice of nearby hotels with parking and shuttle services to Glasgow Airport. Popular options include the Ashtree House Hotel, Broadstone House, and The Normandy Hotel.
Make sure you look at the reviews and ratings of each car park before you book your airport parking in Glasgow. Look at the overall rating, and find out what people have been saying about the parking facilities, customer service and anything else that might be relevant. Just like checking the reviews of a hotel or a restaurant, this will help you make an informed decision and choose the right Glasgow Airport parking for your requirements.
What our customers say about parking at Glasgow.
Compare Parking at Glasgow
View and compare approved car park operators at this location
Car park map
Find the most conveniently located Glasgow car parks.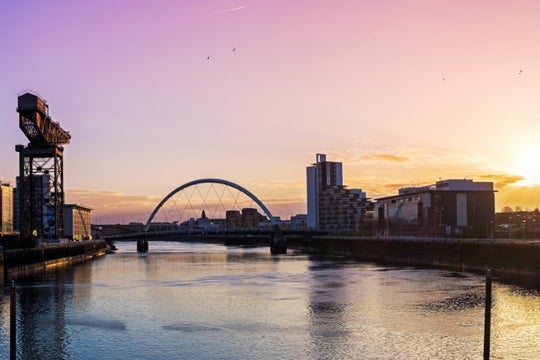 Car Parking at Glasgow Airport
Use our comparison table to compare things like transfer times, distance to the terminal, opening hours, disabled parking facilities, frequency of transfers, parking security and cancellation options at Glasgow Airport. You can find various parking options available near Glasgow Airport: these include Glasgow Speed Park, Park n Fly, Skyport and Swiftpark. For cheap airport parking in Glasgow city centre, consider NCP parking.
The cost of Airport parking in Glasgow can vary widely - and while the cheapest option may always seem more attractive, it may not necessarily be the best option for you. It's important to consider convenience, safety, security and transfer times too – especially if you're travelling as a large family or group with lots of luggage. For example, sometimes it's worth paying a little extra so you can book a parking space within walking distance of the terminal. Or if you're travelling on business and know you're going to be on a tight schedule, a valet parking option can save you time and hassle and ensure you get to the terminal or your final destination on time.
Cheap Airport Parking Glasgow
Don't end up paying more money than you should – save up to 60% by booking your car parking in Glasgow Airport well ahead as opposed to paying on the same day. By booking your Glasgow Airport Parking online in advance, you'll have a guaranteed space and the option to cancel or amend your booking up to 24 hours before your arrival. To find the best deals, simply select your pick your vehicle drop-off and pick-up dates and click 'Search'.
About Glasgow Airport Parking
For maximum comfort and convenience, customer can now book for the official long stay car park at Glasgow airport. It is located only one mile away from the terminal, offering free shuttle transfers to the airport and also competitive prices for parking.
The well established car parks on our website have an exact reputation, built on excellent customer service, great prices and friendly, helpful staff. To get a quote for the time you are travelling and need your Glasgow airport parking for, enter in your dates and times of arrival / departure to and from the car park, and you will be presented with all available options and prices. Once you have decided the best option for you, then it is a simple process to complete a reservation for your Glasgow airport parking.
For more information about the parking options that we offer at Glasgow Airport, visit our How to Book pages or FAQs page.
Glasgow Airport Information
Glasgow airport is located between Paisley and Renfrew, 6 miles west of Glasgow city. In 2013, the airport handled nearly 7.4 million passengers which means that there is a high demand for parking at the airport. We, as a parking provider, offer you some the most competitively priced Glasgow airport parking options on our website.
Glasgow airport is the second busiest airport in Scotland, after Edinburgh airport and is the eighth busiest airport in the United Kingdom. The main airlines operating from this airport include British Airways, Flybe, Jet2.com and Thomas Cook Airlines.
Stay connected to receive exclusive deals & offers
Something went wrong.
Thank you!