Frankfurt Airport Parking
All our car parks have anti-covid measures
Best Priced per day
Frankfurt Valet Service Meet & Greet
€4.52
Best Rated Car Park
Parkservice24 Frankfurt Main Airport Meet and Greet
Closest Car Park
Easy Park HZ Undercover
0 Km
Compare Parking at Frankfurt Main Airport
If you're flying from Frankfurt Airport and are looking for safe and convenient Frankfurt airport parking, we can help you compare prices and book a space quickly and securely. Our process involves creating a seamless, enjoyable parking experience that is free from worry; from the moment you book, to the minute you return to your car after your holiday or business trip.
At ParkVia, we're constantly looking at ways to reduce the cost of parking at Frankfurt airport, which is why you'll typically find a selection of fantastic offers available with our approved car parks.
With 17 approved car parks at Frankfurt Main airport, whether you need a space for just a couple of days or for several weeks, there's a multitude of options available through our website and no shortage of choice.
What our customers say about parking at Frankfurt Main.
Rated 4.81 out of 5 based on 2820 reviews from customers that booked at Frankfurt Main Airport with us.
Akram Muhamad
08 September 2022
Sehr freundliche und sehr pünktlich vielen Dank
Michael
08 September 2022
After arriving at the airport l had to wait 30-45 minutes to get my car. But l got my car back without any issues.
Waldemar
05 September 2022
Vielen Dank! gern wieder!
Sehr freundlich, sehr punktlich, 1 sache hat mich leich gestört, angeblich mann kann Dachbox eingeben was ichvauf die Seite nicht gesehen bzw. Nicht gefunden habe, vieleich liegt an mir? Und musste ich Vorort noch 30 Euro bezahlen, trotzdem mir ist nicht klar warum muss mann 30 Euro für sowas bezahlen, das Box liegt aufem Auto und nimmt nicht mehr platz besonderes ich kein SUV habe. Alles anderes war super gut umd profezionell
Aucun problème pour notre départ, il a été un peu difficile de trouver l'emplacement du parking qui est trop éloigné de l'aéroport ( GPS indispensable++), le transfert à l'aéroport s'est fait sans délai , le seul gérant nous attendait après l'avoir appelé le retour a été plus problématique pour nous récupérer à l'aéroport ,après avoir appelé le gérant plusieurs fois nous avons quand même attendu près de 40 minutes, le gérant est trop seul est prend trop de RDV il doit jongler avec les départ et les arrivées, il est évident qu'il privilégie des départs pour ne pas que les client ratent leurs vols , de ce fait il délaisse les retours ... Il devrait y avoir 2 navettes avec un parking plus près de l'aéroport cette entreprise est trop petite pour assumer le nombre de clients
Super, rapide et efficace! Je recommande
Compare Parking at Frankfurt Main.
View and compare approved car park operators at this location
Car park map.
Find the most conveniently located Frankfurt Main car parks.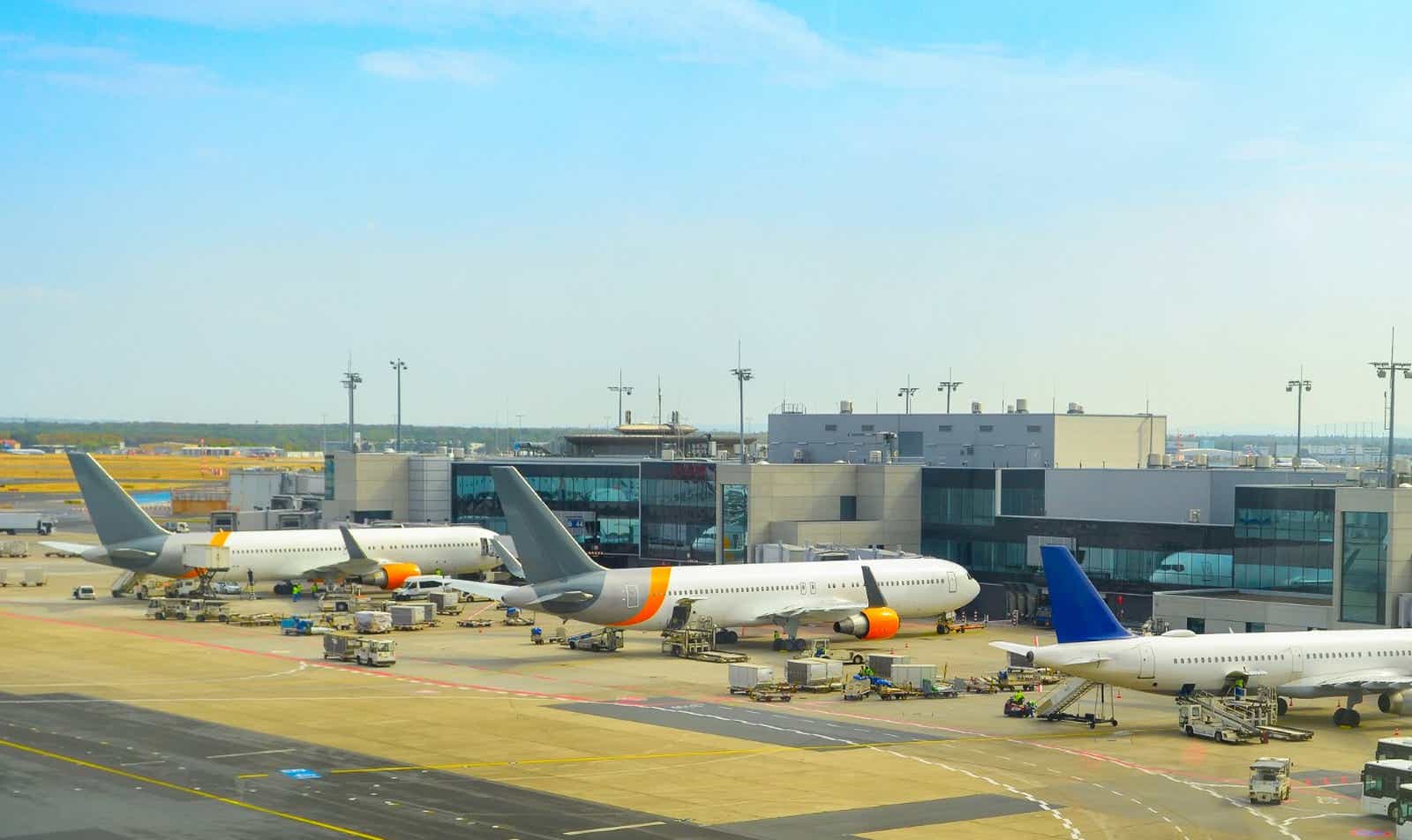 Cheap Airport Parking at Frankfurt Airport
Aside from our online booking process which is stress free, simple and easy to use, one of the main reasons why our customers choose us for cheap parking at Frankfurt International Airport is because we always strive to offer the lowest prices at the most popular and convenient car parks. When you get the perfect parking space and it costs less, it makes the whole experience more enjoyable!
If you book with ParkVia, it is possible to save up to 60% off the full price of you booking – that's excellent value when compared to booking last minute!
Not only are we committed to offering the lowest prices possible, we go further and give you peace of mind with our Best Price Guarantee. This means that you will never pay more booking with us than you would if you had turned up and booked your parking on the day. So for cheap Frankfurt Airport parking it always pays to book in advance with ParkVia!
Frankfurt Airport Parking Terminal 1
Frankfurt airport is one of the busiest airports in the world - the 13th busiest to be exact - with an average of 60 million travellers passing through every year. Terminal 1 is the largest of the two terminals and offers both domestic and international flights.
Booking Frankfurt airport parking for your flight from Terminal 1 is simple with ParkVia as our approved car parks are either in walking distance of offer free collection from or transportation to the terminal building. If you are looking to be as close as possible to Terminal 1 then you can see the exact location of car parks on our map above. As you'd expect: the car parks are CCTV secure, staffed professionally and equipped with a reliable shuttle bus service.
Frankfurt Airport Parking Terminal 2
Travelling from Terminal 2? Not to worry as it is easily possible to get to Terminal 2 from all our approved car parks and you can expect the same levels of service as above, with theft and fire insurance, disabled parking and optional valet offerings included in both terminals.
When booking with us at ParkVia, you can guarantee fantastic value on Frankfurt airport parking at terminal 2.
Frankfurt Main Airport Parking Services & Options
Reading reviews of the car parks we offer and partner with, including the details of their facilities, is a good idea before you book. However, we've put together some useful information below that will help you further form your decision, finding the perfect parking spot for when you next visit Frankfurt Main.
Whether you're planning to book long term parking at Frankfurt airport or short term parking at Frankfurt airport, read on below to find out about the parking options available and the services that our approved operators offer to ensure that you have an enhanced experience.
Park and Ride Frankfurt Main Airport
Value-for-money, ease and convenience, those are the values that spring to mind when you think of park and ride. And as a consistently popular choice for travellers, park and ride promises a speedy, hassle-free transfer. Shuttles run regularly (although it is worth check exactly when before you arrive) and some car parks let you keep your keys when you travel.
Frankfurt Main Airport Meet & Greet Valet Parking
With professional staff to meet and greet guests, this parking option is ultimate in convenience and offers a luxury experience upon your arrival.
As well as cutting down the time at which you need to arrive at the airport before your departure, the highly-secure, CCTV equipped and covered premium car parks offered by our approved operators represent the most premium parking option available.
Additional services are available to book including car washing and servicing, to ensure that when you collect your car it is in top condition for your return journey.
Here you can find the right valet car parking option for you.
Disabled Parking at Frankfurt Main Airport
Some of the Frankfurt airport parking options available through our website are suitable for those who need disabled spaces and access for their stay. We recommend that you check ahead when booking your specific space.
Frankfurt Airport Information
Frankfurt Airport is operated by Fraport and serves as the main hub for Lufthansa. It is located in the Frankfurt/Rhine-Main region, approximately 12 km away from central Frankfurt. The airlines operating from this airport include Air Berlin, Condor, Germania, Lufthansa and SunExpress.
Frankfurt Main Airport is a major international airport and the busiest German airport in terms of passenger numbers. It is the third busiest airport in Europe after London-Heathrow and Paris Charles de Gaulle.
Stay connected to receive exclusive deals & offers