iRent Airport Parking Sofia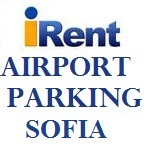 iRent Parking Sofia Airport is an accessible, convenient and secure car park so you will not have to worry about your car while you are away. With a FREE *Meet Greet service, you will be able to enjoy a more pleasurable journey. You will also save loads of money compared to the Official Airport Parking prices.
iRent offers an exceptionally convenient parking service to all travelers for both short and long term next to Sofia Airport. The company operates car parks at Sofia, Varna and Burgas Airports, all in well guarded premises and in close proximity to each airport, which helps them to maintain excellent parking and Meet & Greet services. The staff of iRent will look after your vehicle, by parking it in their secure premises (high fence, guard, CCTV), only a few hundred meters away from Terminal 1.
iRent provides Meet & Greet - a staff member of iRent will meet you at the airport both times - firstly to collect your car and secondly - to bring it back. It saves you hassle, time and money!
Book your parking space now and you will not have to worry about how to get to the airport and how much it will cost. This is the most convenient, low-costing and secure way to do it.
At the car park, you can take advantage of different services like car wash and airport transfers.
Save up to 60% on Official Airport Parking.
Save on expensive taxi costs by using your own vehicle.
All iRent car parks are secured with a high fence and CCTV, well lit and have a guard.
Quick transfers to the airport and back.
Car wash at affordable prices
*The Meet Greet service and the Transfer Service are carried out for free every weekday between 8.00 am and 7.00 pm. The price for transfer service outside of these hours and at weekends will be automatically included in the price of parking.
Book now - spaces are limited!
Directions
You will receive a booking voucher containing the car park's address and telephone number, along with any relevant instructions and directions, upon confirming your reservation.
To view the location of the car park, please see the map on the website.
Features
Barrier Entry

Meet and Greet

Night Patrol

Perimeter Fence

Secure

Toilet

Well Lit

CCTV

24 Hour
Customer Reviews
John
Wednesday, January 1, 2020

Dropped our car of at Sofia airport and met there by Alexander. He was pleasant. polite and helpful. We will use this service again.
Milos
Sunday, January 6, 2019

Александър
Monday, April 9, 2018

Здравейте, използвам услугите на Парк Виа за четвърти път. Един път от Варна и три пъти от София. Не съм използвал други услуги затова не оценявам Services as advertised. Две забележки имам: 1. Сменили сте си мястото. Според мен би било добре да привлечете вниманието на такива потребители като мен. Не мислех, че има промяна и отидох на старото място. От там ме изпратиха на второ място, което пак не беше Вашето и накрая по телефона чух ключовите думи - хотел Ирис. 2. Имате проблем с уеб страницата в раздела плащане. Банката Ви не ми отговори коректно и направих резервацията си по телефона. На другия ден получих потвърждение за приемане на плащането от банката. В заключение - хората Ви са любезни и чевръсти. На отиване и връщане бяхме транспортирани за отрицателно време. Най-вероятно ще продължа да използвам услугите Ви. Александър Пандов
Костадин
Monday, November 20, 2017

ЙОРДАН
Wednesday, October 11, 2017

Мирослав
Tuesday, October 3, 2017

Енчо
Thursday, September 28, 2017

Ilian
Monday, September 25, 2017

Aleksandar
Monday, September 25, 2017

The service was excellent, but the location and the map that were sent to me were inaccurate. The car park is no longer situated as described. However with the help of a staff member over the phone the new location was clarified at once.
Nadezhda
Monday, August 7, 2017

Парковка оказалась возле отеля ИБИС. При отъезде подписали бумагу, но на руки нам ничего не дали. Оплата наличными, карты не принимали, так как не было болгарских левов, оплатили в евро по курсу. Очень переживали за машину, но все хорошо, молодой человек с комфортом нас довез в аэропорт. а затем забрал доставил до парковки. Очень удобный сервис и приятные люди.
MIKHAIL
Saturday, July 8, 2017

Все на отлично,очень удобно,замечательные внимательные ребята.
ЙОРДАН
Friday, July 7, 2017

Gordon
Sunday, June 11, 2017

Златка
Wednesday, May 10, 2017

DONCE
Friday, April 21, 2017

Стефан
Monday, April 10, 2017

Ирина
Saturday, March 25, 2017

Много съм доволна, момчето което ме посрещна беше много отзивчиво, любезно и бързо.
Йонко
Monday, March 20, 2017

Изключително коректни. Отново бих ползвал услугите им