Rated Excellent
Malaga Airport Parking
We have 33 trusted car parks to choose from at Malaga
Number of Car Parks
Best Priced per day
Best Rated Car Park
Closest Car Park
33
Special - Park & Ride - Uncovered

€2.06

Red Parking Malaga Airport
WoW Parking Low Cost - Meet and Greet

0.00 Km
How to book Malaga airport parking
To begin the quick and easy booking process with ParkVia, simply enter your travel dates in the search box to check availability. You can then choose from a wide selection of parking spaces available at on-site and off-site car parks near Malaga airport.
There are only 3 simple steps when booking with ParkVia:
Step 1: COMPARE. Quickly and easily compare prices, services, reviews, availability and distance from the terminal. Find secure long or short-stay parking in indoor or outdoor airport car parks.
Step 2: BOOK. Choose the best parking space for your needs. Shuttle bus transfer, car valet and other services are available. Pay securely online and get the best price guaranteed.
Step 3: PARK. Enjoy peace of mind with a guaranteed parking space for your trip. Just show your booking reservation on arrival.
Compare Malaga Airport car parks
On our website, you have 26 partnered car parks to choose from that can be easily booked before your journey. With this range of options, you are bound to find the perfect parking space for you! With our 3-step booking system, you can find the best parking at Malaga airport by easily comparing prices, services, reviews, availability and distance from the terminal.
Malaga airport parking reviews can be found on our website, which may help you determine which car park is best for you. A lot of our customers leave their opinions and experiences about the car park they visited from booking with us and also leave a rating on Trustpilot to help provide us feedback. We are rated 4.87 out of 5 based on over 11,000 reviews from customers that booked parking at Malaga Airport with us.
The partnered car parks we offer through ParkVia are always safe and secure, but you may want to look for specific security features like night patrol, perimeter fencing, barrier entry etc. These features can be compared using our 3-step booking system so that you can find the car park best for you.
Flying from a different airport? Find parking in Alicante or Barcelona.
What our customers say about parking at Malaga.
Compare Parking at Malaga
View and compare approved car park operators at this location
Car park map
Find the most conveniently located Malaga car parks.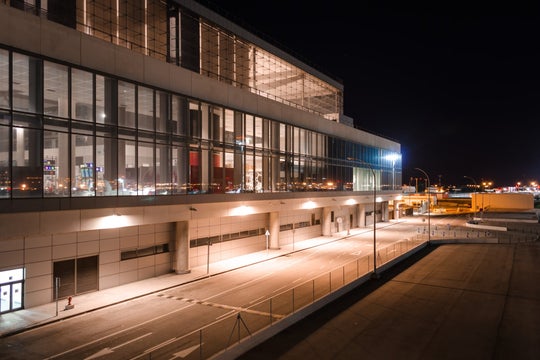 Cheap parking at Malaga airport
We understand that finding a reliable and affordable parking option can be stressful, which is why we offer a range of parking options at fantastic prices. Furthermore, thanks to our partnerships with off-site providers, we are able to offer premium products such as meet and greet or individual transfers at the lowest possible price.
Additionally, Malaga airport parking rates are lowest when you book with us in advance and can save you up to 60% compared to if you were to book parking on the day.
You will never pay more with our best price guarantee policy, where you will never pay more when booking with us than you would have paid when booking directly with the car park. If you find that you could have gotten it cheaper, then we will refund you the difference.
Parking at Malaga airport terminals
Malaga airport terminal 2 parking
Terminal 2, also known as terminal Pablo Ruiz Picasso, is found between terminals 1 and 3 which are connected through a passageway. The building has 3 floors and a mezzanine floor that offers a conference room, defibrillator, free WiFi, and toilets.
Parking General P1 AENA is a covered car park within walking distance from terminal 2 and is secured with 24-hour CCTV and is insured. The car park offers you to keep your keys when you park with them and is a tarmacked parking lot.
We recommend that you consider the distance you have to cover to get to the terminal from the car park and book or organise any transfers in advance before you arrive at the car park.
Malaga airport terminal 3 parking
Terminal 3 can be found north of terminal 2 which are both connected through a passageway. The building has 4 floors and a transport interchange which is located outside of terminal 3 that gives you easy access to airport transport for both arrivals and departures.
Parking VIP AENA is an insured and covered car park within walking distance from terminal 3. The car park offers a meet and greet service (car valet) where a member of staff will meet you to take and park your car for you so that you can go ahead with your journey.
When finding Malaga airport terminal 3 parking, we recommend you consider the distance from the car park you choose to the terminal, as well as the mode of transport you will be taking whether that is by foot or using a shuttle service.
Shuttle bus transfers and other parking services at Malaga airport
The majority of car parks at Malaga airport that are available through ParkVia offer shuttle transfers to the airport terminals. Shuttle transfers are often on a scheduled rota but can be available quite frequently. These times should be checked with the car park directly to help better organise your visit with them.
A range of other additional parking services are available with many of the car parks at Malaga airport and with the wide variety of options, you are able to pick the ones best suited for you.
Tips on
parking at Malaga airport
Outdoor or indoor parking Malaga airport:

When booking a parking space you should consider whether you want your car to be covered or uncovered whilst your gone. With covered parking, your car will be sheltered from the elements and ready to drive away in the cleanest condition, however, uncovered is usually cheaper.

You will need to consider short or

long term parking Malaga airport

when you book your parking space as they have a rate difference. With long term parking it covers periods longer than 3 days and holds more competitive rates whereas with short term parking they are calculated by the day because they cover less days.

On the day of your arrival, you should aim to arrive at the airport 3 hours before departure if you are planning to use shuttle service, however, you can aim to arrive at the airport 2 hours before departure if you are planning to use valet parking service.
About Malaga airport
Malaga airport, also known as Malaga-Costa del Sol airport, is found on the south coast of Spain and is currently one of the busiest airports in the country, serving over 19 million passengers annually. The airport is a hub for many popular tourist destinations in the region, including the city of Malaga, the Costa del Sol, and the nearby resorts of Marbella, Torremolinos, and Fuengirola.
Malaga airport offers a wide range of services and facilities for passengers, including shops, restaurants, and cafes, as well as banking and currency exchange services, car rental, and a VIP lounge. The airport also provides excellent accessibility for passengers with reduced mobility, with special assistance services available upon request.
Stay connected to receive exclusive deals & offers
Something went wrong.
Thank you!