Parking New Jack - Charleroi Airport - Open Air
All our car parks have anti-covid measures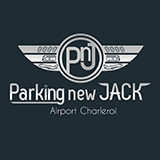 FREE SHUTTLE
Charleroi airport parking available just 10 minutes from the airport in a secure and fenced outdoor compound. Available 7 days a week, from 4:00am till midnight.
Parking New Jack Charleroi offers a parking solution just 10 minutes from Charleroi airport. Leave your car in a secure outdoor compound, which is fenced and alarmed for the security of vehicles left there. Free shuttle transfers availablefrom 4:00am till midnight.
Please ring 5 minutes before your arrival so the Gate can be opened. After a quick check of your car as well as booking voucher, you'll be shown a designated parking space and the shuttle will take you to the airport.
On your Return, please confirm your arrival while collecting you luggage and a shuttle will be sent for pick up.
Directions
You will receive a booking voucher containing the car park's address and telephone number, along with any relevant instructions and directions, upon confirming your reservation.
To view the location of the car park, please see the map on the website.
Features
24 Hour

Alarm System

Barrier Entry

Child Seats

Heated Vehicle

Luggage Minding

Perimeter Fence

Shuttle bus

Toilet

Anti-Covid Measures
Customer Reviews
Frederik
Tuesday, January 14, 2020

Michel
Thursday, October 17, 2019

ALLER parfait, RETOUR déçu, 50 minutes d'attente !!!
ALDO
Wednesday, October 16, 2019

Je n'ai pas trouvé le parking. Très mal indiqué. dans le matin à 5 heures
Naels
Tuesday, September 24, 2019

Gabriele
Monday, September 16, 2019

Maurizio
Wednesday, September 4, 2019

At the parking the ask 4€ extra for each reservation. This extra fee is not indicated in the website. They justify that it is necessary to access the parking, Actually most of the times they combine more than one reservation in the same shuttle, so they have in practice an extra income not declared.
guy
Tuesday, September 3, 2019

Geoffrey
Sunday, September 1, 2019

Non prise en compte des sièges enfant à l'aller. Les enfants ont voyagé sur nos genoux.
Ali
Monday, August 26, 2019

Fathia
Monday, August 26, 2019

Florin Bogdan
Monday, August 26, 2019

Francois
Thursday, August 22, 2019

dufour
Tuesday, August 20, 2019

wannes
Monday, August 19, 2019

Op de website staat gratis shuttle. Men vraagt echter bij aankomst 4 EUR voor het transport. Bij tegenwerking laten ze dit terug vallen. De wagen moesten wij achterlaten buiten de poorten omdat de parking vol was. Men verzekerde ons wel dat deze zou binnengezet worden.
Robert
Monday, August 12, 2019

Abdelhafid
Sunday, August 11, 2019

Anne-laure
Friday, August 9, 2019

Navette (voiture perso pourrie) est tombée en panne d'essence à 4h du matin .... ma voiture n'était pas sécurisée dans le parking fermé ..panne de batterie suspecte à la récupération ... somme supplémentaire à verser pour l'entrée et sortie du parking de l'aéroport.. fuyez !!!
Carsten
Tuesday, August 6, 2019

Parkplatz des Anbieters ca. 15 km vom Flughafen entfernt. Shuttle Service zum Flughafen o.k. Allerdings wurde uns kurzfristig mitgeteilt das zusätzlich 4,- Euro Ein-und Ausfahrtgebühren fällig sind (+16%)... Diese Kosten wurden vorab nicht kommuniziert... Kommunikation ausschliesslich in französisch möglich (für ein Unternehmen das mit/in einem internationalen Flughafen geschäftliche Abwicklungen tätigt schwierig!!!)... Abholung gruselig... Knapp 2 Stunden nach Landung war der Transfer erst möglich... Organisation und Planung ist gelinde gesagt äussert bescheiden... Wem es nichts ausmacht zu warten, mehr zu bezahlen als vereinbart und die Konversation hinsichtlich Abgabe seines Autos lediglich auf französisch zu halten ist hier richtig.... Für uns war es ganz einfach ne glatte 5-
Francesca
Monday, August 5, 2019

Georgi
Thursday, August 1, 2019