Rated Excellent
Charleroi Airport Parking
We have 16 trusted car parks to choose from at Brussels Charleroi
Number of Car Parks
Best Priced per day
Best Rated Car Park
Closest Car Park
16
Royal parking Fly Charleroi

€5.19

Aeropark Charleroi Premium
Official Airport Charleroi Parking P2

0.55 Km
Compare Airport Parking at Charleroi
Brussels South Charleroi Airport is increasingly popular with both business and holiday travellers and at busy times the best parking spots sell out fast! By booking your Charleroi airport parking in advance with ParkVia you will have one less thing to worry about on the day of your flight.
Charleroi airport is easily accessible by motorway from Brussels, Liege or Lille. For those arriving by car and looking for Brussels Charleroi airport parking, ParkVia offers a choice of car parking at competitive prices with a high-quality service.
All our approved car parks are secure, and with features such as CCTV, convenient park and ride services and early booking discounts available, we aim to make your Charleroi airport parking experience enjoyable and 100% hassle free. We also frequently offer the lowest prices available online for popular car parks at Charleroi Airport!
We are proud to offer a wide choice of approved car parks both on site and off site, so whichever your preference, you can book quickly and securely for the best price with ParkVia.
Read below about Brussels Charleroi airport parking costs and for more information about services available.
How do I book my Charleroi airport parking?
Enter the dates and times you wish to park your vehicle.
Check Availability.
Check the quote and if happy with the price and car park click 'book' and complete the online booking form.
You will receive a booking voucher via email with all necessary information such as car park address and telephone number as well as detailed instructions how to get there.
What our customers say about parking at Brussels Charleroi.
Compare Parking at Brussels Charleroi
View and compare approved car park operators at this location
Car park map
Find the most conveniently located Brussels Charleroi car parks.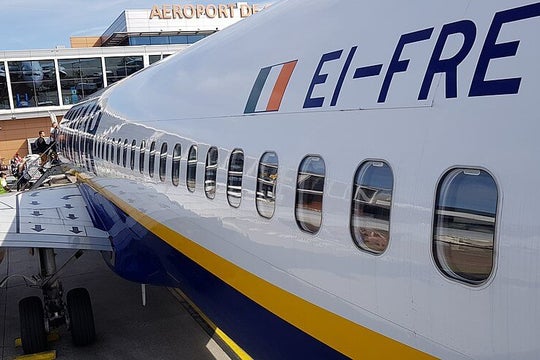 Cheap Parking at Charleroi Airport
Once your flight is booked, it makes sense to look online for Charleroi airport low cost parking to ensure that you keep your costs down and have a positive experience on the day of your journey.
By booking your parking through ParkVia it is possible to save up 60% on the cost of your parking. For the cheapest parking at Charleroi airport it is recommended to book far enough in advance.
We offer peace of mind that you are getting the lowest price parking when you book with our 'Best Price Guarantee'. This means that you will never pay more than your would have paid if you have turned up and booked on the day.
Find out more about our best price guarantee here.
Brussels South Charleroi Parking Services & Options
When you book with us, you're not just simply getting a premium, secure car park at a great price, you're also providing yourself with access to a wide range of extra services and offerings.
From park and ride and disabled parking, through to car washing, battery recovery and refuelling services, the spaces we partner with offer a wide range of useful services to make your journey trouble free. Whether it's long term parking at Charleroi airport you need, or short term, you can count on us.
Charleroi Airport Park and Ride
Perhaps one of the most difficult to get right aspects of your journey is the airport transfers, there is always room for error, extra costs and worst of all: hassle. Park and Ride is a great option as our approved car parks guarantee a free and frequent shuttle service to the terminal building. As you may be parking further away from the terminal building, you can also expect the price to be lower than if you chose on site parking.
Valet Parking Charleroi Airport
Valet car parking at any airport almost always equals much less time to get your car after your trip, and with our approved car parks it also means a friendly greeting from professional staff. We believe that this makes your trip, whatever the nature, much more enjoyable and memorable. (Please note: valet services are also available on Charleroi airport short term parking bookings)
Disabled Parking at Charleroi Airport
Many of our Charleroi airport parking options are equipped for those requiring disabled spaces and with access requirements, although always check with your specific chosen car park in advance to confirm this.
You will also have the opportunity when booking online to add additional services, such as coffee and hot drinks, discount at airport stores or luggage wrapping.
Charleroi Airport Information
Brussels South Charleroi Airport, also called Charleroi Airport, is located in Gosselies, which is 46 km south of the city of Brussels in the Wallonia region of Belgium. Until the 1990s, passenger traffic at the airport was very low. However, the 1990s saw the arrival of new low cost airlines, such as Ryanair, and later Wizz Air and Air Service Plus, which increased operations dramatically. A new terminal was opened in 2008 and the airport has reached its maximum capacity of 5 million passengers.
Brussels Charleroi Airport is well connected to the city of Brussels and is easy to reach via the motorway network for passengers traveling from northern France and the Netherlands.
Stay connected to receive exclusive deals & offers
Something went wrong.
Thank you!