Rated Excellent
Vienna Airport Parking
All our car parks have anti-covid measures
Number of Car Parks
Best Priced per day
Best Rated Car Park
Closest Car Park

11

Parktiger Airport Parking 1 - Train transfer

€0.19

Arion Airporthotel Parking Vienna

VIE Vienna Airport Car Park 4 With Basic Car Wash

0.84 Km
How to book Vienna airport parking
To begin the quick and easy booking process with ParkVia, simply enter your travel dates in the search box to check availability. You can then choose from a wide selection of parking spaces available at on-site and off-site car parks near Vienna airport.
There're only 3 simple steps when booking with ParkVia:
Step 1: COMPARE. Quickly and easily compare prices, services, reviews, availability and distance from the terminal. Find secure long or short-stay parking in indoor or outdoor airport car parks.
Step 2: BOOK. Choose the best parking space for your needs. Shuttle bus transfer, disabled parking and other services are available. Pay securely online and get the best price guaranteed.
Step 3: PARK. Enjoy peace of mind with a guaranteed parking space for your trip. Just show your booking reservation on arrival.
Compare Vienna airport parking prices and reviews
Our website offers 7 approved car parks at Vienna airport that can be easily reserved for your convenience. With these options, you are guaranteed to find the perfect airport parking space to suit your specific needs. We provide our customers with affordable and secure parking solutions that offer the best value for their money.
You need to consider the different features that would be most suitable for your journey when choosing a car park to book. For example, you may need long or short-term parking, a car park that's accessible 24/7, or one with CCTV or night patrols for added security. You should also consider additional features like the type of flooring, such as tarmac or gravel, which may also be a crucial factor for you. You can find these listed on our website when going through the 3-step booking system, where the different operators will be shown on your screen.
To make it easier for you, we have provided a Vienna airport parking map on each operator's section so that you can check the location of the car parks.
Flying from a different airport? Find parking in Bratislava or Salzburg.
What our customers say about parking at Vienna.
Compare Parking at Vienna
View and compare approved car park operators at this location
Car park map
Find the most conveniently located Vienna car parks.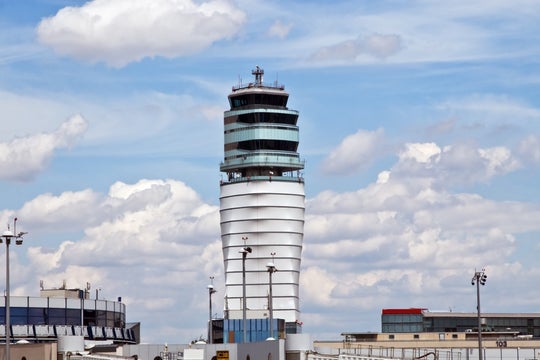 Cheap Vienna airport parking 
When you book with us, you can benefit from our best price guarantee, where you will never pay more for your chosen car park than you would when booking directly with the parking provider. Cheap Vienna airport parking prices are up for grabs and include products such as covered parking and free shuttle transfers.
Moreover, you can make significant savings by booking in advance. Doing so can save up to 60% off your car park space compared to paying on the day. By booking early, you can enjoy peace of mind knowing that your parking is sorted and that you have saved money in the process. It is a simple and effective way to ensure that your travel expenses are kept to a minimum.
We are committed to providing our customers with the best possible parking experience at Vienna airport. Our best price guarantee and advance booking discounts are just some of the ways we are working to make your travel experience hassle-free and affordable.
Vienna airport parking near the terminals
Vienna airport strives to provide an array of parking options for passengers accessing the airport's four terminals. These parking facilities are designed to cater to the needs of all travellers, whether embarking on short or long trips.
When looking for a quick and convenient parking experience, the airport provides various short-term parking options close to the terminal. These parking choices offer both covered and open-air spaces, ensuring that you can easily park your vehicles and prepare to get on your flights with ease.
The airport also caters to travellers who require long-term parking options. With affordable parking rates, long-term parking facilities offer both covered and open-air parking spaces. You can effortlessly transfer from these parking facilities to the airport terminals, and your vehicles are safeguarded by high-security measures. The peace of mind that comes with knowing their vehicle is secure allows passengers to focus on their travels without any worry.
At Vienna airport, we offer on-site car parks that are therefore within walking distance of the terminals. We've listed those car parks for you so that you know which is ideal for you and your journey.
VIE Vienna Airport Car Park C offers outdoor parking near the terminals and is within a 10-minute walk to the check-in counters. The partially covered walkways provide visitors with enough shelter to avoid damp or hot weather, and the car park features high security with 24/7 video surveillance. The same cancellation policy applies where visitors can cancel free of charge until 3 hours before booked entry.
VIE Vienna Airport Mazur Parking provides a cheap parking option near Vienna airport and offers a free shuttle service to transfer visitors from the car park to the terminal within 10 minutes. This car park provides the same cancellation policy where visitors can cancel free of charge until 3 hours before booked entry.
Vienna airport parking terminal 1
VIE Vienna Airport Canullr Park 3 is a 3-minute walk to the check-in counters and offers covered parking with fully covered walkways to protect visitors from any damp or hot weather. It features high security with 24/7 video surveillance, ensuring the safety of your vehicle. Their cancellation policy means you can cancel free of charge until 3 hours before booked entry.
Vienna airport parking terminal 3
VIE Vienna Airport Car Park 4 is a 5-minute walk to the check-in counters and offers covered parking with fully covered walkways to protect you from any damp or hot weather. The car park features high security with 24/7 video surveillance. Their cancellation policy means you can cancel free of charge until 3 hours before booked entry.
Additionally, the King Size Zone in the multi-storey car park offers XXL parking spaces with widths up to 3.5m, making it an ideal option for larger vehicles. You can also take advantage of the basic car wash service offered on level 2 of the multi-story car park. The same cancellation policy applies here.
Shuttle bus and other Vienna airport parking services
When booking with the car park operators, more services such as a shuttle bus may be offered in addition to parking. This service is typically provided at no extra cost, and to help you to understand them better, we have provided a summary below.
The shuttle bus service is typically offered when the distance between the car park and the terminal is too far to walk, making transfers more convenient. This service can be particularly useful when passengers have a lot of luggage that is difficult to carry to the terminal. With luggage minding, passengers can safely store their luggage in a designated area in the car park until they need it.
Off-site car parks often provide shuttle service and free transfers, allowing passengers to easily get to the terminal. On-site car parks are often more convenient because they are found directly at the airport and do not require transfers. Instead, passengers only need to take a short walk, making them particularly suitable for disabled parking, as they offer direct access to the VIE terminals check-in area.
To save on parking costs and avoid any hassle, we recommend booking in advance. By booking in advance, you can ensure that everything is arranged and ready for their arrival, giving them peace of mind. If you have any questions or concerns, you can always contact us at customer.service@parkvia.com, and our team will be happy to help you.
Tips for Vienna airport parking
Here are some useful tips to help you find the best car park to suit your needs at Vienna airport terminal.
For the Vienna parking airport shuttle service, aim to arrive at the airport 3 hours before departure.
For the Vienna airport valet parking service, leave 2 hours before departure.
All car parks on our site are secure, but if you're looking for added car park security, Park to Vienna Car Park 4 King Size Zone is one of our approved car park operators that offer CCTV, night patrol, and barrier entry.
If you are searching for a convenient and hassle-free parking experience at Vienna airport, we recommend considering Vienna Car Park 4 King Size Zone and Vienna Mazur Parking. These allow you to park your car closest to the terminal, providing you with quick and easy access to the airport. They are also the top-rated car parks in the area, and they offer excellent added services that are sure to enhance your travel experience.
We also recommend Parktiger Parking for those looking for the cheapest available car park. This car park provides affordable parking rates without sacrificing quality and security. It is an excellent choice for those looking to save money on their parking costs while still enjoying a convenient and reliable parking experience.
When choosing a car park, it is important to consider factors such as proximity to the terminal, added services, and pricing. By selecting the car park that best meets your needs, you can ensure a stress-free and enjoyable travel experience.
Vienna airport parking FAQs
How early/late can I book parking at Vienna airport?
You can book up to 6 months in advance of your travel date, subject to availability. The earlier you book, the more money you save.
You can also make last-minute bookings the day before, at least 24 hours prior to the plane's take-off (subject to operator's conditions).
How do I make a booking?
The online booking process is straightforward and only takes a few minutes. Start via the search box at the top of the page:
Select your date and times for arrival and departure at Vienna airport.
Check prices, services, reviews, availability, and distance from the terminal.
Select your car park and complete the booking form, including the number of passenger seats needed on the shuttle bus transfer if service is offered.
Make a secure payment with Mastercard Credit, Mastercard Debit, Visa Credit Card, Visa Debit Card, PayPal or American Express, or pay on arrival at the car park in some locations.
You'll get a fast confirmation email with the car park information including contact details and address. Show a printed or digital copy of the voucher that may have a QR code or pin provided on arrival. Car park-specific procedures are provided on the car park pages and in the confirmation email.
Can I change or cancel my booking?
Yes, unless you have booked a non-flexible car park product that said you couldn't. You can change or cancel your booking via 'Manage My Bookings'. You can read the terms and conditions on our website.
Is it safe to park my car at Vienna airport car park?
Yes, we only work with secure car parks. You'll benefit from the peace of mind of knowing you are leaving your car in a car park of the highest standard.
About Vienna airport
Vienna airport, also known as Vienna International Airport, is the largest and busiest airport in Austria, serving as the primary hub for Austrian Airlines and a major European gateway to Eastern Europe. Located just 18 kilometres (about 11.18 mi) southeast of the city centre, Vienna airport is easily accessible by car, bus, train, and taxi.
The airport offers a modern and spacious environment, providing passengers with an extensive range of facilities and services. Passengers can find a vast selection of shops, restaurants, and cafes in the main terminal, catering to various tastes and preferences. With lounges, prayer rooms, and baby care facilities, passengers can relax and enjoy their journey with added comfort and convenience.
Vienna airport has a global reach, connecting passengers to over 200 destinations served by more than 70 airlines, including major carriers such as Lufthansa, British Airways, and Emirates. With such broad connectivity, the airport offers passengers the opportunity to travel to various international and domestic locations with ease.
One of the airport's notable features is its reputation for excellent service. The friendly and helpful staff are available to help passengers with any inquiries or needs, making the travel experience more comfortable and stress-free. Additionally, the airport's commitment to providing a seamless experience is reflected in its efficient services, including the latest technological advancements and well-organized infrastructure.
-
+43 1 70070 | 1300 Schwechat, Austria
Vienna airport services
Vienna airport offers a wide range of services to cater to the needs of both business and leisure travellers.
For those who enjoy shopping, the airport has a diverse selection of shops, including duty-free stores, fashion boutiques, souvenir shops, bookstores, and electronics shops. Passengers can find everything from luxury items to essential travel goods. In addition, the airport offers a pre-order service, allowing passengers to buy items online before their flight and collect them upon arrival or departure.
Food options are plentiful at Vienna airport, with many cafes, restaurants, bars, and fast-food outlets serving a variety of cuisines, from Austrian specialities to international dishes. There are also vending machines available throughout the airport for those who need a quick snack or drink.
For business travellers, the airport offers various facilities, including conference rooms, business lounges, and workstations, equipped with high-speed internet, printers, and other essential office amenities.
For convenience, the airport provides self-service check-in kiosks and mobile check-in options, allowing passengers to save time and avoid queues. Baggage storage facilities are also available, allowing passengers to store their luggage securely while they explore the city or wait for their flight.
Regarding transportation, the airport is easily accessible by public buses, trains, car rentals, and taxi services. Passengers can choose from a variety of options to get to their destination quickly and comfortably.
Stay connected to receive exclusive deals & offers
Something went wrong.
Thank you!