Park and Trip Nantes 1 - Open air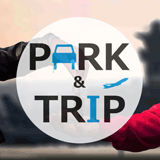 Secure parking. Free shuttle service.
HOW IT WORKS
On the day of your departure, drive to Park and Trip where the staff will be waiting for your arrival. After a short registration procedure, your car is parked and you will be taken to the airport in the free shuttle. At the airport, you will be dropped off outside your departure terminal, so you can go straight to the check in desk!
We advise that you allow about 30 minutes of time between your check in time and the time you arrive at the car park.
On the day of your return to Nantes airport, we ask that you confirm your arrival with a phone call to the car park when your are collecting your luggage. The shuttle will then be sent to meet you at the airport to drive you back to the car park where you can collect your car.
PLEASE NOTE that if you are coming with more than 4 passengers, please drive first to the airport to drop off your companions before heading to the car park. The shuttle bus will not be able to transfer all passengers at the same time otherwise.
Directions
You will receive a booking voucher containing the car park's address and telephone number, along with any relevant instructions and directions, upon confirming your reservation.
To view the location of the car park, please see the map on the website.
Features
Alarm System

Vehicle Condition Check

Toilet

CCTV

Insured Car Park

Shuttle bus
Customer Reviews
beatrice
Tuesday, February 25, 2020

CARRE
Friday, February 21, 2020

Margaret
Monday, February 17, 2020

Isabelle
Saturday, January 11, 2020

Annie
Monday, January 6, 2020

Gérard
Monday, January 6, 2020

La personne qui nous a reçu lors de la dépose de notre véhicule était correcte mais sans + A notre retour, la personne n'a montré aucun intérêt à son travail...aucun coup de main pour ouvrir les portes du fourgon, mettre et enlever les bagages et aucunes explications sur la restitution de notre voiture. Autre chose importante, à notre retour, notre véhicule était stationné à l'extérieur du site...?
Valerie
Thursday, January 2, 2020

ROLAND
Thursday, December 12, 2019

Suzanne
Monday, December 2, 2019

Julien
Thursday, November 28, 2019

Chauffeur qui non répond pas au téléphone (sur le fixe et sur le portable). J'ai appelé 6 fois et ai attendu 30minutes sur le parking à attendre que le chauffeur revienne de l'aéroport. Pas d'état des lieux du véhicule. J'ai ensuite couru pour prendre mon avion. Accueil plus que froid, glacial. Merci!!!! Par contre sur le trajet retour., RAS. Chauffeur souriant et sympathique. Il manque un repère en sortie du hall de l'aéroport pour savoir ou reprendre la navette.
ESTER
Tuesday, November 19, 2019

Hervé
Sunday, November 3, 2019

Sandrine
Friday, November 1, 2019

Nicole
Thursday, October 31, 2019

le bureau était fermé à notre arrivée. Attente 15 mn... la navette qui devait nous emmener était sur cales pour réparation des roues = nous avons du courir jusqu'à l'aéroport. Nous ne retenterons pas cette très mauvaise expérience.
Bertrand
Thursday, October 31, 2019

jamila
Monday, October 28, 2019

Jesus
Monday, October 21, 2019

aurelia
Saturday, October 19, 2019

BRUNO
Tuesday, October 15, 2019

Fabrice
Tuesday, October 15, 2019