Blue Valet Meet and Greet Nantes - Open Air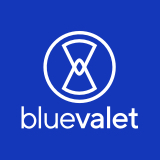 Secure car park, available from 5.00am to 11.00pm with Meet and Greet Service at Nantes Airport included.
How the service works:
On your arrival day: once the booking has been made, your valet will be assigned. The Blue Valet car park will send a SMS containing the number of your valet, to the phone number you have given when making the booking.
Fifteen minutes prior to your arrival at the terminal please call your valet to confirm your arrival. His punctuality is guaranteed even if your arrival time differs.
Your Blue Valet driver will be in a dark blue uniform and will wait for you in front of the departure terminal. He will assist you with your luggage and conduct an inventory of your vehicle. He will drive your car directly to the secure car park.
On your return : The car park requests that you confirm your arrival with a phone call to the valet when you are collecting your luggage.
Blue Valet will be monitoring your flight info so they will already know if you're going to be early or late.
After you have phoned, you may proceed straight to the meeting point where your car will be waiting for you.
Directions
You will receive a booking voucher containing the car park's address and telephone number, along with any relevant instructions and directions, upon confirming your reservation.
To view the location of the car park, please see the map on the website.
Features
Alarm System

CCTV

Vehicle Condition Check

Insured Car Park

Secure
Customer Reviews
Laurian
Sunday, March 22, 2020

Bonjour, je suis très déçu du service de Blue Valet pour plusieurs raisons. Impossibilité de récupérer le véhicule alors que nous arrivions du Maroc dans les conditions de rapatriement donc compliquées ce qui nous a obligés à trouver un hôtel et occasionné des frais supplémentaires. D'autant plus qu'il existe un service de récupération en dehors des heures d'ouverture qui ne nous a même pas été proposé. De plus nous avons demandé le remboursement des jours de parking non utilisés. Cette demande est restée sans réponse. C'est donc un service que nous ne risquons pas de recommander bien au contraire. Cordialement Laurian Bertin-Hugault
jeannine
Monday, March 16, 2020

il n y a pas de drapeau blue valet indiquant le lieu de rvd sur le déose minute a l aréroprot de Nantes
Patrick
Friday, March 13, 2020

Une solution pratique & fiable,idéale pour stationner à l'aéroport de Nantes
Gérald
Wednesday, March 11, 2020

CAULAT
Saturday, March 7, 2020

Martyn
Sunday, February 9, 2020

daniel
Sunday, January 19, 2020

JEAN-LOUIS
Saturday, December 14, 2019

Paul
Monday, November 18, 2019

joel
Saturday, November 16, 2019

jean-marc
Monday, October 28, 2019

Anabel
Saturday, October 19, 2019

NADIA
Monday, October 14, 2019

Arrivé à l'aéroport de Nantes on me ramène une voiture qui n'est pas la mienne on me dit attendez cinq minutes je vais chercher la vôtre il revient et me dit elle est au dépôt il faut que vous alliez la chercher ma femme m'a attendu avec les deux valises devant l'aéroport et c'est mon mon ami qui lui sa voiture a été endommagé a été obligé de m'emmener au dépôt pour récupérer mon véhicule et en plus de ça il a fallu payer les deux euros de parking total des choses j'ai perdu trois quarts d'heure vraiment lamentable la société a pris mon e-mail pour me recontacter mais je n'ai jamais eu pour l'instant de contacts de leur part je suis vraiment déçu de ce service
Ronan
Sunday, October 6, 2019

jean-luc
Wednesday, October 2, 2019

Parfait, service vraiment sympa. Très confortable, on largue la voiture en arrivant à l'aéroport sans aucune prise de tête et idem au retour.
Franck
Tuesday, October 1, 2019

Raymond
Sunday, September 29, 2019

Gérard
Saturday, September 28, 2019

On a essayé "Valet Bleu" voici trois voyages, on l'a adopté, on ne veut plus s'en passer : c'est super !
guion
Sunday, September 22, 2019

Jean
Sunday, September 22, 2019