Aeroport Auto Service Nantes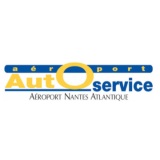 Aéroport Auto Service, Nantes Atlantic Airport's car specialist, offers a 24 hour, seven day per week, parking service at Nantes Airport. A team of experts is at your disposal to provide a quality meet and greet service!
HOW IT WORKS: :
Aéroport Auto Service building rental welcomes you into their building, where you can speak to an employee who will take care of your vehicle. As easily as that, you can head to the check-in that's situated less than 50m away. On your return, you can go back to the Aéroport Auto Services building and receive your keys. Your vehicle will be waiting for you in front of the building.

Features
24 hour
CCTV
Gated Entry
Valeting available
Secure
Well-Lit
Child Seat

All the prices include all tax.
Directions
You will receive a booking voucher containing the car park's address and telephone number, along with any relevant instructions and directions, upon confirming your reservation.
To view the location of the car park, please see the map on the website.
Important
Booking is essential.
Please note, if your vehicle is over-sized (eg campervan, vehicle with a trailer, etc), a surcharge is payable. Please let us know if this is the case. You will need to leave your car keys.
Features
Valeting Available

Secure

Insured Car Park

Gated Entry

Disabled Parking

CCTV

24 Hour
Customer Reviews
JEAN DAVID
Tuesday, September 17, 2019

DIDIER
Tuesday, August 13, 2019

Pascale
Sunday, May 12, 2019

Jean-Michel
Friday, April 26, 2019

Eric
Monday, October 29, 2018

laurent
Sunday, September 23, 2018

chauveau
Thursday, September 6, 2018

THIERRY
Wednesday, August 22, 2018

La Tesla a du être une attraction appréciée et c'est bien normal; Néanmoins, le voiturier qui s'est amusé avec (pas de problème, c'est cadeau!) aurait pu la recharger avec le nombre de kms initial : on a dû passer au Super Chargeur avant de rentrer.... pas cool... surtout qu'une simple prise suffisait sur site... (Au fait, sympa la playlist enregistrée !) Sans rancune
Didier
Tuesday, July 10, 2018

Nicolas
Monday, April 30, 2018

Pierre
Monday, February 5, 2018

emilie
Wednesday, September 20, 2017

Excellent, personnel au top, juste au pied de la porte de l'embarquement! Aucuns surcoût, malgré un retard de 5h (avion retardé). Je recommande vivement !
ROGER
Sunday, June 11, 2017


Monday, May 22, 2017

parfait, à notre prochain voyage.
bardouil
Monday, July 25, 2016

Très bon service , personnel très agréable
JEAN LUC
Monday, May 9, 2016

Claude
Sunday, May 1, 2016

marie
Monday, April 25, 2016

jacques
Monday, September 7, 2015

GALMARD
Monday, June 29, 2015

NE PAS OMETTRE DE PRECISER DE PRENDRE LE P1 POUR ACCEDER A L'ACCUEIL