Rated Excellent
Krakow Airport Parking
All our car parks have anti-covid measures
Number of Car Parks
Best Priced per day
Best Rated Car Park
Closest Car Park
8
Parking Samolocik Krakow Airport

zł8.29

King Parking Airport Krakow
DARKO Parking Balice Krakow

0.00 Km
How to Book Krakow Airport Parking Online with Us
Reserving a parking space at Krakow airport should be a hassle-free booking process, therefore, with ParkVia you can simply enter your travel dates in the search box on our website to check the availability of parking spaces at Krakow airport. With thousands of options to choose from, you're sure to find the perfect parking spot.
Booking with ParkVia is as easy as 1-2-3:
Step 1: COMPARE. Compare prices, services, reviews, availability, and distance from the terminal to find secure long or short-stay parking at outdoor airport car parks.
Step 2: BOOK. Select the best parking space for your needs, with shuttle bus transfer, valet parking, and other services available. Pay securely online and enjoy the best price guarantee.
Step 3: PARK. Relax knowing that you have a guaranteed parking space for your trip. Simply show your booking reservation upon arrival and enjoy your travels.
What our customers say about parking at Krakow.
Compare Parking at Krakow
View and compare approved car park operators at this location
Car park map
Find the most conveniently located Krakow car parks.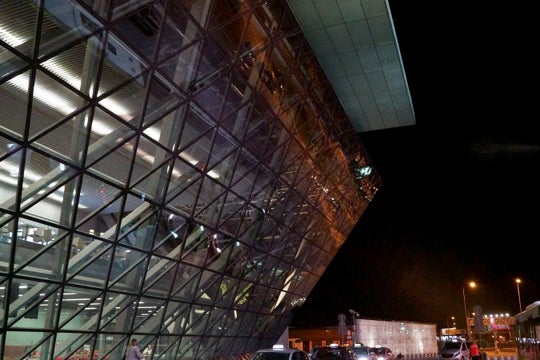 Compare Krakow Airport Parking Options
At ParkVia we only partner with operators that are reliable and trustworthy, with the bonus of low prices! Therefore, at Krakow airport, you have over 5 parking options to choose from, which gives you the flexibility of booking the car park that's right for you.
When comparing these parking options, you should consider the services offered, the distance, and costs and whether they will be ideal for your journey. Would you prefer it if the car park was accessible 24/7 and had CCTV or night patrol? Is the flooring tarmac or gravel?
To help kickstart your search for the parking space for your journey, here are some suggestions on what you may be looking for:
Best priced per day: King Parking Airport Krakow at zł7.74
Best-rated car park: King Parking Airport Krakow with 5 stars
Closest car park: DARKO Parking Balice Krakow 0.00 km from the terminal
Flying from a different airport? Consider parking options near Katowice or Rzeszow airport.
Low-cost Krakow Airport Parking
Enjoy low-cost parking at Krakow airport with our best price guarantee. By booking with us, you'll never pay more than you would by directly paying for your chosen car park, even for premium products like covered or valet parking (meet and greet). For even greater savings, customers can book in advance and save up to 60% off the cost of their parking space compared to paying on the day.
Our booking system allows you to quickly compare the cost and features of each car park. The price of parking at Krakow airport varies based on the parking options and services you choose. While valet parking is more expensive, it offers greater convenience for time-conscious travellers. Distance from the airport can also affect the price, with off-site car parks often being slightly cheaper. Additional features like meet and greet (valet parking) and individual transfers can also add to the cost, but they ensure the best possible experience before and after your trip.
Whether you require short or long-term parking at Krakow airport, we guarantee you the best price and significant savings when booking with us. Off-site car parks are typically the cheapest, offering shuttle services to the airport.
Krakow Airport Parking Near Terminals
Krakow Airport has two terminals: Terminal 1 and Terminal 2. Terminal 1 is the older and smaller terminal, used primarily for non-Schengen flights. Terminal 2, on the other hand, is the larger and newer terminal, serving both Schengen and non-Schengen flights. It has a modern design with many shops, restaurants, and other facilities available for passengers. Both terminals offer a range of amenities, including duty-free shops, cafes, and lounges, as well as car rental services and information desks.
Balicelot24 is one of the closest car parks to the airport by distance and also offers free shuttle bus transfers. It is insured with 24/7 access, secure with CCTV and perimeter fencing. The car park is an outdoor space and also offers children's seats.
Parking Green is another outdoor car park close to the airport and offers free shuttle bus transfers, whilst being secure with CCTV.
What is a shuttle bus transfer? The shuttle bus service provides convenience for passengers who need to travel a long distance between the car park and the airport terminal or have too much luggage to carry on foot.
What is a meet and greet? The meet and greet service, also known as valet parking, is where passengers hand over their car keys to a representative who parks the vehicle at a pre-agreed location. Upon the passenger's return, the car is brought back to the terminal for easy loading of luggage before driving off.
Quick Parking Tips Before Starting Your Journey
For the Krakow airport parking shuttle service, aim to arrive at the airport 3 hours before departure.
For the Krakow airport parking valet service, leave 2 hours before departure.
All car parks on our site are secure, but if you're looking for added car park security, Parking Samolocik Krakow Airport is one of our approved car park operators that offer an alarm system, armed response unit, barrier entry, CCTV, electric fence, guard dogs, night patrol, perimeter fencing and 24/7 opening hours.
About Krakow Airport
Krakow Airport, also known as John Paul II International Airport Krakow-Balice, is an international airport located in Balice, about 11 kilometres west of the city centre of Krakow, Poland. The airport serves as a hub for several airlines, including LOT Polish Airlines, Ryanair, and Wizz Air, and offers flights to destinations across Europe and beyond.
Stay connected to receive exclusive deals & offers
Something went wrong.
Thank you!