Red Parking Malaga Port
All our car parks have anti-covid measures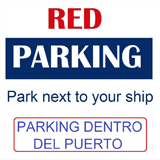 RED PARKING offers parking for cruise passengers AT MALAGA PORT. Simple, convenient, and no waiting around. Here there are no long trips from the airport to the port. It offers a free return transfer service or a convenient meet and greet service at the port terminal.
HOW IT WORKS
Outbound: Drive to the car park and be transported, free of charge, to the embarkation point in a company vehicle (it is necessary to leave your keys).
Alternatively, drive to the embarkation area at Malaga Cruise Ship Port where a driver will take your vehicle back to the car park. Car park staff will be waiting with a copy of your booking details.
After returning from your cruise: The free shuttle bus (or your vehicle) will be waiting for you at the disembarkation area.
There is no extra cost for either of the services, simply choose which parking option you prefer on the booking form.
Car park staff will be waiting for you at Malaga Cruise Ship Port to attend you and ensure that your cruise begins in the best way possible.
The car park boasts four years' experience of parking within Malaga Port and 15 years providing services at the Airport.
The car park at Malaga port offers:
Maximum security for your vehicle and its contents
Open for cruise passengers
Asphalted parking protected by fencing
Entrance gateway, under permanent surveillance.
It is imperative that bookings are made with a minimum of 24 hours' notice.
You will be able to identify the Staff by their uniformed red T-shirts, and banners.
BOOKINGS:
Book using the booking engine at the top right of the page. The final price includes all admin fees.
Select the parking option of your choice: free return shuttle service or meet and greet service at Malaga Port.
Print off the booking confirmation voucher emailed to you.
Drive your car to the car park or embarkation area at Malaga Port where identifiable car park staff will take charge of your vehicle.
You will be given a receipt for your vehicle which must be shown when you return to pick it up.
Your car will be KEPT SAFE during your absence. Maximum security for your vehicle and its contents.
Directions
You will receive a booking voucher containing the car park's address and telephone number, along with any relevant instructions and directions, upon confirming your reservation.
To view the location of the car park, please see the map on the website.
Important
Once you have completed your booking, you will receive a confirmation via email.
Features
Barrier Entry

Secure

Night Patrol

Perimeter Fence

Tarmaced

Free Transfers

Meet and Greet

Shuttle bus

Anti-Covid Measures
Customer Reviews
JOSE ALFONSO
Tuesday, March 10, 2020

Creo que con la valoración excelente sería suficiente, pero le añado que la relación calidad-precio es insuperable. Lo tengo claro para la próxima visita a Málaga.
Francisco
Thursday, November 7, 2019

Oscar
Thursday, November 7, 2019

ISABEL
Monday, November 4, 2019

Andrew
Tuesday, October 29, 2019

Juan antonio
Friday, August 23, 2019

SAMUEL
Saturday, July 27, 2019

maynard
Monday, April 15, 2019

Carsten
Monday, November 12, 2018

We didn't use the transfer service.
Doreen
Monday, November 12, 2018

David
Monday, October 29, 2018

The driver was very professional and his customer service very good.
Susan
Monday, October 15, 2018

Celestine
Monday, October 15, 2018

Nicholas John
Monday, September 3, 2018

We booked Red parking as they are meant to be located in Malaga port. They are not, they are actually based at Malaga airport. Their direct are incorrect on their documentation. this all led to an horrendous experience dropping off. The return wasn't much better as the car was meant to be at the cruise terminal at 09:00, it finally came at 09:20. Never again!!
David
Monday, August 20, 2018

MARI CARMEN
Monday, August 6, 2018

para los que nunca han estado en malaga y nunca han utilizado un servicio asi deberían dar mejores indicaciones sobre el lugar exacto de donde se sitúa el parking y la forma de entrega del vehículo, es decir, nosotros no encontrabamos el lugar de entrega con la dirección que ponia en el email y luego nadie nos confirmo que debeiamos avisar de la hora de llegada para la recogida de nuestro vehículo, deberian dejar claro o mejor expresado donde o como se debe de hacer la entrega del coche. gracias.
Francisco
Monday, December 11, 2017

Me temo que no tienen vdes la web actualizada y si bien la reserva fue fácil y cómoda, no fue así la información facilitada, pues según vdes Red Parking ofrecen zona de parking en el mismo puerto de Málaga, y que podía optar o bien a dejar mi vehículo en dicho parking y usar el servicio de traslado o bien usar el servicio de aparcacoches. Pues bien, Red Parkin, en estas fechas no dispone de zona de aparcamiento en el puerto y te atienden con el servicio de aparcacoches o bien dejas el vehículo en su parking del aeropuerto y ellos te ofrecen el traslado. Por todo lo anterior el precio ya no fue el que vdes. ofrecieron en su web, Deben mejorar la información que dan sobre los parking que ofrecen.
David
Monday, October 23, 2017

Wrong instructions on website to drop off 2 hours wasted on phone calls etcetera and to go to the car park they originally told us not to go to and over one hour we waited at sail port for them used RED before for airport no problem but for sail port bad experience
Gordon
Monday, September 25, 2017

A great service, so easy.
Michael Thomas
Monday, September 25, 2017

Excellent service at Malaga port/cruise terminal