Best Price (7 Days)
40,00 €
Features
Free Transfers
Meet and Greet
Safe and secure parking
Open 24 hours per day
About Malaga Port parking
Here at ParkVia we understand how difficult it is to find parking near the biggest ports on the Iberian Peninsula as well as the expense of having to pay to leave your car at the port.
ParkVia offers you a choice of low cost options to book your Malaga Port Parking. The car parks listed are registered and are covered by public liability insurance so you can set off on your voyage with peace of mind knowing that your vehicle is in the safe hands of professionals.
If you wish to see more details about the services offered by each operator for your Malaga Port Parking just click on the link for each car park operator. To obtain a free, no obligation quote simply enter the dates and times you wish to use the car park.
Customer Reviews
Rated 4.86 based on 481 Reviews
11/11/2019

Nice friendly people. Would recomend..
04/11/2019

Personal muy amable y competente
03/11/2019

Todo perfecto! Amabilidad máxima, buen servicio y buen precio. Es la segunda vez que contrato con ellos y lo seguiré haciendo. Recomiendo 100%.
24/05/2019

Truly professional service. Would recommend.
08/04/2019

Faltó la limpieza exterior, pero es comprensible porque estaba lloviendo.
27/11/2018

Fantastic! Exceeded all expectations. Drove our car to the site, very quick check-in, immediate transafer to the cruise port. They were waiting for us on our return to Malaga airport. Quick transfer to collect our car. Staff were all very good, and excellent value for money. Very happy....!!
29/10/2018

The driver was very professional and his customer service very good.
11/06/2018

Excellent have used them 3 times now!
04/06/2018

We found this service excellent easy to find very friendly staff and at the right price. well done .
02/02/2018

Estoy muy contento con todo. Sin duda volveré a reservar. Gracias
02/02/2018

Transfer only rated as 3 because on the return journey I was told the vehicle was in transit to collect us, so waited outside the building. However, they were waiting for other passengers and we waited in the cold for almost 1 hour before collection. If they had told me we would have to wait, which wasn't a problem in itself, we could have waited indoors, in the warmth.
13/11/2017

Muy bien todo e quedado muy satisfecho
23/10/2017

muy bien y me lavaron el coche por fuera
25/09/2017

A great service, so easy.
Malaga Port information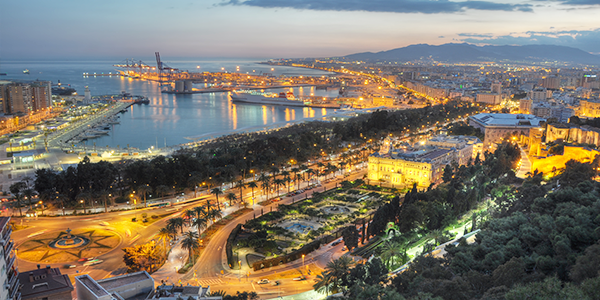 Malaga Port is an international port located in Malaga, on the Costa del Sol. It is one if the oldest port in the Mediterranean.
Malaga Port covers a marine area of 7,095 Ha and ground surface area of 1.150.884 m2. It is a predominantly a port for importing, but which also transports vehicles and passengers by regular connections to Ceuta and Melilla.
We're finding you the best deals
We'll be just a moment
.
.
.