Stop and Fly Meet and Greet Paphos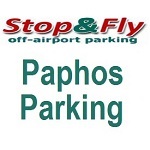 Stop and Fly operates on a 24hour basis. Stop and Fly provides a premium and affordable parking service. For bookings made for more than 2 days for covered parking the car park offers a FREE CAR WASH. All customers are treated as VIPs! The car park offers a Meet and Greet service to all customers. You can also choose to receive a car wash or/and car wax/polish service with a small extra charge.
As the company have been in car storage for over 15 years, it allows them to offer a unique and fully professional service giving you flexibility and comfort when you need to fly. It brings together 'value for money' and 'a high level of quality service' in one package. Stop and Fly are the experts! All customers are treated as VIPs!

The procedure on the day is very simple. All you have to do is get in your car, travel to Paphos airport, and then just 'Stop and Fly' in complete peace of mind, knowing that your property is being well looked after. On your return, just walk outside the terminal and find your car there waiting for you!

Stop and Fly offers a closed warehouse or a fully fenced uncoverd car park, either way providing you with the right security. All car parks are secured with guards and security patrols passing the compound. A number of extra services are also available, like car wash, road tax renewal etc
VALET PARKING PROCEDURE
1.- Drive your vehicle to the AIRPORT (and ring approximately 15 minutes before arriving to arrange for the Chauffeur to meet you
2.- Enjoy your trip, your vehicle is being well looked after
3.- Upon your return, your vehicle will be returned outside the terminal.
Directions
You will receive a booking voucher containing the car park's address and telephone number, along with any relevant instructions and directions, upon confirming your reservation.
To view the location of the car park, please see the map on the website.
Features
Perimeter Fence

Night Patrol

Insured Drivers

Meet and Greet

24 Hour
Customer Reviews
Stella
Monday, February 3, 2020

Dimitrios
Wednesday, July 17, 2019

Excellent. (Not used transfer service for there was no need to)
Brian
Saturday, September 22, 2018

Some C D Some Some confusion s Great
David
Wednesday, June 13, 2018

Andy
Tuesday, January 10, 2017
Paphos
Ann
Wednesday, April 29, 2015
Limassol
David
Monday, October 6, 2014
Polis
We were happy that the driver was there to meet us
Michael
Sunday, April 13, 2014
Argaka
Excellent service - thank you.
Jonathan
Friday, September 21, 2012
Letymbu
Great service collected car on time and had it ready for me as we exited the terminal car nicely cleaned and well looked after
Catherine
Thursday, September 20, 2012
Episkopi (British Forces)
An excellent & professional service - Will definitely use this company again; The service they offer far exceeds that of their competitors! Thank you Jack :))
Thomas
Wednesday, September 5, 2012
Episkopi
The service provided was outstanding and I was delayed by 1.5 hours and this was no problem for the company. The process was hassle free drive to the airport give them the car and on the way back they have your car waiting for you. I would recommend this service and I will be using it again. Thanks very much for a excellent 5 star service from start to finish.
Stelios
Wednesday, April 25, 2012
Larnaca
The drop off and pick up service was excellent! People from Park and Fly were waiting for me on departures and when I arrived. I only have one negative comment and that iis that for the amount of €40 I expected a better car wash than was provided, and even if that was provided I still think the simple drop off and delivery service (without wash) for €30 is still too expensive!
Hello Stelios, We are sorry that you were disappointed with the standard of wash and will forward your comments to the operator.
Bernadette
Friday, January 6, 2012
Paphos
This was an excellent service, really efficient and would recommend it to all my friends. I was late and the person met me with no problems and was so patient and kind. Coming back was so good just to pick up my car and go - brilliant.
MARIA
Sunday, September 25, 2011
DHERYNIA
The service was great and the people very co-operate and friendly. The quality of operator's service was 5stars and the website also great.
Charles
Friday, June 24, 2011
Souni
VASILIS
Friday, April 29, 2011
NICOSIA