Rated Excellent
Munich Airport Parking
We have 14 trusted car parks to choose from at Munich
Number of Car Parks
Best Priced per day
Best Rated Car Park
Closest Car Park
14
Park Drive Fly Munich Airport

€3.94

Park Drive Fly Munich Airport
Parkking Munich Meet and Greet

0.00 Km
How to book Munich airport parking
Our 3-step booking system makes parking at Munich airport effortless. To start, enter your travel dates into the search box to view the wide range of parking options available at both on-site and off-site car parks.
Step 1: COMPARE. Easily compare prices, services, reviews, availability, and distance from the terminal. Choose from secure indoor or outdoor airport car parks for long or short-stay parking.
Step 2: BOOK. Once you've found the perfect parking space, book it online securely and enjoy the best price guarantee. You can select additional services like shuttle bus transfer or car valet.
Step 3: PARK. When you arrive at the airport, present your booking reservation to enjoy a guaranteed parking space and hassle-free experience. Relax and enjoy your trip with peace of mind.
Cheap parking at Munich airport
If you're flying out of Munich airport and need to park your vehicle, we've got you covered with our extensive parking options. Our wide variety of choices ensures that you find the perfect spot for your needs. Our services have received glowing feedback, with over 7,500 reviews and an impressive 4.81 rating, so you can rest assured that you're getting a secure and budget-friendly parking space.
We work with partner car parks that offer the highest level of safety and security, ensuring that your vehicle is protected from any external factors. Our extended parking services are perfect for those planning long-term stays, offering a cost-effective solution to keeping your vehicle safe and secure while you're away.
We offer exceptional pricing on our range of parking options, including meet and greet and individual transfers, traditionally regarded as premium services. Our pricing strategy guarantees that you get the best deal possible for your budget.
Booking your parking spot in advance with us guarantees you access to our lowest rates. We strongly advise you to book as early as possible to secure the best deals. Our user-friendly booking platform makes the process easy, allowing you to choose the perfect parking option and reserve it for your selected dates and times.
We are confident in our pricing and offer a best-price guarantee policy. You can rest assured that booking with us won't cost you more than booking directly with the car park. If you find a cheaper price, simply let us know, and we will refund you the difference.
We're committed to providing our customers with high-quality parking options at unbeatable prices. Our partnerships with providers and our determination to offer the lowest rates make us the top choice for airport parking in Munich. Don't wait any longer, book your parking spot with us today and enjoy peace of mind, knowing that you've got the best deal out there.
Flying from a different airport? Find parking in Dusseldorf or Frankfurt.
What our customers say about parking at Munich.
Compare Parking at Munich
View and compare approved car park operators at this location
Car park map
Find the most conveniently located Munich car parks.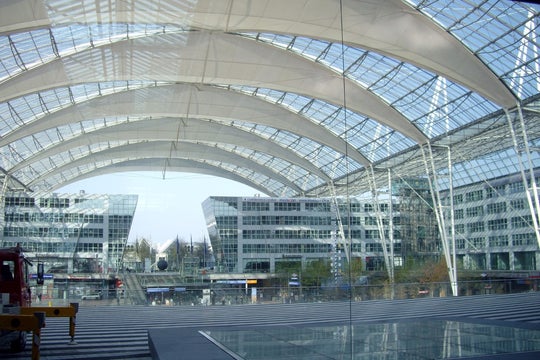 Terminal parking at Munich airport 
Munich Airport has two main terminals: Terminal 1 and Terminal 2. Terminal 1, which is the older terminal, is primarily used for flights run by Lufthansa and its Star Alliance partners, and it handles domestic and European flights. It has five modules and is connected to the Munich Airport Center via a pedestrian walkway. Terminal 2, on the other hand, is primarily used by airlines outside the Star Alliance and is equipped to handle both Schengen and non-Schengen flights. It has two modules and is connected to the MAC via an underground shuttle train. Terminal 2 is designed to help efficient connections between international flights.
When planning a trip, one of the things you need to consider is where to park your car while you're away. Fortunately, our website offers official parking options that are directly accessible to the terminals of Munich airport.
We understand that convenience is key when it comes to airport parking, which is why we have six official car parks available for you to choose from. These car parks allow you to park your car right at the terminals, making it easy to get to your flight on time.
One of the benefits of choosing our official car parks is that they're open 24/7, which means you can park your car at any time of day or night. Additionally, we prioritise your security, and all our car parks are equipped with high-security features to ensure the safety of your vehicle while you're away.
Another benefit of choosing our official car parks is that we offer free cancellations. We understand that plans can change, and sometimes you may need to cancel your parking reservation. That's why we make it easy for you to do so without any penalty fees.
Our website lists all the car parks available to you, and we provide detailed information about their locations and accessibility. If you prefer to park a little further away from the terminals to save some money, we have options available that are within walking distance. These car parks are well-lit, safe, and easy to find, so you can feel confident leaving your vehicle there. Alternatively, if you prefer not to walk, we also have car parks that offer shuttle transfers to and from the airport terminals. These shuttles run often, so you won't have to wait long to catch a ride. Plus, they're equipped with comfortable seating and ample space for your luggage, so you can relax on your way to the airport.
No matter which car park you choose, you can rest assured that we prioritize your convenience and safety. All car parks listed on our website are regularly monitored and maintained to ensure they meet our high standards. We also offer free cancellations for all our car parks, so you can book with confidence knowing you have the flexibility to change your plans if needed.
Shuttle bus transfers and other parking services at Munich airport
ParkVia offers various car parks at Munich airport, most of which provide shuttle transfers to the airport terminals. The shuttle transfers are usually scheduled, but it's advisable to confirm the timings directly with the car park to optimise your visit. Additionally, the car parks at Munich airport offer a variety of additional parking services. You can choose the options that best suit your needs, with a diverse selection available.
Holiday Park & Fly, Park Drive Fly Munich, and ParkAirport Munich are convenient car parks found near Munich airport. These parking facilities offer shuttle bus transfers to the airport terminals, making it easy for travellers to access the airport with their cars.
These car parks are designed to provide safe and secure parking for vehicles while their owners are away. They have 24-hour security and are well-lit to ensure the safety of parked cars. The shuttle buses run on a regular schedule, providing quick and easy transportation to and from the airport terminals.
Tips on parking at Munich airport
When reserving a parking space at Munich airport, it's crucial to determine whether you prefer indoor or outdoor parking for your vehicle. Opting for indoor parking will shield your car from inclement weather and keep it in pristine condition, while outdoor parking is typically more economical, but may leave your car exposed to the elements.
When booking your parking space, it's necessary to consider whether you require short-term or long-term parking at Munich airport as there is a rate difference. Long-term parking covers periods longer than three days and offers more competitive rates, while short-term parking is charged by the day since it covers fewer days.
If you plan to use the shuttle service, it's recommended that you arrive at the airport three hours before your departure on the day of your arrival. However, if you plan to use the valet parking service, you can aim to arrive two hours before your flight's scheduled departure.
About Munich airport
Munich Airport is a major international airport located in Munich, Germany. It is the second-busiest airport in Germany and serves as a hub for Lufthansa Airlines. The airport has two terminals and offers a wide range of facilities and amenities, including numerous shops and restaurants, lounges, and a medical centre. It also has convenient transportation options, such as shuttle bus transfers and a direct train connection to Munich city centre. Munich Airport is known for its efficiency, cleanliness, and high levels of customer service, making it a popular choice for travellers flying in and out of Germany.
Stay connected to receive exclusive deals & offers
Something went wrong.
Thank you!