Rated Excellent
Hamburg Airport Parking
We have 16 trusted car parks to choose from at Hamburg
Number of Car Parks
Best Priced per day
Best Rated Car Park
Closest Car Park
16
Aerogate Shuttle Hamburg

€4.19

Carkeeper Premium Valet Parken
Five Star Park and Fly - Premium Valet Hamburg

0.00 Km
Hamburg Airport Parking
How it works
At ParkVia, we understand that finding the right parking space for your trip is an important step. That's why we've made the booking process as simple as possible so you can book quickly and easily.
Airport Hamburg parking all starts by entering your travel dates in the search box. This allows you to instantly check the availability of parking spaces. Then you can start the booking process in just 3 easy steps.
First compare prices, services, ratings and distance to the terminal to make the best choice.
Then choose the car park that best suits your needs. We offer several options, such as shuttle services, valet parking and other convenient services.
After making your choice, you can pay safely and easily online.
With ParkVia's quick and easy booking process, you won't have to worry about finding a parking space. Enter your travel dates in the search box and start booking for Hamburg airport parking today.
What our customers say about parking at Hamburg.
Compare Parking at Hamburg
View and compare approved car park operators at this location
Car park map
Find the most conveniently located Hamburg car parks.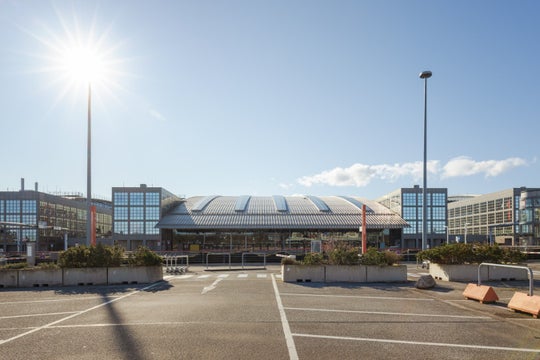 Compare Cheap Hamburg Airport Parking Options
At ParkVia, we understand that every traveller has unique needs when it comes to parking. We have over 10 different approved parking options for Hamburg Airport, so you can make the perfect choice to suit your specific requirements.
For travellers who only park for a short period, this is often for less than three days, there is the option of short-term parking. There are car parks conveniently located near the terminals, making it easy to check in and out quickly. Short-term parking is ideal for passengers dropping off or picking up someone, or for a short business visit.
If you're planning a longer stay when using Hamburg Airport parking, we offer extensive options for long-term parking, this is often when you plan to stay for longer than 3 days. Long-stay is usually more affordable rates as the prices are based on a 24-hour basis rather than by the hour. They are perfect for holidaymakers or business travellers away for an extended period.
We also have options for covered and outdoor parking. Covered parking facilities offer extra protection from weather conditions. This can be especially useful during the winter months or for long-term parking needs. On the other hand, outdoor parking can be more economical.
For travellers with disabilities, Hamburg Airport offers special parking facilities. These car parks are designed to be accessible to people with reduced mobility and are conveniently located near the terminals. They offer extra space and amenities to ensure that travellers with disabilities can park comfortably and access facilities.
When comparing car parks, it is important to consider your specific needs and preferences. Consider the distance to the terminal for parking at Hamburg Airport, but also: the services offered, the security measures and any additional facilities you may need, such as charging points for electric vehicles. ParkVia's comparison function allows you to view all this information and make the best choice that meets your requirements. We have a score of 4.73 from an average of 8,000 customers who have booked through us at Hamburg Airport.
Advantages of pre-booking Hamburg Airport parking
Thanks to our partnerships with third-party providers, we offer affordable prices for various parking options, including premium services such as meet-and-greet and individual transfers.
Customers who book ahead can save up to 60% compared to bookings on the day. The discount is already applied during our 3-step booking process.
Our Best Price Guarantee policy makes sure you always pay the best price. If you find a cheaper rate elsewhere, we will refund you the difference.
By booking in advance with ParkVia, you secure your parking space in advance, save time and get access to the best offers. Visit our website to find a cheap parking space and enjoy a stress-free start to your trip.
Parking at Hamburg Airport Terminal 1 & 2
It's important to remember that when you arrive at the car park, you should have your booking confirmation ready to show to the staff or the automated barrier system before entering. This voucher is included in the confirmation email you received after booking your parking, so make sure you have it to hand. The voucher serves as proof of your reservation and payment and allows car park staff to easily locate your reservation in their system. Check your email for confirmation and make a note of the booking confirmation or print it out before you arrive. Once you arrive, simply show the voucher to a staff member or at the automated barrier and gain access to the car park.
How can customers get to the terminals?
Several transport options are available at Hamburg Airport to get from the car park to the terminals. This includes shuttle buses that run regularly back and forth between the car parks and the terminals, as well as walking routes for short distances.
There are also many disabled parking options that provide easy access to the terminals. These car parks are usually located close to the entrances of the terminals and feature facilities such as extra-wide parking spaces, wheelchair-accessible routes and nearby lifts.
Shuttle Bus and Other Parking Services at Hamburg Airport
It is good to know about parking at Hamburg Airport, with shuttle bus transfers and other parking services at Hamburg Airport, there are several advantages.
You can opt for shuttle transfers, keeping your keys and using short transfers to the terminal.
Valet service ensures quick car handling on arrival and departure.
Various parking spaces are available, including outdoor car parks, disabled car parks and long and short-stay car parks.
All parking spaces are monitored 24/7. Whether you are on a business trip or planning a family holiday, there is always a suitable parking service.
About Hamburg Airport
Hamburg Airport is located in Hamburg, Germany. As one of the busiest airports in the country, it welcomes travellers from around the world with its two terminals - Terminal 1 and Terminal 2. Offering direct flights to numerous destinations, Hamburg Airport boasts a rich history dating back to 1911 when it started as a hangar for airships. Since then, the airport has undergone extensive expansions and modernizations to cater to the increasing number of passengers.
At Hamburg Airport, travellers can indulge in a plethora of facilities, including diverse dining options, duty-free shopping, relaxing lounges, and convenient car rental services. Whether you're exploring the city or embarking on a global adventure, Hamburg Airport ensures a comfortable and enjoyable experience with its array of fine amenities. So, get ready to set off on a memorable journey from this vibrant and well-equipped airport!
Stay connected to receive exclusive deals & offers
Something went wrong.
Thank you!