Rated Excellent
Geneva Airport Parking
All our car parks have anti-covid measures
Number of Car Parks
Best Priced per day
Best Rated Car Park
Closest Car Park

8

Parking Ferney-Voltaire - Open Air

Fr.0.34
How to book parking at Geneva airport 
Enter the dates you're travelling on in the search box to check availability and start ParkVia's quick and easy booking process. Choose from thousands of parking spaces at off-site Geneva airport car parks.
There're only 3 simple steps when booking with ParkVia.
Step 1: COMPARE
Quickly and easily compare prices, services, reviews, availability and distance from the terminal. Find secure long or short-stay parking in indoor or outdoor airport car parks.
Step 2: BOOK
Choose the best parking space for your needs. Shuttle bus transfer, car valet and other services are available. Pay securely online and get the best price guaranteed.
Step 3: PARK
Enjoy peace of mind with a guaranteed parking space for your trip. Just show your booking reservation on arrival.
Compare Geneva airport car park prices and reviews
At Geneva, we have 8 approved car parks in which all the best and most popular car parks can be booked on our website. With these options, you are bound to find the right airport parking space for you! We only offer our customers secure and low-cost parking so that they can find the best parking at the best price.
When comparing car parks to find the one for you, features should be considered that may be more ideal for you and your journey. Do you need long or short-term parking? Would you prefer it if the car park was accessible 24/7 and had CCTV or night patrol? Is the flooring tarmac or gravel? These features are listed where applicable to each car park operator section for easy comparison.
Long/short-term parking
24/7
CCTV
Night patrol
Tarmac/gravel flooring
Car theft insurance
You can also check the location of the car parks with the Geneva airport parking map that we provide on each operator's section.
Flying from a different airport? Find parking at Lyon or Basel.
What our customers say about parking at Geneva.
Compare Parking at Geneva
View and compare approved car park operators at this location
Car park map
Find the most conveniently located Geneva car parks.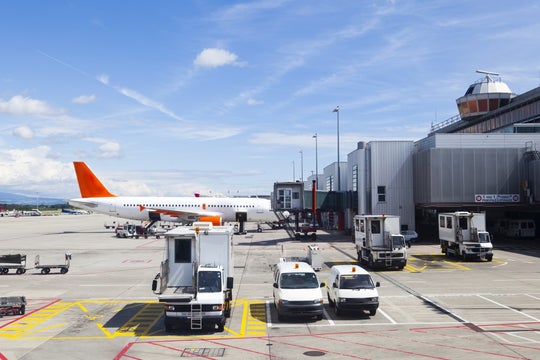 Geneva Airport Parking Prices 
Whether you're looking for short-term or long-term parking at Geneva airport, using ParkVia you can quickly compare the cost and features of each car park at Geneva Airport. The cost of parking at Geneva Airport varies depending on whether you choose a park-and-ride car park with a shuttle service or whether you prefer to valet/meet-and-greet parking. The latter will cost more but offers greater convenience for travellers looking to save time.
Proximity to the airport can also be a factor influencing price, with the off-site car parks costing slightly less whilst often providing free shuttle bus transfer to the terminal in minutes. Additional features offered by operators such as car washing, and individual transfers can also add to the cost but will ensure that you enjoy the best possible experience both before and after your trip. Once you find your ideal parking space, you can book Geneva Airport parking quickly and securely.
Cheap parking at Geneva airport
Due to our best price guarantee, you'll never pay more when you book with us than you would when paying directly for your chosen car park. This includes traditionally premium products such as covered parking and valet parking. However, you can save more by booking in advance, where customers can save up to 60% off their car park space compared to paying on the day.
The cheapest airport parking is typically an off-site car park that's not owned by the airport, where a shuttle service would be offered. Whereas on-site car parks are often more expensive mainly because of their convenience, but it's good for disabled parking and has direct access to the GVA terminals check-in area.
At Geneva airport, we provide valet parking, which allows our customers to park and collect their cars at the airport. All off-site parking is secure with CCTV surveillance, plus friendly and professional staff.
Book parking at Geneva airport terminals
Geneva airport consists of two terminals: terminals 1 and 2. Terminal 1 is the main terminal at Geneva airport that hosts both domestic and international services. Terminal 2 only operates during winter managing charter and scheduled flights. Passengers can walk between terminals as they're only 300 metres from each other.
Ramps are lifts are available throughout the terminal to provide access to all areas. Wheelchairs are also available for disabled travelers on request whereas passengers needing special assistance should inform their airline prior to travel.
Pick-up and drop-offs are free when the stay is within 10 minutes, which is available at any car park, but the short stay area in front of the terminal would be the most convenient. For off-site car parks, the shuttle bus drops off and pick-up points are situated by the water tower, which is in the extended stay car park.
On our website, you can book with operators that we've partnered with like La Snaf and Parking Ferney-Voltaire, which are both within walking distance of the terminals and offer free cancellations. These operators all provide car parks that are convenient for getting to the terminal, however, Arena Park and Parking Valet locations would be most convenient with transfer times. A recommended valet option would be with our operator, Parking Ferney-Voltaire.
Need to know more? Check out the Geneva airport FAQ page.
Shuttle bus and other Geneva airport parking services
When booking with an operator, services like the shuttle bus or valet parking may be offered in addition to your parking experience. Due to its popularity, we've put together a small description for each which summarises each service. These are often provided at no additional cost to your parking.
What is it and how does it work?
| | |
| --- | --- |
| Shuttle bus | The shuttle bus service may be needed if the walking distance to a terminal is quite far compared to the typical distance between a car park and the entrance. They're offered to make your transfers more convenient and may be necessary for situations where you have too much luggage to walk with to the terminal. You can keep your keys and come back to your car when you arrive back at the airport. |
| Valet parking | The valet parking service is a slight luxury for your vehicle, where you can have your car squeaky clean by the time you get back from your journey! With this, you would need to hand over your keys but your car will be taken to the terminal on your arrival so your luggage can be loaded before you drive off. |
Even though we recommend booking in advance to save money on your parking space, you should also do this to prevent hassle for services like the shuttle bus or valet parking. Doing so will ensure that everything is sorted in preparation for your arrival. Any questions or concerns? Contact us via customer.service@parkvia.com.
Tips on where to park at Geneva airport
Here are some useful tips to help you find the best car park to suit your needs at the Geneva airport terminal.
For shuttle service, aim to arrive at the airport 3 hours before departure.
For valet parking service leave 2 hours before departure.
All car parks on our site are secure. Still, if you're looking for added car park security, Parking Ferney-Voltaire is one of our approved car park operators that have electric fences, shuttle buses, anti-COVID measures, and insured drivers.
Geneva airport parking FAQs
How early/late can I book parking at Geneva airport?
You can book up to 6 months in advance of your travel date, subject to availability. The earlier you book, the more money you save.
You can also make last-minute bookings the day before, at least 24 hours prior to the plane's take-off (subject to operator's conditions).
How do I make a booking?
The online booking process is straightforward and only takes a few minutes. Start via the search box at the top of the page:
Select your date and times for arrival and departure at Geneva airport.
Check prices, services, reviews, availability, and distance from the terminal.
Select your car park and complete the booking form, including the number of passenger seats needed on the shuttle bus transfer if service is offered.
Make a secure payment with Mastercard Credit, Mastercard Debit, Visa Credit Card, Visa Debit Card, PayPal or American Express, or pay on arrival at the car park in some locations.
You'll get a fast confirmation email with the car park information including contact details and address. Show a printed or digital copy of the voucher that may have a QR code or pin provided on arrival. Car park-specific procedures are provided on the car park pages and in the confirmation email.
Can I change or cancel my booking?
Yes, unless you have booked a non-flexible car park product that said you couldn't. You can change or cancel your booking via 'Manage My Bookings'. You can read terms and conditions on our website.
Is it safe to park my car at Geneva airport car park?
Yes, we only work with secure car parks. You'll benefit from the peace of mind of knowing you are leaving your car in a car park of the highest standard.
About Geneva Airport Parking Geneva Airport is an international airport in Switzerland, located 4km northwest of the city centre. Due to the importance of transportation in and out of Geneva, the airport features flights to lots of European metropolitan areas, as well as some seasonal long-haul flights across the globe.
Simply book your airport parking in Geneva with ParkVia which provides you with the best service, security, and price guaranteed. By booking online, you can choose the provider and add-ons that suit you best. From open-air and undercover parking spaces to 24/7 CCTV and free shuttle buses. When you book Geneva airport parking with any car park operator through ParkVia, you'll have nothing to worry about.
For more information check out the Geneva airport FAQ page.
Stay connected to receive exclusive deals & offers
Something went wrong.
Thank you!