1A Service & Quality – Dein Stellplatz Schönefeld P2
All our car parks have anti-covid measures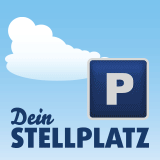 Save with this asphalted Parking Space from Dein Stellplatz. The car park is open 24/7, monitored by CCTV, well lit and the whole parking premises are completely fenced in. You can also keep your car keys!
The shuttle transfer to and from the airport is included in the price and you will be taken to the airport as soon as you arrive at the car park. Flight delays on your return will be monitored by the car park.
After you have parked your car and have sorted out the paperwork you will be taken by shuttle bus to the airport right away.

On the day of your return, you will be picked up at Berlin Schönefeld Airport and the shuttle bus will take you back to the car park and your car.
As you will have entered your flight number on the booking form, the car park can monitor your flight arrival and there is no need to contact the car park should you be delayed.
Please note:
The transfer is included for up to 4 passengers. For 5 or more passengers there will be an extra charge which will be added automatically on the booking form.
The booking cannot be canceled in this super-saver promotional product.
Directions
You will receive a booking voucher containing the car park's address and telephone number, along with any relevant instructions and directions, upon confirming your reservation.
To view the location of the car park, please see the map on the website.
Features
24 Hour

CCTV

Flat Battery Jump Start

Heated Vehicle

Free Transfers

Uniformed Drivers

Perimeter Fence

Keep your Car Keys

Well Lit

Tarmaced

Shuttle bus

Anti-Covid Measures
Customer Reviews
MICHAŁ
Tuesday, November 5, 2019

Krzysztof
Thursday, October 31, 2019

Przydałaby się możliwość porozumienia po angielsku
Witaj Krzysztof, dziękuję za twoją ocenę! Z nami możesz nawet mówić po polsku :-) Mówimy w wielu językach. Oczywiście nie zawsze może być miejscowy pracownik mówiący różnymi językami. Jestem pewien, że to rozumiesz. Ale zawsze jest dostępny ktoś, kto może pomóc językowo, więc komunikacja działa świetnie. Cieszę się, że do zobaczenia wkrótce i pozdrawiam Dein-Stellplatz-Team
Sonja
Sunday, October 27, 2019

Anke
Sunday, October 27, 2019

Ich würde jederzeit diesen Service wieder in Anspruch nehmen, Preis- Leistung absolut gerechtfertigt und korrekt, weiter so
Claus
Sunday, October 27, 2019

Buchungsnummer: PC66644633 Bei meiner Ankunft am Parkplatz Schönefeld P 2 musste ich den Betrag nochmal in bar bezahlen, weil der Betrag von 58 € beim Parkplatzbetreiber "Dein Stellplatz" noch nicht eingegangen war!!!!! Ich habe am 29.04.19 gebucht und der Betrag wurde auch per Kreditkarte bezahlt (30.04.19). Wie komme ich nun zu meiner Rückerstattung. Vor Ort beim P 2 konnte ich dies nicht klären!
Lieber Claus, vielen Dank für deine Bewertung. Wir haben dir zu diesem Thema bereits ausführlich geantwortet, dier Rückerstattung hat sich ja ganz unkompliziert geklärt. Dennoch möchten wir uns nochmal entschuldigen, dass der Betrag in bar kassiert wurde. Außerdem freuen wir uns, wenn du noch ein paar Worte zu deiner Buchung ansich verlieren würdet, wie hat dir die schnelle An- und Abreise mit dem Shuttleservice gefallen oder die Freundlichkeit unserer Mitarbeiter, nicht zu vergessen die Sicherheit und gute Überwachung... :-) Gerne lesen wir darüber von dir. Beste Grüße vom Dein-Stellplatz-Team
Vladimir
Thursday, October 24, 2019

Dagmara
Wednesday, October 23, 2019

Ilona
Tuesday, October 22, 2019

Thilo
Sunday, October 20, 2019

Lothar
Saturday, October 19, 2019

Jarosław
Friday, October 18, 2019

Violetta
Thursday, October 17, 2019

Die Einfahrt und Hinfahrt zum Flughafen sehr gut, Rückfahrt und Ausfahrt eher suboptimal
Liebe Violetta, vielen Dank für deine Bewertung, schön, dass bei Anreise alles wie gewohnt, gut funktioniert hat. Gerne möchten wir näheres zu deiner Abreise erfahren und was wir aus deiner Sicht noch besser machen können. Wir freuen uns, von dir zu hören. Beste Grüße vom Dein-Stellplatz-Team
Sven
Wednesday, October 16, 2019

Karl-Heinz
Monday, October 14, 2019

Ich wartete (mit einem anderen Fahrzeug) 25 Min. am Parkplatz, bis jemand zum Einchecken erschien. Mit Einchecken und Transfer waren wir 35 Min. nach Eintreffen am Parkplatz am Flughafen - das ist deutlich zu lang. Die Rückfahrt klappte deutlich besser, weil bei Ankunft bereits ein Shuttle am Flughafen wartete
Hallo Karl-Heinz, danke für dein Feedback. Schön, dass der Transfer so super und schnell geklappt hat. Eine Wartezeit am Parkplatz von 25 Minuten ist tatsächlich nicht gewollt, hast du denn den Fahrer angerufen, als du angekommen bist? Im Falle der Verspätung bitten wir, den Fahrer zu kontaktieren, damit wir das für den Shuttle einplanen können, bleibt dieser Anruf aus, wissen wir leider die Ankunft nicht und können nicht umplanen. Dass der Shuttle bei Rückreise wie gewohnt gut und schnell abgelaufen ist, freut uns sehr. Gerne bis bald und viele Grüße vom Dein-Stellplatz-Team
Runa
Monday, October 14, 2019

Zur Abholung sollte vom Anbieter besser kalkuliert werden, wie viele Personen am Flughafen ankommen und mit einem Mal zum Parkplatz wollen, denn das hatte nicht so gut geklappt und wir mussten eine Weile warten, da das Auto schon voll war.
Hallo Runa, danke für die Bewertung! Würden die Flüge immer alle pünktlich landen, so würde unsere Planung stets passen ;-) Leider ist das nicht der Fall und erfordert ständig höchste Flexibilität. Dass es dadurch auch mal zu kurzen Wartezeiten kommt, tut uns leid. Wir danken für dein Verständnis. Viele Grüße vom Dein-Stellplatz-Team
Frank
Monday, October 14, 2019

Ingwar
Monday, October 14, 2019

Ulf
Saturday, October 12, 2019

Helmut
Saturday, October 12, 2019

Astrid
Thursday, October 10, 2019