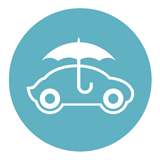 In Umbrella Parking is located just 2 minutes away from Alicante Airport, you have an open-air car park and caravan parking.

Umbrella Parking has spacious and modern facilities.

It is not necessary to leave the keys of the vehicle, park yourself and travel quietly knowing that no one will touch your vehicle, although if you wish, you can also leave the keys on consignment at no cost.
+ At Umbrella Parking we strive to provide the best service at the best price, compare prices and you will see that we are the cheapest.
+ We have several vehicles to make the transfer to the airport as fast and efficient as possible.
+ Of course, it is a fully fenced and guarded parking lot 24 hours a day.

The operation of Umbrella Parking is very simple, simply make your reservation by phone or online and come directly to the parking lot on the day of your trip. As soon as you arrive we will tell you where to park the car and we will take you immediately to the terminal door in one of our courtesy mini-buses. Upon return, you just have to call us as soon as you pick up the luggage and we will be waiting at the meeting point to take you back to the car. We are open 24 hours. Umbrella Parking Procedure:
1. Make your reservation online or by phone to expedite the reception of the vehicle and secure the place.
2. Come directly to Umbrella Parking, where we will be waiting to take you to the airport terminal, which is about 500 m away. of Umbrella Parking.
3. When you return from travel and are picking up the luggage call us by phone to let us know of your arrival. We will be waiting for you at the same point where we leave you to take you back to the parking lot and pick up the car in record time.

Route directions
Once the reservation is confirmed, you will receive a confirmation voucher with the address, the parking phone number and any relevant information. To see the parking location, please see the map on the website.

Important
You can make the payment with any debit or credit card, except American Express cards.
Directions
You will receive a booking voucher containing the car park's address and telephone number, along with any relevant instructions and directions, upon confirming your reservation. To view the location of the car park, please see the map on the website. You can pay with any credit or debit card, except American Express.