Star Parking Alicante - Meet and Greet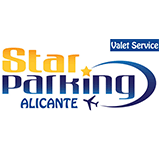 Open air, secure meet and greet service located 5 km away from Alicante airport.
15 minutes before arriving at the airport, call the car park staff and drive directly to the departures terminal of the Alicante airport to the "Express Parking 15 minutes free" area, where a driver will be waiting for you.
Your car will be examined for possible damage, we will note the current mileage and fuel level.

The driver will then transport your car to the car park

On the way back, when you pick up your luggage, please call the car park staff and the driver will deliver the car back at the same location where it was dropped firstly.


Directions
You will receive a booking voucher containing the car park's address and telephone number, along with any relevant instructions and directions, upon confirming your reservation. To view the location of the car park, please see the map on the website.
Features
CCTV
24 Hour
Insured Car Park
Disabled Parking
Alarm System
Insured Drivers
Meet and Greet
Uniformed Drivers
Customer Reviews
Rosa Maria
03 January 2020

Matthew
03 January 2020

Very good service. Easy to use and reliable. Excellent value for money.
Lorraine
05 December 2019

María Carmen
18 November 2019

Diana Laura
18 November 2019

El día de entegarnos el coche... Llovía a mares y nos querían cobrar 15€ más... Y no se aclaraba xq... Era x una matrícula que no era la mía pero estaba pegado el número a mi llave..... Vamos 15 minutos dando vuelta sin explicar que era....
Juan Jose
02 November 2019

Garry
26 October 2019

Drop off was great, we waited 55 minutes for our car to be returned and following 3 telephone conversations, although there was an unprofessional man wandering around the pickup location with my car key but no car. Wheels and wheel arches were caked in mud. Not very professional!!!
Beatriz
30 September 2019

Geraldine
29 September 2019

Great service for a great price
Paul
19 August 2019

On the return of our vehicle as the collection point I found the bonnet to be not shut & secured properly, it was only closed 'on the latch'.. On looking under the bonnet I found the retaining arm that holds the bonnet in the up and open position to also not be secure, it was laid across the engine. Also the cover of the battery terminals was open and distorted. It looked as though the car had been used to jump start another vehicle, possibly the van that collected the driver who dropped off our car. The drop off driver had left so I couldn't question him. I do not have a problem with our car being used to 'jump start' another, however the bonnet & battery etc should be secured.
We're finding you the best deals
We'll be just a moment
.
.
.