Garage Paradiso Verona P. Nuova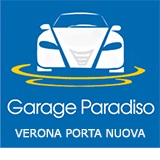 Garage Paradiso Verona P.Nuova, located in the very heart of Verona's historic centre, offers competitive prices for covered and open air parking spaces. It accepts cars, motorcycles and vans. A free shuttle service runs continuously to Verona Porta Nuova railway station.
Garage Paradiso Verona P.Nuova, located in the neighbourhood of Veronetta, a mere stone's throw from the historic centre of Verona, enables those who use the service to rest assured that they are leaving their vehicle in the hands of professional people with some 20 years of experience and a passion for the business.
Garage Paradiso is insured against fire and theft, and is paved, ring-fenced and has a gated entrance to effectively control the movement of all vehicles.
Covered and open air parking spaces are available for cars, motorcycles and vans with height not exceeding 2.50 m.
Designated parking spaces for the disabled are also provided.
It is recommended that the card number be entered in the Special Requests box on the booking form, thus enabling the car park staff to check and apply the discount.
Garage Paradiso is open Monday to Saturday from 06:30 to 21:00, and on Sundays and holidays from 09:00 to 21:00. Please note that during the month of August, the Sunday time table will be 09:00-12:00 and 20:00-21:00.
The shuttle service to and from Verona Porta Nuova station is free and operates continuously at frequent intervals.
For safety reasons, customers are required to leave their vehicle keys with the car park staff.
Directions
You will receive a booking voucher containing the car park's address and telephone number, along with any relevant instructions and directions, upon confirming your reservation.
To view the location of the car park, please see the map on the website.
Features
Insured Car Park

Perimeter Fence

Gated Entry

Open Air

Shuttle bus

Car Servicing

No Pre-Payment

Undercover
Customer Reviews
Roberto
Tuesday, August 13, 2019

Attilio
Saturday, June 1, 2019

Ho chiesto il rimborso causa lutto e non utilizzo del parcheggio ma siccome ho richiesto via mail e non tramite l'apposito modulo, nonostante avessi rispettato le 24 ore di preavviso, non mi e' stato reso niente. Grazie
Carlo
Tuesday, February 5, 2019

Informazioni poco chiare: parcheggio molto lontano dalla stazione ferroviaria . Costo decisamente eccessivo
Sydney
Monday, August 6, 2018

Kelli
Tuesday, August 15, 2017

I am extremely dissatisfied with my experience and will never use this service again. The parking garage was nowhere near the site (train station) that I was told it was near. There was also no shuttle service as had been promised per the website. When I arrived I was told I could hire a taxi if I liked, but they had no service. I had not been.planning on having to pay for another transportation source. As a result of these issues, I was forced to find another parking area and missed my train resulting in my having to purchase another ticket. Furthermore, the parking garage that I did find in place of the failed service use was less than half of the cost of the garage I had purchased ahead of time. I have been unable to reach the web service to receive my deserved reimbursement of the payment that I had made well in advance. I would not recommend using this service!
Alberto
Sunday, April 16, 2017

MARIA CHIARA
Monday, March 6, 2017

DEBORA
Wednesday, February 22, 2017

Ottimo servizio e prezzo . Bravi! 
lorenzo
Wednesday, January 4, 2017

Tutto ok un po alto secondo me il prezzo di locazione per 4 giorni mi sembrano tanti 78euro
Christopher
Tuesday, September 13, 2016

The service was excellent. They transferred us to the train station and brought the car to the station two days later on our return. Very friendly and very happy to help their customer. I highly recommend using this garage. Luca provides an excellent service with no fuss.
Keith
Saturday, April 16, 2016

Patrick
Sunday, July 5, 2015

Top  Gentilissimo e perfetto servizio navetta alla stazione !
MATTHIAS
Saturday, May 2, 2015

Tutto perfetto! Grazie alla prossima
Andrea
Wednesday, April 8, 2015

Eliana
Wednesday, January 7, 2015

Ci siamo trovati benissimo. Puntualità, cortesia e serietà. Sicuramente, in caso di bisogno, ci rivolgeremo ancora a voi. Grazie.
Samuel
Sunday, January 4, 2015

Non avere pensieri su dove si parcheggia la propria auto aiuta a viaggiare sereni. Lo consiglierei a chiunque!
CHRISTIAN
Wednesday, December 10, 2014

Riconsegnata la vettura in stazione!!TOP
Monica
Monday, November 3, 2014

Servizio ottimo e puntuale, molto comodo e conveniente!!!
Abigail
Thursday, October 2, 2014

Fantastic service!!! We arrived at the garage and were immediately taken to the train station. We were asked whether we wanted to collect the car or have it dropped off outside the station and the man was waiting for us with the car on arrival at the station!! Extremely efficient and friendly service! Will definitely use again and highly recommend this Carpark.