McParking Santa Justa Station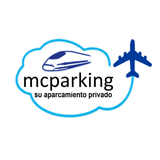 Car park located 10 min away from the station with Meet and Greet Service to Santa Justa Station. Available 24h.
How to use the service:
Meet & Greet service Call a member of staff 20 minutes before your arrival and drive directly to the station. A driver with the car park logo will be waiting for you to drive your car to the car park. On your return, please call car park staff. They will drive your vehicle to the station.
GENERAL CONDITIONS FOR USE OF THE CAR PARK:
The car park operator will not be held responsible for any valuable items left in vehicles if these have not been brought to the attention of staff at the time the vehicle was handed over.
An extra cost of € 6 will be charged for customers who do not arrive at the time set in the reservation
Directions
You will receive a booking voucher containing the car park's address and telephone number, along with any relevant instructions and directions, upon confirming your reservation. To view the location of the car park, please see the map on the website.
Features
Barrier Entry
24 Hour
Insured Car Park
Perimeter Fence
Secure
Meet and Greet
Uniformed Drivers
Customer Reviews
José Luis
19 January 2020

Maria Concepción
12 January 2020

Cristina
19 December 2019

Alejandro
10 December 2019

Fue todo correcto, y los dos trabajadores muy amables y simpáticos. Un trato estupendo y buen cuidado del vehículo. Volveré a repetir el servicio.
Consuelo
04 November 2019

Maria
07 October 2019

Perfecto comodo y facil es la primera vez q uso un sevicio asì y la verda q muy satisfecha lo recomiendo 100x100
Eduardo
02 September 2019

Simplemente no aparecieron alegando que en la reserva venía como lugar de recogida el Aeropuerto a pesar de aparecer muy clarito en la confirmación y correo de la reserva que la recogida era en Santa Justa. No perdimos el tren de milagro gracias a que pudimos aparcar en la calle. Lo que sí perdí son los 2,40 euros que pagué en la reserva. Lamentablemente.
Bartolomé
12 August 2019

reserva anulada por vuestra parte sin comunicación pero solucionado y vehículo arañado a la recogida y hasta ahora silencio
Eduardo José
08 July 2019

Me equivoqué en la fecha de llegada y el personal del parking hizo todo lo posible para atenderme y lo consiguió. Un 10 para ellos
Ronald
06 May 2019

Need to speak better English when dealing with tourists
Rocio
05 May 2019

Excelente servicio. Estaban esperando tanto a la ida como a la vuelta. Lo volveré a utilizar.
Antonio
30 April 2019

El traslado NO procede pero la web no me deja no puntuarlo
Miguel Ángel
29 April 2019

Trato excelente, puntuales y serviciales.
ANTONIO
29 April 2019

NO VAYÁIS A MC PARKING. Os cancelan la reserva SIN MOTIVO. Yo iba a llegar un poco tarde ( a la llegada al parking) y directamente me cancelaron la reserva , dejandome tirada en Sevilla sin opción a nada. Además trato malísimo por teléfono totalmente irrespetuoso y tono inadecuado. Horrible, ni pidiendole por favor que no dejase a dos personas de 65 años sin manera de aparcar que no conocían Sevilla y les dio igual. Jamás volveré a reservar y jamás se lo recomendaré a nadie.
FRANCISCO JAVIER
22 April 2019

We're finding you the best deals
We'll be just a moment
.
.
.