Braco parking Seville Santa Justa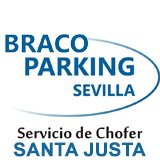 This car park is close to Seville Santa Justa train station. It is secure and offers drop off/pick up of your vehicle at the train station.
HOW IT WORKS
You can make an online booking 24 hours a day. You can also phone us during office hours. Booking is essential to guarantee a parking space..

IMPORTANT
The car park will confirm your parking preference via email giving you sufficient notice before you drop off your vehicle.

Please remember that the option offered by the car park is Meet and Greet just opposite Santa Justa train station..

Drive to the train station and a member of the car park staff will be waiting to pick up your car. On your return your car will be waiting for you at the train station.

THERE ARE NO SUPPLEMENTS for the Meet and Greet service.
12 hours notice is required for bookings.
There is a 5€ supplement for the pick up and drop off of vehicles between 05:00 and 07:00 (this will be shown in the final cost, there is no need to add it on).

RATES
The rates shown are for the length of stay at the car park including any vehicle transfers to Seville train station.

ADDITIONAL SERVICES
The car park offers a complete car cleaning service which includes the bodywork and wheel rims, vacuuming of carpets and seats, cleaning of the dashboard, tyres, doors and boot.
There is the option to have a basic car wash and vacuum for stays of less than 5 days.
There is also an opportunity to have maintenance and repair work carried out on your vehicle should you find the quote acceptable.
All these services can be taken up direct with the car park.

ABOUT THE COMPANY
Braco is a company specialising in the motor sector which, due to the demand for parking from users of Seville Airport and Santa Justa train station, has widened and extended its services at prices that are inexpensive.
This is an enclosed car park which meets all the legal security requirements so you can leave your car knowing it is in safe hands.
The car park service includes the collection of your car at the DEPARTURES entrance of Santa Justa station, by a Braco team member, who will take it to the car park where it will be washed and cleaned absolutely free.
If you prefer to take your car directly to the car park yourself car park staff will take you back to Seville train station.
On your return simply call the car park to let them know the time of your arrival and a member of the car park tea, will meet you at the station with your car.

Trust in the professionals and we guarantee you will use their services again when parking at Seville Train Station.
Directions
You will receive a booking voucher containing the car park's address and telephone number, along with any relevant instructions and directions, upon confirming your reservation.
To view the location of the car park, please see the map on the website.
Important
Make your booking online - it's easy and secure.
Payment is to be made in cash direct to the car park when you pick up your vehicle.
Your booking reference, car park address and telephone number will be emailed to you upon completion of your booking.
Features
Meet and Greet

Perimeter Fence

No Pre-Payment

Uniformed Drivers

Insured Car Park

24 Hour
Customer Reviews
MÁRIO
Sunday, April 21, 2019

Muito Bom! Recomendo! Serviço 5 estrelas!
Javier
Friday, March 1, 2019

Trato excelente y muy profesional. Por circunstancias tuvimos que recoger el coche un día más tarde de la fecha contratada y no hubo ningún problema. 100 % recomendable
jose manuel
Monday, February 4, 2019

FRANCISCO J.
Monday, December 10, 2018

Todo perfecto, como las otras veces que lo contraté. Volveré a solicitar su servicio. SEGURO
Manuel
Sunday, December 2, 2018

Tras no encontrarme con el coche a la hora acordada de recogida llame al teléfono señalado y el que cogió el teléfono me habló de forma grosera e incluso diciéndome que hablaría con su jefe para que nunca más me recogieran el coche por preguntar el motivo por el que no estaban en el punto. Buena empresa con un mal trabajador
Manuel Andrés
Wednesday, November 21, 2018

Era la primera vez que lo usaba, y ha sido perfecto. Repetiré
Nicolas
Sunday, November 11, 2018

LA EXPERIENCIA HA SIDO SATISFACTORIA.
Manuel
Friday, October 19, 2018

Al recoger el coche, el frontal de la radio no estaba. Lo buscamos y estaba caído bajo el asiento. Eso no se cae solo. Al ponerlo de nuevo, la radio está hundida, como si la hubieran sacado y vuelto a introducir y al hacerlo no ha quedado bien. Y la moldura de alrededor tiene las pestañas rotas y no encaja. Muy descontento. En otras ocasiones he usado Braco Parking sin problemas. No me gusta que me enreden en el coche.
Eugenio
Monday, September 17, 2018

Sevicio impecable y muy bien de precio.Repetiría sin duda.
manuel jesus
Tuesday, September 11, 2018

Volveré a repetir de nuvo muy contento
Txomin
Saturday, August 25, 2018

Un servicio 10 puntuales y rápido si vuelto lo utilizaré de nuevo
Gonzalo
Friday, June 15, 2018

PAULA
Saturday, March 24, 2018

MARIO JESUS
Monday, March 5, 2018

Lamentable Braco Aparcamiento Santa Justa. No volveré más. Me dejaron tirado a punto de perder el AVE y ni una disculpa. Penoso
Ainhoa
Monday, March 5, 2018

Conrad
Tuesday, December 12, 2017

The location of the car park was not the same as the location sent in the email confirmation. Very difficult to find. The website stated the car would be washed for free for stays longer than 5 days, this was not done. The website said the transfer service was free, it is not we paid 5 euro extra. The staff were not happy about picking us up after 12am but they still did. They staff were accommodateing with us showing up late and provided good contact. Overall not a good experience will not us again. Do not reccommend.
Francisco Javier
Monday, December 4, 2017

Perfecto entrega y recogida
Tony
Thursday, November 30, 2017

No pickup, didn't answer the phone, finally did and then they knew nothing of the reservation and hung up. Ended up driving to the airport to park. Won't use you service again.
Marina
Saturday, November 4, 2017

Lo he contratado ya varias veces porque creo que funciona muy bien
Jose Enrique
Saturday, October 21, 2017