MedioPadana Parking Reggio Emilia Station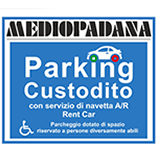 Open air parking spaces available and a free, on demand, return shuttle bus service is included 24/7.
The car park is suitable for cars, van, campervans, trucks and buses. For security reasons, you will be asked to leave your keys at the car park.
The car park offer an electrical station point to charge your electric car. The price of the service will be included in the stay for all the customers of the car park. In this way you will only be asked to pay the amount that correspond to the charge made.
Please note that your car will be sanitised for free.
Directions
You will receive a booking voucher containing the car park's address and telephone number, along with any relevant instructions and directions, upon confirming your reservation.
To view the location of the car park, please see the map on the website.
Features
Armed response unit

Barrier Entry

Car Servicing

CCTV

Disabled Parking

Disabled Transfer

Flat Battery Jump Start

Guard Dogs

Heated Vehicle

Individual Transfers

Insured Car Park

Insured Drivers

Night Patrol

Perimeter Fence

Shuttle bus

Tarmaced

Toilet

Tyre Checking Service

Uniformed Drivers

Van/Bus Parking

Vehicle Condition Check

Waiting Room

Wifi

24 Hour
Customer Reviews
Fabio
Wednesday, February 19, 2020

MARIO
Saturday, January 6, 2018

mattia
Saturday, January 6, 2018

Nivio
Monday, October 30, 2017

Angelo
Thursday, October 5, 2017

Monica
Sunday, October 1, 2017

ENRICO
Saturday, May 6, 2017

Il servizio navetta usa mezzi non adeguati, e non in ordine. Il prezzo pagato lo richiederebbe.
DANIELA
Monday, May 1, 2017

Roberto
Wednesday, April 26, 2017

Fabio
Thursday, March 23, 2017

Aspetti positivi: il personale è cortese. Aspetti negativi: soluzione di parcheggio costosa; non c'è cartello che segnala l'esistenza del parcheggio; l'auto usata dall'operatore come shuttle era in pessime condizioni.
Paola
Saturday, February 25, 2017

Personale professionale, Puntuale, massima sicurezza.  Un titolare di grande esperienza. Altamente consigliato se si vuole ritrovare la macchina senza danni e sorprese. Rapporto qualità del servizio e prezzi, molto interessante. 
Rita
Wednesday, November 30, 2016

Molto efficienti e gentili, il ragazzo era già in stazione all'arrivo.
Sicuri di poterle offrire sempre il meglio dei ns servizi . Ringraziamo di far parte della ns Gentile Clientela. mandatario parking@mediopadana.re.it Tel: +39 338 4839935 (24/24 h. 7/7gg.)
Federica
Tuesday, November 22, 2016

Manca possibilità di richiedere fattura. Viaggiando per lavoro è strettamente necessario...
Buongiorno Egr. Sig.A. FEDERICA come già evidenziato nelle e-mail fa testo pagamento la ricevuta / fattura rilasciata da ParkCloud Ltd UK company number 6557569 ( adeguamento leggi fiscali in essere paese comunitario )poichè è stata fatta prenotazione e pagamento diretto , non implicabile alla Soc. Mediopadana Service srl.s mandataria del servizio da ParkCloud Ltd.. Rimaniamo in ogni caso a disposizione per qualsiasi chiarimento in merito . Mandatario parking@mediopadana.re.it Tel : +39 338 4839 935 (24/24 h. 7/7gg.)
ENRICO
Tuesday, October 4, 2016

Ho atteso oltre 20 minuti alla stazione per la navetta,una volta al parcheggio altri 15 minuti per riavere l'auto.
e.pc ParkCloud. parking@mediopadana.re.it controllo, Mr. Enrico Greco (GRECO_ENRICO@FASTWEBNET.IT ) arrivo treno ore 23,21 arrivato 23,22 chiamata telefonica registrata alle 23,21 ( al 338/4839935) in arrivo uscita Stazione Mediopadana alta velocità di Reggio Emilia navetta h.23,30 tragitto 7' ritiro consegna auto come da scheda controfirmata 23,43 (registrazioni tecnologiche disponibili ) saluti. parking@mediopadana.re.it operator R.M.
Angelo
Monday, September 19, 2016

Angelo
Monday, September 19, 2016

alessandra
Monday, June 20, 2016