Alyse Parc Lyon St Exupery TGV
All our car parks have anti-covid measures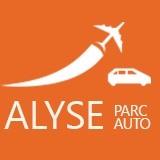 Welcome to ALYSE PARC AUTO, the perfect answer for your parking questions! Set off on your journey with complete peace of mind! Just 5 minutes from Lyon Saint-Exupery train station, Alyse Parc is a secure car park with both open air and covered spaces, and offering a choice of shuttle transfer or meet and greet service, 24 hours a day, 7 days per week.
ALYSE PARC AUTO offers simple and effective solutions at the best possible prices for safely parking your vehicle (car, motorcycle or luxury model etc) in complete security.
A team of professionals welcomes you at any time of day or night, 7 days a week , including public holidays, in a secure, well lit area with CCTV, controlled access, and security guards.
Two distinct parking areas (open air or under cover) and two transfer options are available.
Free Shuttle Service: The car park provides a free return shuttle transfer service between the car park and the train station.
Meet and greet service (on request): The staff will agree a rendez-vous point at the terminal with you and will pick up your vehicle from there; it will then be returned directly to you at the train station when you get back.
Additional services are available during your absence, saving you valuable time:
Cleaning (interior and/or exterior), maintenance, technical inspection, tyre checks, etc.
Benefits of choosing ALYSE PARK AUTO:
Comfort and simplicity - no need to call on friends or family, no waiting for a shuttle bus, no luggage to transfer from vehicle to vehicle.
Punctuality : a core value at ALYSE PARC AUTO!
.
---
FEATURES:
Completely secure, this car park offers indoor and open air parking (no height limit).
Shuttle service 24h/7.
Personalised meet and greet service on request.
Late booking: up to 6 hours before vehicle drop off
!
Quality service, available 24h/7 including public holidays
!
Four languages spoken by the staff: French, English, Italian and Spanish.
Relaxation area with armchairs, coffee and refreshments.
At ALYSE PARC AUTO special care is taken to attend to the needs of the customer, as well as taking care of the vehicle!
So go ahead, hand over your keys into Alyse Auto Parc's care and go safely on your way with true peace of mind; you'll be pleased with your choice!
---
Directions
You will receive a booking voucher containing the car park's address and telephone number, along with any relevant instructions and directions, upon confirming your reservation.
To view the location of the car park, please see the map on the website.
Important
If you want to take advantage of the meet and greet service, you can select this option below under transfer option.

Features
Waiting Room

Meet and Greet

Shuttle bus

Barrier Entry

Toilet

Secure

Insured Car Park

Well Lit

Disabled Parking

Vehicle Condition Check

CCTV

Undercover

24 Hour

Anti-Covid Measures
Customer Reviews
julien
Monday, November 15, 2021

au top ! Et quand c'est top ! On revient.
Cyrielle
Thursday, March 12, 2020

Susana
Monday, March 9, 2020

Personnel très agréable et ponctuel. Déposer en navette à la gare en 5min et pour le retour idem, nous avons attendus 5 min que quelqu'un vienne nous récupérer. PARFAIT
Laetitia
Saturday, March 7, 2020

ARNAUD
Wednesday, March 4, 2020

Très bon service, personnel courtois et ponctuel
Rolf
Saturday, February 8, 2020

claudine
Sunday, January 19, 2020

Aucune signalétique. Adresse de l emplacement très mal intégrée dans le mail... Explication routière sortie d autoroute. A nous de nous débrouiller si kou n avons pas de GPS.... Je ne recommande pas du tout. Payer 39€,a la resa + prix du parking autre que celui ci vu qu il était introuvable. Et indifférence totale de la personne que j ai contacté pour lui il fallait que je m arrange avec les responsable du parking dans lequel nous avons du nous garer..... De fois qu il nous rembourse la négligence de Park via...... Je ne recommande pas du tout
Nicole
Monday, December 30, 2019

Jean-François
Monday, December 2, 2019

Alain
Tuesday, October 22, 2019

Les trajets se sont très bien passé. J'ai juste un peu cherché mon véhicule au retour car on ne m'avait pas indiqué son emplacement
saint
Thursday, September 26, 2019

Sylvie
Wednesday, September 25, 2019

Lionel
Monday, September 16, 2019

Amélie
Wednesday, September 4, 2019

Damien
Tuesday, August 20, 2019

Vous devriez noter sur la carte remise avec le numéro du véhicule le numéro de portable à joindre après les heures de bureau En effet en arrivant le soir on ne sait qui joindre pour venir nous récupérer car la messagerie dit que le bureau est fermé... Le fait d'ajouter le portable évite de ne savoir que faire pour vous joindre. De plus celui ci est sur les mails de correspondances mais ceux ci sont parfois au fond de la valise... et tant qu'a donner une carte pour récupérer sa voiture autant qu'elle contiennent l'ensemble des données....
Hafsa
Monday, July 29, 2019

roland
Sunday, June 30, 2019

alain
Tuesday, June 25, 2019

Patrick
Monday, June 17, 2019

Parfait excellente prestation
Helyette
Tuesday, June 4, 2019