Parking Viajeros Barcelona Sants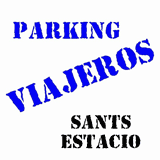 Car park located 12 minutes away on foot from Barcelona Sants Train Station; Modern, undercover, Modern, undercover, with barrier entry, patrolled by car park staff 24 hours, 365 days. You do not need to leave your car keys . Shuttle bus service is not included in the price to go from the car park to the Station. In addition, the parking offers a discount of 2 euros, to anyone who carries a copy of their train ticket!
Are you going by train and you have to leave your car? Tired of paying more for parking than for the train ticket?
Reserve with Parking Viajeros! Located
12 minutes walk
from the Sants Station; covered, modern and with personal surveillance 24 hours 365 days.
It is very easy:
Make your reservation online
Go to the parking lot.
Park your car. No need to leave your car key
We call you a taxi or you can walk. The map of how to go from parking to the Sants Station will be sent to your email along with the reservation confirmation.
Parking characteristics:
Modern, underground, clean and safe parking.
450 Parking spaces on three floors
Maximum parking height 2.10 meters.
Facilities for people with mobility problems. (Elevator)
Credit Cards are accepted.
Parking well located and connected. Metro station at 120 meters.
Mobile phone coverage in the parking lot.
Telephone service in English and French.
Telephone assistance service.
Important note:
Make the reservation through the web (24 hours), The delivery and pick-up time for vehicles is 24 hours Dear Customer, we inform you that Parking Viajeros
does not offer a transfer service from / to Sants station.
TRAIN TRAVELERS SPECIAL DISCOUNT! Get a discount of 2 Euros by taking a copy of your train ticket to the parking staff!
Directions
You will receive a booking voucher containing the car park's address and telephone number, along with any relevant instructions and directions, upon confirming your reservation.
To view the location of the car park, please see the map on the website.
Important
All types of credit cards are accepted for payment (except American Express)
Features
Barrier Entry

Indoor Storage

Secure

Well Lit

CCTV

Undercover

24 Hour
Customer Reviews
JOSE ANTONIO
Thursday, February 20, 2020

Susana
Thursday, December 19, 2019

Buen precio y facilidad en la gestión
Melodia
Monday, July 29, 2019

El parking está más lejos de la estación de Sants que lo que se indica en la página web.
Sergi
Monday, April 15, 2019

Bien el precio, pero muy mal la atencion del personal del parking, dejan mucho que desear con una actitud amenazante
Or
Monday, July 2, 2018

Tot molt bé però el personal molt molt molt lent.
MAITE
Monday, June 4, 2018

Adrian
Monday, March 12, 2018

Buenas tardes, Estoy descontenta del servicio contratado. Cuando fui a pagar me indicaron que la reserva estaba cancelada pero nadie me lo notifico previamente, así que mi reserva no constaba cuando yo tenia un correo que indicaba el contrario. Por suerte, el señor del parking nos lo arreglo y nos mantuvo las condiciones que en teoria teniamos de la empresa Parking Viajeros Sants Estacion. Por lo tanto, el servicio que contracte no se ofrecio, quin lo ofrecio fue directamente el parking.
MIQUEL
Friday, January 19, 2018


Tuesday, June 6, 2017

Servicio perfecto a un excelente precio. Totalmente satisfechos. Para repetir.
Raúl
Wednesday, May 3, 2017

Francisco
Monday, February 27, 2017

Oscar
Monday, February 20, 2017

David
Monday, February 20, 2017

Excelentemente atendido. Muy buen servicio y trato muy agradable de los empleados. Sin duda a tener en cuenta si viajas un par de días y necesitas dejar el coche. ¡¡Repetiré seguro!!
Miguel angel
Wednesday, December 21, 2016

Excelente ubicacion precio y trato.recomendable
DAVID
Monday, December 12, 2016

Preu molt bo. Realment vaig trigar 12 minuts des del parking a l'estació de Sants a pas ràpid això sí. Compleix tot el que diu.
Francesc Xavier
Wednesday, October 12, 2016

Estaria bien especificar que se tiene que dejar el billete de tren en la ventanilla para que le hagan el descuento. Pero en genereal perfecto muchas gracias volvere.
Antonio
Tuesday, October 11, 2016

Buena atención, plazas decentes y precio inmejorable. Un poco alejada de la estación de Sants pero se compensa con el precio. He tenido que subir y bajar las maletas 3 plantas por eso por las escaleras y la incorporación a la calle tuve que realizarla con maniobras porque la calle es muy estrecha y hay motos aparcadas delante pero volveré a repetir sin duda.