Hotel Regina Parking Roscoff Port
All our car parks have anti-covid measures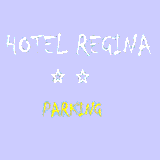 Hotel Regina Parking provides car parking close to the port of Roscoff at a competitive price and allows you to leave your vehicle in complete security while you are away. An entrance gate and the constant presence of the hotel staff will help to alleviate any worries you may have, knowing that your car is in good hands during your absence.
The car park is situated approximately 20 minutes' walk away from the port. Public transport is easily accessible from the car park and the hotel staff would be delighted to offer advice on how to get to the harbour. You can feel reassured when using the car park: since it is reserved exclusively for the hotel's guests, access is forbidden to any person not known to the company.

The procedure is simple: car drivers drop off their travelling companions and luggage at the port. The driver then comes to the car park to leave the vehicle and goes back to the port either on foot or in a taxi. If a taxi is required, you need to account for a further cost of approximately €20, €10 each way. On the return journey, when disembarking, car drivers can come to collect their vehicles while their other passengers go to collect the luggage. The car drivers will then return to the port to pick up their travelling companions.

This car park offers you an alternative solution to the car parks proposed by the port of Roscoff. Whether going on a short or an extended voyage, you can rest assured that you are leaving your vehicle in the care of professionals.
Directions
You will receive a booking voucher containing the car park's address and telephone number, along with any relevant instructions and directions, upon confirming your reservation.
To view the location of the car park, please see the map on the website.
Important
Please make on line payments by debit card. Carte bleue, Visa and Mastercard are accepted. You can also pay via a PayPal account.
Features
Anti-Covid Measures
Customer Reviews
Pierre
Monday, September 23, 2019

Contrairement à ce qu'indique votre site le parking de la gare maritime est sous surveillance vidéo 24 heures sur 24 et de nombreux personnels se déplacent sur ce parking ce qui fait qu'il est largement sécurisé. Le parking de l'hôtel où je devais me rendre lui en aucun cas 'est sécurisé c'est le jardin de l'hôtel sans aucune surveillance avec la porte reste ouverte 24 heures sur 24. Je vous demande donc le remboursement complet des sommes que je vous ai versées car je ne pouvais pas annuler totalement ma réservation sur votre site!!!. Inconvénient complémentaire le parking est à 20 minutes à pied de l'embarcadère
Soizic
Sunday, August 18, 2019

Patrick
Sunday, August 18, 2019

Patricia
Thursday, August 1, 2019

MENARD
Friday, May 24, 2019

Linda
Tuesday, May 21, 2019

I had a terrible experience with viapark. The car park was a good 20 minute walk to the ferry terminal, not convenient at all. The car park attendant was not in the hotel where we were supposed to park our vehicle, so we phoned him and he did not speak any English and our French was very poor. This was not mentioned in the car parking information. There was no information where to park the vehicle, consequently we had to park the vehicle in a long term carpark nearby, not secured as I had hoped it would be for my 42 euros. Not happy with this company at all, if I was anyone using this company to park I would check out the information of exactly where it is and if they speak your language. I asked for refund bit did not get one. Linda Brown
Janine
Sunday, September 2, 2018

DIDIER
Friday, August 31, 2018

ce parking d'hôtel est sans surveillance le portail ouvert 24/24h l'accueil est nul,, on a l'impression de déranger ; pour 42 € les 5 nuits c'est cher payé à ne rien faire !
marie-pierre
Saturday, August 25, 2018

aucun transfert de prevu!!!! pourtant bien mentionne sur la fiche! Avec quelqu'un d'handicape cela a ete galere!
CLAUDE
Monday, July 2, 2018

parking dans le parc du jardin ouvert à tout un chacun. vous entrez et partez sans qu'on ne vous demande rien. prévoyez votre transport si vous devez vous rendre à la gare maritime.
JACQUES
Wednesday, June 20, 2018

annick
Monday, May 21, 2018

Pascaline
Monday, April 23, 2018

C'est le jardin de l'hôtel qui fait office de parking. Le parking est bien équipé d'un portail mais qui n'est pas fermé le soir. Ceci dit l'endroit est calme et paraît sûr. Tout aussi sûr que le parking de la gare maritime de Roscoff peut-être ? ;-))
Edith
Wednesday, August 16, 2017

Très contés du service. Juste un pr regret de n'avoir vu personne a l'accueil de l'hôtel (malgré 2 coups de sonnette) et impression d'avoir repris notre voiture comme des voleuses .!
janine
Saturday, August 5, 2017

MENARD
Saturday, July 29, 2017

PHILIPPE
Tuesday, June 13, 2017

vincent
Monday, May 29, 2017

Harold
Tuesday, September 13, 2016