Scarpato Port Parking Naples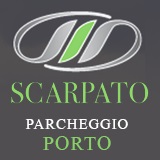 Just 20 minutes away from the port of Naples, Scarpato Parking Port offers free shuttle bus transfers The car park is open 24 hours a day, 7 days a week, provides indoor parking spaces and is always guarded.
Thanks to more than fifty years' experience in vehicle repairs and breakdown recovery services, Scarpato Parking Port has today forged a place for itself as one of the leaders in the Naples parking industry sector.
Offering subterranean parking exclusively, the car park is open 24 hours a day and is always guarded by a staff member, as well as being continuously monitored by CCTV. Easy to reach, it provides free transfers to and from the port.
About 20 minutes from the Port of Naples, the car park is located in an underground facility and vehicles are provided with the utmost care by reliable staff.
Customers parking at Scarpato Parcheggio can also make use of a full car wash service, by selecting it on the booking form.
Directions
You will receive a booking voucher containing the car park's address and telephone number, along with any relevant instructions and directions, upon confirming your reservation.
To view the location of the car park, please see the map on the website.
Features
Car Servicing

Insured Car Park

Valeting Available

Shuttle bus

Meet and Greet

Secure

CCTV

Undercover

24 Hour
Customer Reviews
LUIGI
Tuesday, October 8, 2019

Paola
Monday, September 30, 2019

Maurizio
Sunday, September 15, 2019

Sergiu
Saturday, September 14, 2019

they speaks only italian!
Francesco
Tuesday, September 3, 2019

tamara
Monday, August 12, 2019

Franck
Saturday, August 3, 2019

Alfredo
Sunday, July 21, 2019

Mimmo
Thursday, June 20, 2019

ANDREA
Sunday, June 16, 2019

Saldo con carta di credito non disponibile in quanto mi è stato riferito che non si dispone del POS
Raffaele
Monday, June 10, 2019

EMMANOUIL
Monday, June 3, 2019

Massimiliano
Friday, May 17, 2019

Non bastano 20 minuti per arrivare in porto, come scritto sul sito, a meno che non ci sia traffico, il che, a Napoli, è difficile. Mettere in conto 30/40 minuti almeno per regolarsi con i traghetti
Gemma
Thursday, May 2, 2019

Massimo
Thursday, May 2, 2019

Roberto
Monday, April 29, 2019

Parcheggio Scarpato, gestito sorprendentemente bene, precisione svizzera, gentilezza, ha tutti i servizi che servono ed un trasferimento al top.
antonio
Monday, April 22, 2019

Purtroppo l'esperienza è stata negativa in quanto non è stato né facile né gradevole l'interfacciamento con la coordinatrice del servizio. Tralasciando i vari disguidi all'arrivo (pur avendo telefonato il giorno prima del mio arrivo a Napoli per verificare la mia prenotazione, quando ho telefonato un'ora prima di arrivare nessuno sapeva del mio arrivo e sono state necessarie varie altre chiamate per chiarire il tutto), Non è stato indicato nessun luogo preciso di riferimento per l'incontro con il car-vallet in una zona angusta del porto dove convergono auto ed autobus e non è possibile parcheggiare. Al rientro da Capri (dopo aver telefonato quattro ore prima ed anche un'ora prima del mio arrivo) ho dovuto attendere ancora dopo lo sbarco per la consegna dell'auto con il car-vallet. Alla consegna, poi, mi è stato chiesto di pagare circa €18 in più di quanto previsto dalla mia prenotazione con motivazioni che non ho capito ed ancora adesso non comprendo...; a nulla sono valse le mie proteste che si sono scontrate con un inarrestabile attacco verbale da parte della persona addetta alla gestione. Per la rabbia ( e con la mia famiglia in auto ad attendere di poter riprendere il viaggio...) ho pagato quanto richiesto e non ho chiesto, né mi è stata offerta...., alcuna ricevuta. Durante la prenotazione ho seguito pedissequamente le istruzioni e ritengo di aver fatto tutto correttamente; se così non fosse va forse modificato il sito ma non si aggredisce il cliente, senza dargli nessuna possibilità di chiarimento, mentre lo stesso si trova in un momento non semplice (...con altri veicoli che protestano per poter passare....e con la prospettiva del viaggio ancora da fare...). Peccato.
Dario
Friday, March 22, 2019

gaetano
Tuesday, November 6, 2018

Fantastici, qualità convenienza e cortesia grazie alla prossima
cuomo
Monday, November 5, 2018