All our car parks have anti-covid measures
Best Priced per day
Park and Fly Terminal - Cruises
€7.23
Best Rated Car Park
Autosiloport Genoa Cruise Parking Undercover
Closest Car Park
Lanterna Parking – Undercover Keep your Keys
0.86 Km
About Genoa Port parking
Are you looking for genoa cruise parking?
ParkCloud offers alternative and secure Genoa port parking options that are located close to the port and easily reachable for all cruise and ferries passengers either by walking or by free shuttle bus service. There are options to park cars, vans, campervans, buses (max 9 seats and 2mt tall) and trailers, however, it depends on the availability - please contact customer services to find out more. All the car parks are undercover or open air, secure with surveillance and most are open 24hrs and you are able to hold onto your keys.
Booking only takes a few minutes and you will be guaranteeing your parking space at the car park of your choice before you travel. We can assure you a hassle-free parking experience before boarding the cruise or your ferry. If you would like to drop-off/pick-up your vehicle straight at the port itself, then this is also possible - simply choose the Meet and Greet service offered by the car parks.
Prices are competitively set and the car parks are located close to the port terminals. To reserve your parking, it is important to do this a certain amount of time before your arrival date as there is a minimum notification period for a number of the port car parks, and during the peak cruise season they are extremely popular.
What our customers say about parking at Genoa Port.
Rated 4.89 out of 5 based on 2564 reviews from customers that booked at Genoa Port Airport with us.
Personale cortese, auto trovata fuori dal terminal in ottime condizioni.
ALESSANDRO
16 January 2023
All'arrivo ho trovato un cancello chiuso ovvero si apriva solo se si chiamava, avevo scritto che sarei arrivato alle 11.00 di mattina, cosa che ho fatto, ma ricevetti la mattina ben 2 chiamate ove mi si chiedeva la stessa cosa: a che ora arriva? poi ho scoperto che hanno fatto aspettare una coppia che era lì da più di un quarto d'ora... la cosa mi è dispiaciuta per i clienti e dalla fretta (per non farli aspettare oltre) ho anche dimenticato un paio di occhiali da vista in macchina che mi servivano per la crociera... mai vista una cosa simile... all'arrivo velocissimi, avevo pronta una moneta di 2 euro nella speranza che il giovane autista prendesse i bagagli per metterli nella navetta... niente di tutto ciò... li ho caricati e scaricati ed era pure lì a guardarmi... anche voi titolari però: se spiegate di caricare e scaricare i bagagli il cliente ritorna e l'autista ha probabilità di prendersi un caffè che magari a fine giornata fanno piacere... non penso di prenotare ancora con voi
Difficile localizzare il parcheggio
Ottimo già consigliato ad altre persone
Maria Laura
09 January 2023
All'arrivo il trasferimento è andato benissimo. Al ritorno abbiamo dovuto aspettare molto ( tra l'altro pioveva) prima che arrivasse il mezzo per portarci al parcheggio.
Personale competente e gentile
Ho avuto un problema con la mia auto dopo essere uscita dal parcheggio e sono stata subito raggiunta e aiutata a risolvere il problema. Gentilissimi. Grazie
Compare Parking at Genoa Port.
View and compare approved car park operators at this location
Car park map.
Find the most conveniently located Genoa Port car parks.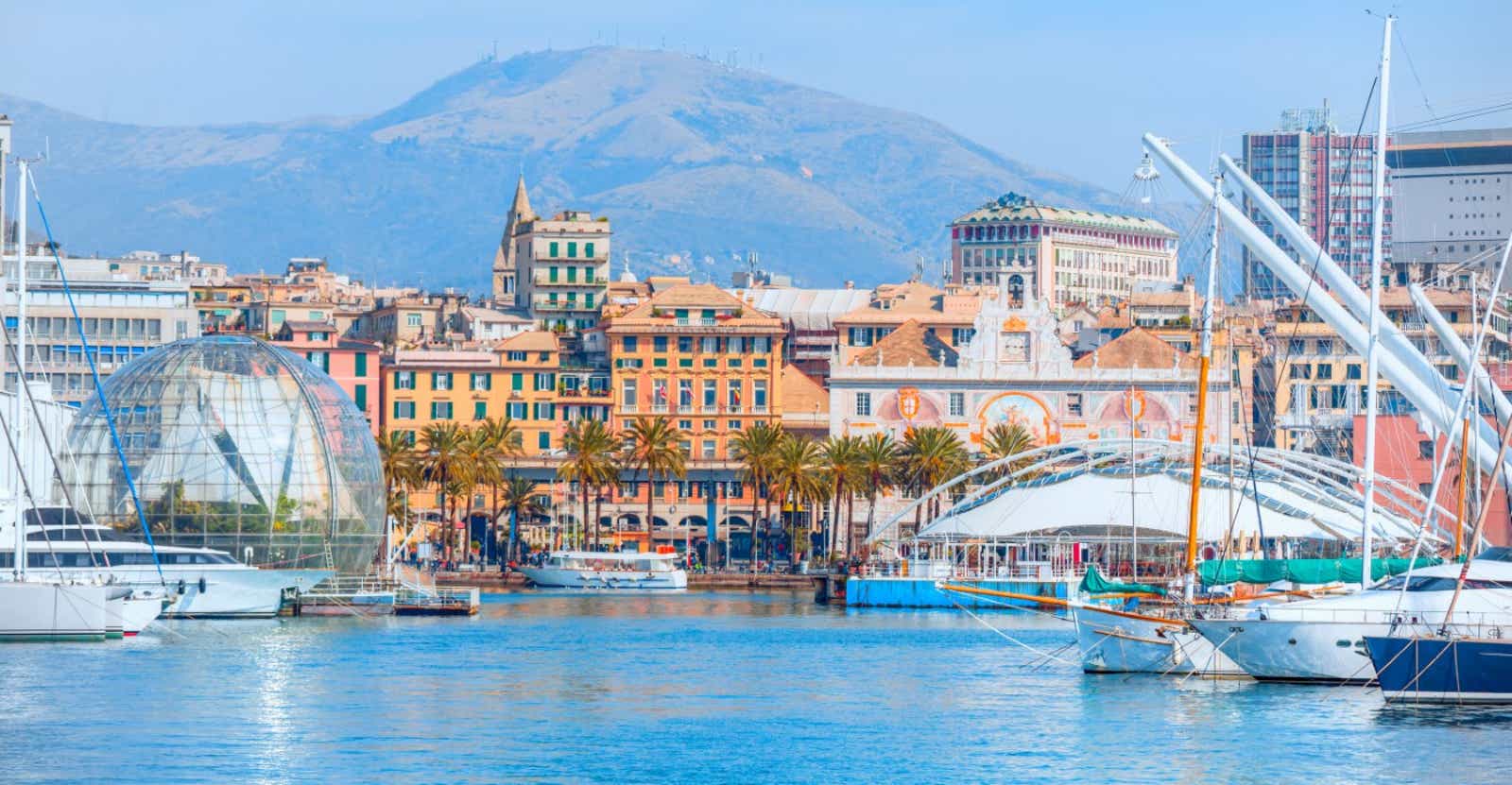 Genoa Port information
The port of Genoa is one of the most important Italian ports and it has always been a pivotal part of the city's economic and commercial activity. The port is located in the city centre, close to the historic landmarks and near to Genoa Cristoforo Colombo Airport and Genova Piazza Principe train station.
The genoa port extends continuously for 22 km along the coast, with a total surface of 6 million square meters, with over 20 terminals. It can cater for a every type of ship with goods such as metals, perishable products, containers and ferry and cruise passengers.
Stay connected to receive exclusive deals & offers