All our car parks have anti-covid measures
Best Priced per day
Park and Fly Terminal - Cruises
€8.00
Best Rated Car Park
Autosiloport Genoa Cruise Parking Undercover
Closest Car Park
Lanterna Parking – Undercover Keep your Keys
0.86 Km
About Genoa Port parking
Are you looking for genoa cruise parking?
ParkCloud offers alternative and secure Genoa port parking options that are located close to the port and easily reachable for all cruise and ferries passengers either by walking or by free shuttle bus service. There are options to park cars, vans, campervans, buses (max 9 seats and 2mt tall) and trailers, however, it depends on the availability - please contact customer services to find out more. All the car parks are undercover or open air, secure with surveillance and most are open 24hrs and you are able to hold onto your keys.
Booking only takes a few minutes and you will be guaranteeing your parking space at the car park of your choice before you travel. We can assure you a hassle-free parking experience before boarding the cruise or your ferry. If you would like to drop-off/pick-up your vehicle straight at the port itself, then this is also possible - simply choose the Meet and Greet service offered by the car parks.
Prices are competitively set and the car parks are located close to the port terminals. To reserve your parking, it is important to do this a certain amount of time before your arrival date as there is a minimum notification period for a number of the port car parks, and during the peak cruise season they are extremely popular.
What our customers say about parking at Genoa Port.
Rated 4.89 out of 5 based on 2441 reviews from customers that booked at Genoa Port Airport with us.
Jordana Michele
18 June 2022
Tutto perfetto! Vicinissimo al porto e il servizio navetta è otimo! Zero stress. Il ragazzo della reception è stato davvero molto simpatico! La macchina rimane parcheggiata all'ombra tutto il tempo e questo non è scontato visto il caldo che fa in questo periodo. Se parte per una crociera in 5 minuti sei dentro il porto, la navetta ci ha lasciato all'ingresso della nave. Consigliatissimo!!! Grazie di tutto, alla prossima!
Personale simpatico, molto alla mano, ti offrono anche la focaccia quando arrivi, consigliato
Super consigliato!!! Sono tutti gentili e molto simpatici, il servizio navetta è comodo e puntuale. Tornerò sicuramente! Grazie!
Sehr freundliche Leute bei der Organisation. Konnten sogar ein paar Stunden länger bleiben, ohne Aufzahlung ! Gerne kommen wir wieder !!!!!! Danke !!!!!
Tutto perfetto.Personale parcheggio Familiare e gentilissimo🔝🔝🔝🔝🔝
Die Mitarbeiter sind freundlich und engagiert. Die Stellplätze im Parkhaus sind sehr eng. Das Parkhaus ist gut zu finden und der Shuttle hat gut funktioniert. Die Kommunikation mit dem Betreiber ist schwierig. Bei der nächsten Kreuzfahrt buche ich einen Parkplatz direkt im Hafengebäude.
Compare Parking at Genoa Port.
View and compare approved car park operators at this location
Car park map.
Find the most conveniently located Genoa Port car parks.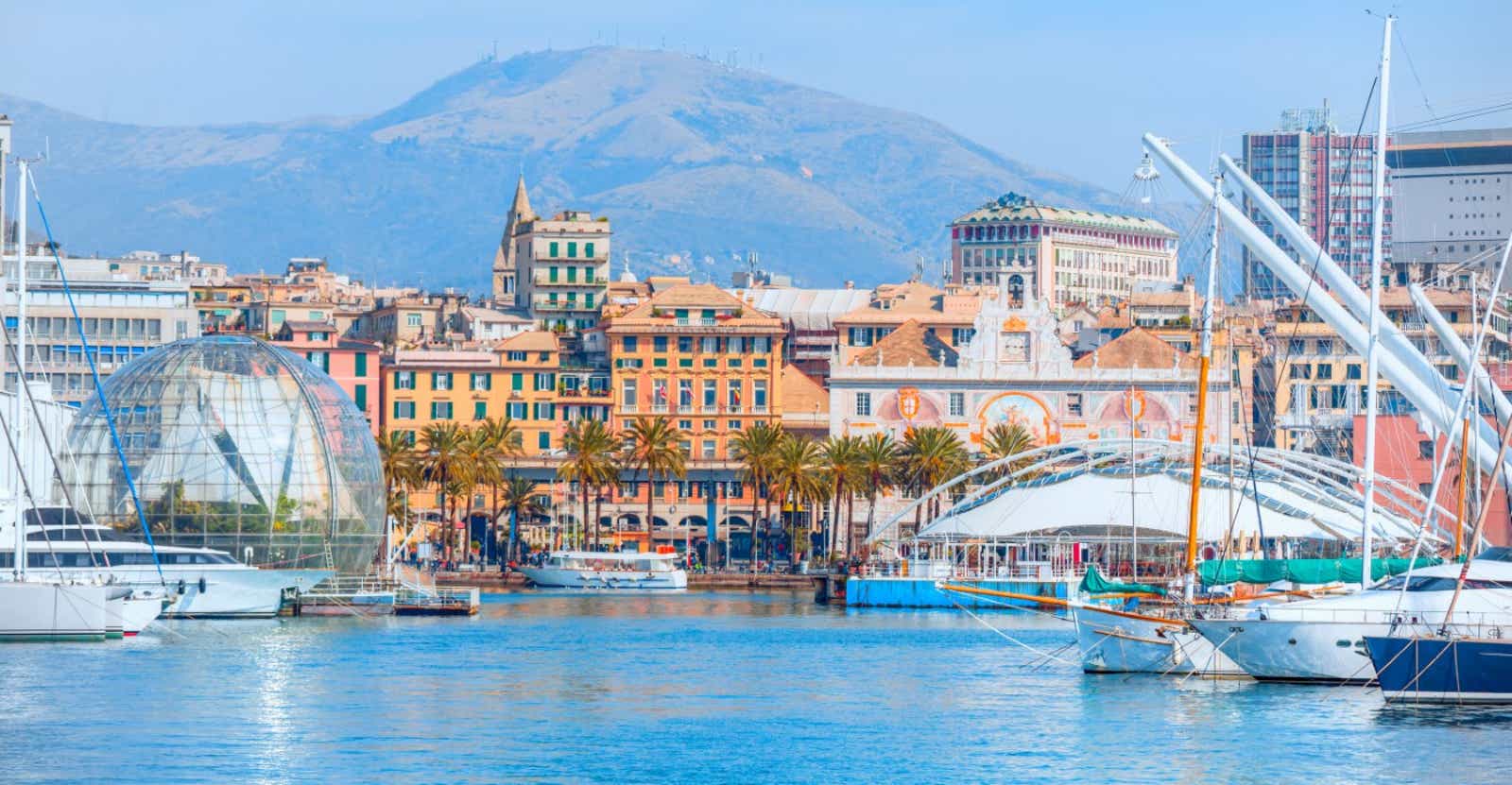 Genoa Port information
The port of Genoa is one of the most important Italian ports and it has always been a pivotal part of the city's economic and commercial activity. The port is located in the city centre, close to the historic landmarks and near to Genoa Cristoforo Colombo Airport and Genova Piazza Principe train station.
The genoa port extends continuously for 22 km along the coast, with a total surface of 6 million square meters, with over 20 terminals. It can cater for a every type of ship with goods such as metals, perishable products, containers and ferry and cruise passengers.
Stay connected to receive exclusive deals & offers