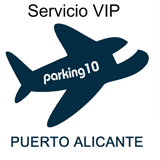 Low cost parking with an exclusive MeetGreet service is available at the Port of Alicante. Both indoor and outdoor parking spaces are available and there is a 24h security system in place.
Now you can enjoy maximum comfort with the valet service at the Port of Alicante.
Drive directly to the Port of Alicante and the staff of the company will offer you a valet service. Parking10 staff are easily-identifiable and will collect your vehicle and take it to their secure lot, complete with round-the-clock security.
24-hour parking.
How to book:
Check the price online, you only need to enter the dates/times of drop-off and pick-up of your vehicle and click on "Check Availability".
Fill in the booking form.
Once the booking is confirmed, we will send you a text message and a confirmation via email with the driver's number and the driving directions.
How to use the service:
On your departure:
Call the chauffeur 15 or 20 minutes before your arrival at the port. The driver will indicate the exact meeting point to you. The driver will be easily identifiable with a blue vest and Parking10 company logo. The driver will collect your car immediately.
To ensure that your vehicle is returned in the same condition that it was left in, there will be an internal and external checking. For this reason, it is recommended that you allow sufficient time for this, as this process can take several minutes.
After the condition check, the member of staff will give you a copy of the report.
Please note: In the event of any incident, the car park has liability insurance meaning that any incident can be dealt with quickly and professionally.
On your return:
On your return to the Port, please call to confirm that you have arrived, the chauffeur will return your vehicle at the specified meeting point.
Remember, you can request that the chauffeur inspect the vehicle with you.
Please note:
It is essential to leave the car keys with the chauffeur.
Additional Services:
Mechanical Repair, Bodywork and Paintwork. Request MeetGreet service to drop off and pick up your vehicle at the port.
Directions
You will receive a booking voucher containing the car park's address and telephone number, along with any relevant instructions and directions, upon confirming your reservation.
To view the location of the car park, please see the map on the website.
Important
The car park offers MeetGreet service to pick up and drop off at the port of Alicante.
After the booking you will receive confirmation by e-mail.
Features
Concreted

Gated Entry

Open Air

Meet and Greet

Uniformed Drivers

Undercover

24 Hour

CCTV

Night Patrol

Secure
Customer Reviews
Angel
Sunday, November 19, 2017

estuvimos esperando bastante tiempo mas de hora y media despues no tenian mi contrato que ya tenia pagado y tuve que esperar mas,no me preguntaron ni la matricula del coche,a la llegada esperamos 2 horas y estba el coche pero los del parking no estaban y no llamaron ni nada y tuvimos que esperar asta que llegaran,hay que informar mejor a los clientes y no hacer esperar tanto tiempo
Juan
Sunday, November 12, 2017

Muy buen servicio a buen precio.
José Maria
Sunday, November 5, 2017

stephen
Sunday, November 5, 2017

Francisco
Tuesday, November 22, 2016

El tiempo de espera para la recogida del vehiculo un poco larga. En general todo bien.
Jaime
Wednesday, October 29, 2014

Seriedad,Diligencia y Eficacia. enhorabuena algo raro en este Pais. Saludos y Gracias