Rated Excellent
Warsaw Chopin Airport Parking
All our car parks have anti-covid measures
Number of Car Parks
Best Priced per day
Best Rated Car Park
Closest Car Park
19
CPG Park & Fly KOR 48

zł13.61

Lider Parking Warsaw Chopin
CPG Park & Fly KOR 48

1.29 Km
How to Book Warsaw Chopin Airport Parking with Us
The booking process with ParkVia is quick and easy. Simply enter the date of the arrival and departure dates of your parking visit in the search box to check availability. From there you can choose from a wide selection of parking spaces at Warsaw Chopin airport.
There're only 3 simple steps when booking with ParkVia:
Step 1: COMPARE. Quickly and easily compare prices, services, reviews, availability and distance from the terminal. Find secure long or short-stay parking in indoor or outdoor airport car parks.
Step 2: BOOK. Choose the best parking space for your needs. Free shuttle bus transfers and other services are available. Pay securely online and get the best price guaranteed.
Step 3: PARK. Enjoy peace of mind with a guaranteed parking space for your trip. Just show your booking reservation on arrival.
What our customers say about parking at Warsaw Chopin.
Compare Parking at Warsaw Chopin
View and compare approved car park operators at this location
Car park map
Find the most conveniently located Warsaw Chopin car parks.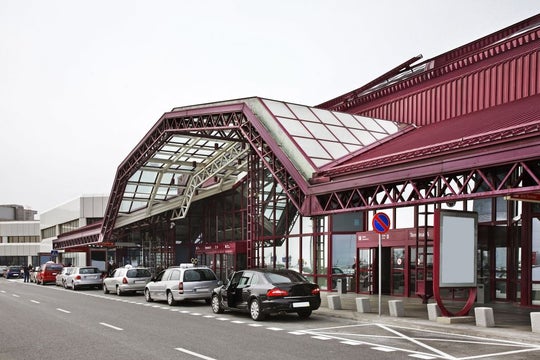 Compare Parking in Warsaw Chopin Airport
At ParkVia, we make sure we can offer the most hassle-free booking process possible, offering the most competitive prices as well as giving you a secure space. We offer all types of parking at Warsaw Chopin Airport to give you the most flexible range when choosing what's best for you. This can easily be booked in advance or days before, ensuring that you start your journey right.
We pride ourselves on our excellent service and customer satisfaction. With over 43,340 reviews from our satisfied customers, we have a rating of 4.89 out of 5.
At Warsaw Chopin airport, ParkVia offers both indoor and outdoor parking options that are all safe and secure. You can rest assured that your vehicle will be well cared for while you're away. Indoor parking can protect your vehicle from the elements, but outdoor parking is often cheaper.
For those planning a long-term trip, we offer airport parking at Chopin for extended periods. Our long-term parking options are a cost-effective solution, providing you with peace of mind knowing that your vehicle is safe and secure while you're away.
When comparing parking options at Chopin airport, you should consider what services you're looking for (barrier entry, shuttle transfers, disabled parking, toilets etc.) so you can filter out the car parks to find the best choice for you.
So, whether you're travelling for business or pleasure, we've got your parking needs covered. Book your parking space with us today and enjoy a stress-free start to your journey!
Flying from a different airport? Find parking here.
Cheap Parking in Warsaw Chopin Airport
Through our partnerships with parking providers, we offer a wide range of parking options at excellent prices, including premium services like meet and greet and individual transfers.
Secure the best deal on airport parking in Chopin by booking in advance with us. Our book-in-advance rates are unbeatable, and we recommend booking as early as possible. You can easily make your reservation on our user-friendly booking platform, where you can choose from available options and select your desired dates and times.
We're confident in our competitive pricing and offer a best-price guarantee policy. Rest assured that you won't pay more for parking with us than booking directly with the car park. If you find a cheaper rate, just let us know, and we'll refund the difference. Our best price guarantee policy gives you the peace of mind to book with confidence and trust that you're getting the best deal.
At our core, we believe that high-quality airport parking should be affordable for our customers. Our partnerships with providers and our dedication to offering the lowest rates make us the premier choice for airport parking in Chopin. Don't delay; book your parking with us today and enjoy the peace of mind of knowing that you're getting the best possible price.
Short Term and Long Term Parking at Warsaw Airport
Warsaw Chopin Airport has one large terminal that offers shops, restaurants, currency exchange services, and duty-free shopping. The airport offers free Wi-Fi throughout both terminals, and there are many parking options available, including short-term and long-term parking.
Short-term parking would be recommended for a duration of 3 days or less, as it is calculated by the hour rather than long-term parking which is calculated by each 24 hours. Short and long-term parking can be booked with the car parks listed on our website for Warsaw Chopin airport.
Below we have listed some car parks that are close to the terminal for easy access:
CPG Park & Fly KOR 48 is an open car park located 1.3 km from the terminal and by taxi, you can reach the airport in 4 minutes. There are 50 parking spaces dedicated to airport customers found behind the GreenWings offices. The car park is equipped with a number plate recognition system - no tickets are needed as entry and exit are fully automated for ParkVia customers. However, there's no shuttle service to the airport.
Leader Parking Okecie is a fenced, insured and illuminated car park found 1.8 km away from the terminal. Parking spaces are watched under constant surveillance by cameras and a security agency. It's open 24/7 and offers free transfers to and from the airport. In addition, free Lavazza coffee and cool drinks. The car park has toilets, a room for mothers and children, and is adapted for people with disabilities.
Leader Parking Under the Wings of Okęcie is found 1.8 km away from the terminal and is fenced with good lighting, a gate at the entrance, and a barrier at the exit. The facility is insured and monitored by an alarm system. They offer free airport transfer (child seats available), toilets (baby changing room) and the car park disabled-parking friendly.
Park & Ride Chopin airport is a popular option as it offers great value and convenience. All car parks offer a free shuttle service to the terminal building which runs at regular intervals. Many park-and-ride car parks offer a range of additional services such as car servicing and luggage minding for your convenience. We advise ringing to confirm shuttle times when you book to ensure a smooth journey.
Meet & Greet Parking Warsaw airport is a great option for travellers looking to save time or those travelling with children or heavy luggage. Simply drive to the terminal and a friendly, professional staff member will collect your vehicle, park it in a secure location for the duration of your trip and then return it to you as soon as you arrive back after your flight, taking the stress out of the journey.
Disabled parking and disabled transfers are offered by many parking operators at Warsaw Chopin airport. You will be able to see this in the car park information section.
About Warsaw Chopin Airport
Warsaw Chopin Airport is the largest and busiest airport in Poland, found just 10 kilometres (about 6.21 mi) south of the capital city, Warsaw. The airport has one large terminal that offers a variety of amenities such as shops, restaurants, cafes, and duty-free outlets.
Warsaw Chopin Airport serves as a hub for the national carrier, LOT Polish Airlines, and offers connections to many European and international destinations, including major cities such as London, Paris, Berlin, and New York. The airport has a capacity of up to 20 million passengers per year and has undergone extensive modernization and expansion in recent years.
Passengers can use several transportation methods to get to and from the airport, including taxi services, public transportation such as buses and trains, car rental services, and private transfers. The airport also has parking lots for short-term and long-term parking.
Stay connected to receive exclusive deals & offers
Something went wrong.
Thank you!