Park D - Treviso Official Airport Parking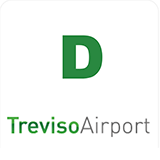 Official Airport Car Park!
Just 250m from Terminal
150 Car Spaces>
You reach the Terminal in less than 3' by walk
Directions
You will receive a booking voucher containing the car park's address and telephone number, along with any relevant instructions and directions, upon confirming your reservation.
To view the location of the car park, please see the map on the website.
Features
24 Hour

Open Air

Barrier Entry
Customer Reviews
ROMINA
Tuesday, March 10, 2020

Jasmina
Sunday, March 1, 2020

We had troubles with the ticket. We entered the parking without problems, but when we wanted to leave, the ticket didn't recognise we already paid online (it wanted to charge us additional amonut - quite high). So I had to contact the help to leave out without additional paying. Everything went smooth (so, all the respect to you), but I think you should improve this part a bit.
vittorio
Wednesday, February 26, 2020

Marjan
Friday, February 21, 2020

Hi. I'm very disapointed with the rules you have in case (not our fault as flight was cancelled) additional day we use the parking place. For 3 days I paid totall 17,55€, and due to cancelled flight for additonal day I paied 13€. As per may point of view this is not customer oriented company...I know that you have offers while reserving place via web, but in case when flight was cancelled you can giva customers an option to pay additional day via web with the same conditions/price. Hope you will recheck your conditions/tariff.
Francesco
Wednesday, February 19, 2020

Non potete chiedermi un giudizio su una cosa non applicabile: Staff del parcheggio, e chi l'ha visto? Servizio di trasferimento, non l'ho usato
DAVIDE
Saturday, February 15, 2020

MIROSLAV
Friday, February 14, 2020

ANPR system didn't work but personel was very cooperative over interphone and opened the gate manually after finding my reservation and licence plate in the database. It took no longer than 2 minutes
ante
Sunday, January 12, 2020

no transfer service necessary
KRISTINA
Sunday, January 12, 2020

Giancarlo
Tuesday, January 7, 2020

Remzi
Monday, January 6, 2020

Tine
Wednesday, December 18, 2019

NADJA
Saturday, December 14, 2019

jednostavno korištenje. Trebalo bi staviti malo više oznaka uz cestu za pronaći parking " D " jer mi smo pronalazili sva druga slova samo ne D
Alessandro
Thursday, December 5, 2019

stefano
Tuesday, December 3, 2019

Dorijano
Wednesday, November 20, 2019

Bar code reader at exit ?!
Roberto
Saturday, November 16, 2019

Robert
Saturday, November 16, 2019

Kamera ni prepoznala moje registrske tablice. Pri vstopu in izstopu sem moral kontaktirati osebje preko intercoma.
CARLO
Tuesday, November 12, 2019

KSENIJA
Friday, November 8, 2019