FlyAway Service Stuttgart Airport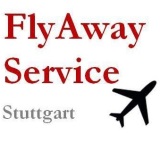 Park your car safely, conveniently and close to Stuttgart airport with FlyAwayService Stuttgart. The underground multi-storey in Stuttgart Degerloch offers convenient and secure parking spaces. The free shuttle transfer takes you directly to your departure terminal.
How it works:On the day of your departure please drive straight to the car park. Please ring the car park 15 minutes before your arrival to order the shuttle transfer. Please park on the marked open-air parking spaces and unload all luggage and passengers. Please drive into the multi-story car park (only the driver). Between the hours of 7:00 am and 20:00 pm please ring the bell at reception, any other time please proceed straight through the open barrier and park on Level 7, 8 or 9 on the spaces that are marked FlyAwayService Stuttgart. Find your fellow travelers and wait for the driver. Please note: There is no mobile reception in the multi-story car park, so please ring the driver before entering and speak to the driver personally.
For child Transfers, booster seat are available. Child seats for children under 3 years are not available.You are welcome to use your own child seats and the Operator will then store them temporarily in your vehicle.For this a handling fee of 5 € per route is due.
Directions
You will receive a booking voucher containing the car park's address and telephone number, along with any relevant instructions and directions, upon confirming your reservation.
To view the location of the car park, please see the map on the website.
Important
It might be necessary to leave your car key with the car park. Should this be the case, you will be issued with a receipt.
Please note that there is a height restriction of 2m.
Features
Concreted

Free Transfers

Perimeter Fence

Well Lit

Undercover

Shuttle bus
Customer Reviews
Ahmad
Thursday, February 20, 2020

David
Monday, February 10, 2020

Klaus
Sunday, February 9, 2020

Olivier
Sunday, February 9, 2020

concetto
Friday, February 7, 2020

Petra
Thursday, February 6, 2020

Sigita
Sunday, January 26, 2020

Nikolina
Thursday, January 23, 2020

Jean-Luc
Monday, January 20, 2020

Michael
Thursday, January 16, 2020

The pick up driver was rude and ignorant. The pick up phone call was never answered and when he arrived, denied that we were customers but was able to take our money. The second pick up was the difference between chalk and cheese. Phone answered promptly and politely. Quick pick up, good conversation and a real credit to your company.
Rolf
Monday, January 13, 2020

Beata
Sunday, January 12, 2020

I am superhappy from your service, I will definitely use it in the future. Just a quick suggestion - put it in the instruction, that when entering the parking, we should call help and announce them that we are from flyaway service. It was not clear and confusing when I have arrived. All the rest was great! Thank you!
Georg
Friday, January 10, 2020

Am Parkplatz war kein Mitarbeiter vorhanden. Die Einfährt war über den Notruf an der Schranke dennoch möglich. Der Transfer zum Flughafen hat gut geklappt, vom Flughafen zurück zum Parkplatz überhaupt nicht. Wir haben nach passieren des Zolls - so wie in der Anleitung beschrieben - den Shuttleservice versucht telefonisch zu erreichen. Außer der Mailbox ging niemand ans Telefon. Nach einer halben Stunde mussten wir dann ein Taxi nehmen. Ein Rückruf durch den Shuttleservice erfolgte ca. 2 Std nach unserer Ankunft ... eine Unverschämtheit! Einmal ParkVia und nie wieder!!!
Marcus
Saturday, January 4, 2020

Absolut freundlich und kompetent
Youssef
Thursday, January 2, 2020

Josua
Sunday, December 29, 2019

daniel
Saturday, December 28, 2019

Werner
Friday, December 27, 2019

Gerd
Thursday, December 5, 2019

Armando
Monday, December 2, 2019

The QR Codes for multiple vehicles did not work on entry so we had to ring for help which was inconvenient. Additionally, when we got picked up at the end of the trip the driver claimed that we could not all ride in the vehicle at once due to weight restrictions on the vehicle which I know was a lie. We rode in the same vehicle on the way to the airport and it was perfectly fine. Which caused us to have to make multiple trips which through off all of our plans.