Rated Excellent
London Southend Airport Parking
All our car parks have anti-covid measures
Number of Car Parks
Best Priced per day
Best Rated Car Park
Closest Car Park

4

Purple Parking Park and Ride Southend

£5.92

SACP Meet and Greet

0.80 Km
How to book Southend airport parking online with us
Starting the booking process with ParkVia is both quick and easy. All you need to do is enter your travel dates in the search box to check the availability of parking spaces. Once you have done this, you can choose from a diverse range of parking options available at off-site car parks near Southend Airport.
There're only 3 simple steps when booking with ParkVia:
Step 1: COMPARE. Quickly and easily compare prices, services, reviews, availability and distance from the terminal. Find secure long or short-stay parking in outdoor airport car parks.
Step 2: BOOK. Choose the best parking space for your needs. Shuttle bus transfer, car valet and other services are available. Pay securely online and get the best price guaranteed.
Step 3: PARK. Enjoy peace of mind with a guaranteed parking space for your trip. Just show your booking reservation on arrival.
Cheap parking at Southend airport
Low-cost parking is always available on our website, where you can take advantage of our Best Price Guarantee policy, which means you'll never pay more than if you were to book directly with the car park. We also recommend that our customers book in advance as you can save up to 60% when you do!
You can save more on parking options by booking the car park right for you. A lot of car parks offer services that you may or may not need, so it's important to look at the list of products shown and consider if it would benefit you and your experience. Some examples would be valet parking, disabled parking, shuttle bus transfers etc.
Long and short stay parking at Southend airport
On our website, short and long-term parking at Southend airport is both available to book with our partnered car park operators. Short-term is typically calculated by the hour so we recommend you book short-term parking for short trips only and book long-term parking if your journey duration is more than 3 days as long-term parking is calculated based on 24-hour periods.
What our customers say about parking at London Southend.
Compare Parking at London Southend
View and compare approved car park operators at this location
Car park map
Find the most conveniently located London Southend car parks.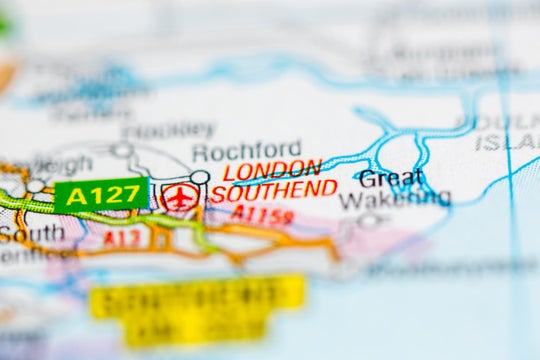 Image credit to calflier001 on Flickr
Compare
parking at Southend airport
We currently offer 4 car parks for parking at Southend airport, and all offer a range of different parking products to suit your needs. You can trust that your vehicle will be well taken care of while you're away, ensuring that you can enjoy your travels with peace of mind.
Purple Parking Park and Ride is a highly rated, outdoor parking service that has received a 4/5 rating from satisfied customers. This service offers free shuttle bus transfers to and from the airport, making it a convenient and hassle-free option for travellers. The parking area is secure and provides peace of mind for travellers who want to ensure the safety of their vehicles while they are away. Additionally, the park-and-ride facility provides convenient on-site toilets for customers to use before and after their journey.
SACP Park and Ride is rated 4/5 and provides free shuttle bus transfers to and from the airport. The parking area is outdoors, which allows easy access for drivers. To ensure the safety and security of customer vehicles, SACP Park and Ride provide CCTV coverage throughout the parking area.
Purple Parking Meet and Greet Flex is rated 4/5 and offers a meet and greet service, which allows travellers to drop off their vehicle at the terminal and have it parked for them. The car park has been awarded the Park Mark award, which signifies that they have met the security standards set by the British Parking Association. The parking facility is secure, with 24/7 CCTV monitoring and regular patrols to deter any potential intruders.
SACP Meet and Greet is rated 4/5 and offers a convenient meet-and-greet service. They offer outdoor parking that is safe and secure with CCTV, adding an extra layer of security.
Quick parking tips before starting your journey
If you're planning to use the Southend airport parking shuttle service, it's recommended that you arrive at the airport 3 hours before departure as this will give you enough time to park your vehicle and get to the terminal in time for your flight. It's always better to go early than late, and you can avoid any unforeseen delays.
If you've opted for valet parking, it's recommended to leave at least 2 hours before your departure time. This will give you enough time to drop off your car and get to your boarding gate.
In addition to these, it's important to keep in mind anything else that might affect your travel time, such as weather conditions, road closures, or unexpected traffic.
About Southend airport
London Southend Airport is an international airport located between Rochford and Southend, Essex, approximately 42 miles from London city centre. They offer flights for business and leisure travellers to the rest of the UK and Europe. The airport provides a range of facilities, including special lounges for business. The airport serves 19 destinations around Europe and the main airlines operating from this airport include EasyJet, Flybe, Sky Work Airlines and Volotea.
Southend was voted the best airport in Britain by the consumer group Which? in both August 2013 and August 2014.
Stay connected to receive exclusive deals & offers
Something went wrong.
Thank you!