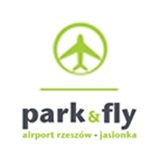 The parking area is gated, well-lit, paved with hardened gravel, fenced in, comprehensively insured, constantly monitored with CCTV cameras, regularly patrolled and additionally equipped with a modern alarm system whilst also being guarded by dogs.
Parking Park&Fly Rzeszów is a secure, open-air car park, located close to Rzeszów Jasionka airport. It is open 24/7 and offers free transfers to and from the airport (2-4 min. drive). The car park offers free toilets, baby changing facility and safety deposit box. There are also additional services available such as battery jump start, tyre checks and valet service.
PARKING SURFACE 2000 m2
SPACE BETWEEN CARS 1.5 m
Directions
You will receive a booking voucher containing the car park's address and telephone number, along with any relevant instructions and directions, upon confirming your reservation.
To view the location of the car park, please see the map on the website.
Features
Concreted

Flat Battery Jump Start

Insured Car Park

Perimeter Fence

Child Seats

Disabled Parking

Open Air

Van/Bus Parking

Well Lit

Car Servicing

CCTV

24 Hour

Shuttle bus
Customer Reviews
Dorota
Tuesday, March 17, 2020

podróż mega stresująca.W związku z zaistniałą sytuacją w kraju(zamknięcie granic z powodu koronawirusa)mój lot został odwołany i byłam zmuszona wrócić innym transportem do Polski.Auto zostało na parkingu a pracownicy w bardzo miły i kulturalny sposób,poinformowali mnie o możliwości pozostawienia auta na czas nieokreślony bez dodatkowych kosztów,ku memu ogromnemu zdziwieniu,nie ukrywam.Byłam naprawdę pozytywnie zaskoczona postawą właściciela parkingu-dziękuję i gorąco polecam!!!!!!!!!!!!!
Stanislav
Tuesday, March 10, 2020

Dobrý deň! Ďakujem Vám veľmi pekne! Parkovisko v Jasionke som už odporučil kolegom v práci, i rodine a známym. Som úplne spokojný s poskytnutím služby z vašej strany. Želám Vám veľa zdravia, a úspechov! S pozdravom Stanislav Staskovič
Vladimira
Monday, March 9, 2020

Boli sme nadmieru spokojní a a ķeď pôjdeme ešte raz určite využijem tieto služby a doporučujem ostatným využiť služby park fly. Spokojnosť nadovšetko
Łukasz
Friday, March 6, 2020

Martin
Tuesday, March 3, 2020

Prosím dajte si na vizitky pred telefónne čísla identifikačný kód svojej krajiny - medzinárodne telefónne číslo. Ďakujem
Grzegorz
Saturday, February 29, 2020

CZESLAW
Friday, February 28, 2020

Marian
Sunday, February 23, 2020

wojciech
Saturday, February 22, 2020

Elzbieta
Wednesday, February 19, 2020

Daniel
Wednesday, February 12, 2020

Marcin
Monday, February 10, 2020

Joanna
Tuesday, February 4, 2020

Wszystko odbyło się prawidłowo bardzo miła obsługa jak najbardziej polecam
KATARZYNA
Monday, January 20, 2020

Paweł
Monday, November 25, 2019

Marek
Thursday, October 31, 2019

Ihor
Wednesday, July 3, 2019

Все було класно, завезли в аеропорт, зустріли після прильоту, рекомендую.
Krzysztof
Sunday, June 9, 2019

Bardzo profesjonalnie prowadzony parking. Miła i fachowa obsługa klienta. Natychmiastowy dowóz na lotnisko oraz odbiór z lotniska, busik czekał na nas na lotnisku. Polecam wszystkim, bo warto i bezpiecznie.
Tomasz
Wednesday, May 15, 2019

super wszystko w należytym porządku polecam
Andrzej
Wednesday, May 8, 2019