Rated Excellent
Rome Fiumicino Airport Parking
All our car parks have anti-covid measures
Number of Car Parks
Best Priced per day
Best Rated Car Park
Closest Car Park
44
Parking at Fiumicino - shuttle

€2.04

Kingparking Fiumicino
Aeroporti di Roma – P Terminal BCD Undercover

0.11 Km
How to Book Parking at Rome Fiumicino Airport
Enter the dates on which you will be travelling in the search mask to check parking availability. Booking with ParkVia is quick and easy.
COMPARE
Compare prices, services, reviews and availability of parking spaces in Fiumicino quickly and intuitively. Find secure parking for all types of parking, both covered and uncovered.
BOOK
Choose the best Fiumicino car park for your needs. Car parks offer various services, including a free shuttle service. Pay securely online. Best price guaranteed.
PARK
By leaving your car in a secure car park, you will enjoy more peace of mind while you travel. Upon arrival, show your reservation to the car park.
What our customers say about parking at Rome-Fiumicino.
Compare Parking at Rome-Fiumicino
View and compare approved car park operators at this location
Car park map
Find the most conveniently located Rome-Fiumicino car parks.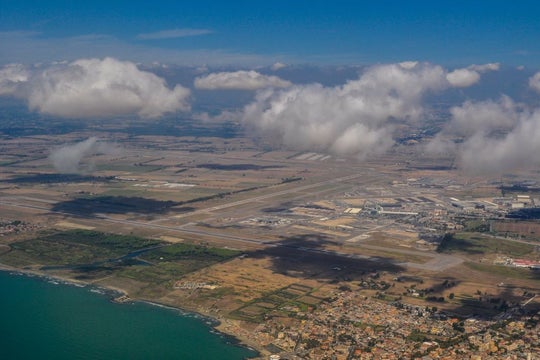 Compare Prices, Services and Reviews for Fiumicino Airport Parking
If you're in search of long-stay parking solutions at Fiumicino Airport, hunting for budget-friendly options, or aiming to retain control of your car keys while utilising a shuttle service, ParkVia has the answers you need. Our platform simplifies the process of locating the ideal parking spot at Fiumicino airport, catering to your specific requirements.
Gone are the days of browsing through countless websites for parking information. ParkVia brings all the parking options you desire together in one comprehensive platform. Our user-friendly website design enhances your experience, enabling you to seamlessly search, compare, and reserve your parking space at Fiumicino Airport.
Join millions of satisfied ParkVia customers across the globe. Whether you're embarking on an extended journey or a brief getaway, our commitment to offering tailored solutions ensures that your parking experience aligns perfectly with your needs.
Long Term Parking Fiumicino Airport
Utilising ParkVia's advanced booking system, long-term parking transforms into an opportunity to access exclusive rates, saving you money and offering an unparalleled level of cost-effectiveness compared to traditional parking options. Effortlessly explore and compare the array of long-term parking choices available at Fiumicino Airport through our intuitive website. Whether your preference lies in open-air spaces or covered ones, shuttle services or the luxury of car valet, you have the freedom to tailor your parking solution to align perfectly with your preferences.
Shuttle Transfer Services
Most car parks near Fiumicino airport offer a free shuttle service to and from the airport. If you have a child, we recommend that you check that the car park you choose provides children's seats on the shuttle so that your little one can travel safely. The shuttle service is fast and normally available 24 hours a day, 7 days a week.
Security and Keep-your-keys Services
Compare services dedicated to the security of your car such as CCTV, gate at the entrance, guards, etc. ParkVia only offers its users secure car parks, but it is still important to check the list of services that each car park offers specifically, by clicking on 'More info' in each car park's tab. Reading the reviews of other customers will also allow you to choose the car park that best suits your needs. In some car parks you can leave your car without leaving the keys, such as most of those managed by Easy Parking. Finally, for added security, many car parks are protected against theft and fire.
Valet Parking
Experience the ultimate convenience with our meet and greet parking service. This premium option involves a dedicated staff member collecting and later returning your vehicle to your chosen car park. At Fiumicino, you'll drive to the designated area, so remember to notify the car park staff of your arrival ahead of time. Once you're there, a parking attendant will be ready to receive your car and securely park it, leaving you free to focus on your upcoming flight.
Upon your return, after you've retrieved your luggage, simply call the car park to notify them of your arrival. Once again, a staff member will promptly bring your vehicle to the agreed-upon location. Meet and greet parking is the perfect solution for travellers with children, those carrying large or heavy baggage, or anyone working within a tight schedule. Choose this premium service and enjoy a hassle-free journey from start to finish.
Accessible Parking
Accessible parking spaces for individuals with disabilities are available in both official and independent car parks. At Rome Fiumicino Airport, these spaces can be located on the ground floor of Terminal C car park, as well as on levels 0, 4, and 5 of Terminal A car park. Additionally, they are situated in all sectors of the Lunga Sosta car park at Fiumicino. Within the ZTL area, dedicated spaces for badge holders are present on the departure and arrival levels of the Terminals, allowing for a maximum stay of two hours.
Additional Services
Your experience with ParkVia parking encompasses more than just securing a spot for your vehicle. We understand that when you park your car, you might require additional services to ensure a seamless journey. With us, accessing these supplementary conveniences is just as easy as booking your parking space.
You can look at the different available services with a simple click on the 'More Info' tab for each car park, you unveil a range of options tailored to enhance your parking experience. The car parks we are partnered with often have a selection of services that can make your time at the car park even more rewarding.
Whether you desire a thorough interior clean or a sparkling exterior, these services are designed to ensure that your vehicle leaves the parking facility in a condition that matches your journey ahead.
Some car parks also offer battery charging services and are on hand to provide your vehicle with the necessary power boost, ready to take you on your way. Additionally, for those who've left their vehicles parked for an extended period, their car maintenance services can prove invaluable. From essential checks to battery charging, your car is primed and ready to hit the road.
Parking at Fiumicino Airport Terminals 1 and 3
Leonardo da Vinci International Airport currently consists of two terminals: Terminal 1, from which airlines including Air France, Air Italy, Alitalia, KLM, Lufthansa and Vueling fly, and Terminal 3, which operates domestic, Schengen and non-Schengen flights, and direct flights to the United States and Israel. Terminal 2 is currently closed for expansion work on Terminal 1 (signs have also been put up to warn passengers to head to the check-in areas of Terminal 3).
The multi-storey car park at Fiumicino consists of the recently renovated Terminal A-B-C-D car parks, which are located directly in front of the terminals. They have more than 4,500 covered parking spaces and their proximity to the check-in areas makes them extremely convenient: in just a few minutes, thanks also to the treadmills in the facility, you can reach the check-in area.
Our Advice when Booking a Fiumicino Airport Car Park
Experience the Ease of Pre-Booked Parking and Save Up to 60%
When it comes to parking at Fiumicino, choosing the tranquility of pre-booked parking offers more than just convenience – it can also save you up to 60% on your parking expenses. While the majority of car parks allow for online payments, a few might require payment upon your arrival. You can easily verify this information during the checkout process.
Empower Your Decision with Reviews
Navigating Fiumicino's car park options becomes effortless with the power of reviews at your fingertips. Whether you're embarking on an extended journey or a quick stop, these online reviews allow you to make an informed choice. By exploring the experiences of fellow travellers, you can select the car park that aligns most closely with your unique requirements.
Seamless Shuttle Service and Convenient Car Valet
For those utilising the complimentary shuttle service, we recommend arriving at the airport a comfortable 3 hours before your scheduled departure. This extra time ensures a smooth transition and guarantees you won't miss your flight due to any unforeseen delays. Alternatively, if you opt for the convenient car valet service, ensure you arrive at least 2 hours before takeoff.
Safety and Security: Your Priority, Our Commitment
All Fiumicino car parks, whether covered or uncovered, offer reliability and safety as a cornerstone. However, if an additional layer of peace of mind is what you seek, consider car parks equipped with cutting-edge CCTV surveillance, night monitoring, or fortified fencing.
24/7 Accessibility, Only a Phone Call Away
Most Fiumicino car parks operate around the clock, 24 hours a day, 7 days a week. However, before finalising your booking, we recommend verifying the precise opening hours of your chosen facility. Our commitment to your convenience extends to being a source of information, ensuring that you embark on your journey well-prepared and worry-free.
About Rome Fiumicino Airport
Rome Fiumicino Airport, also known as Fiumicino - Leonardo da Vinci International Airport (IATA: FCO), stands as the primary gateway to Rome's international travel. Anchored in the municipality of Fiumicino, it resides 35 kilometres to the west of Rome's bustling heart. Swift accessibility is assured through the A91 Rome-Fiumicino motorway, seamlessly linking it to the Grande Raccordo Anulare (GRA).
Commencing its official operations on 15 January 1961, the airport now boasts two terminals, namely Terminal 1 (T1) and Terminal 3 (T3), catering to domestic, international, and intercontinental flights, harmoniously flanked by three expansive runways.
Terminal 1 emerges as the designated haven for Italy's national carrier, Alitalia, and its esteemed SkyTeam partners. Here, a fleet of 94 check-in desks intermingles with an array of self-check-in stations, catering to a seamless passenger experience.
Terminal 2, designed to accommodate low-cost airlines, concluded its operations on 15 December 2017 to facilitate an extensive expansion project for Terminal 1. In this transition, all airline activities seamlessly migrated to Terminal 3, which emerges as the airport's largest terminal. Terminal 3 generously houses an impressive 231 check-in stations, crafting an environment of fluidity and convenience. It takes centre stage in orchestrating the majority of the airport's flights, particularly those destined for the non-Schengen area.
This airport, proudly bearing the legacy of Leonardo da Vinci, presents not just a passage to Rome but a testament to the city's connectivity with the world.
Stay connected to receive exclusive deals & offers
Something went wrong.
Thank you!