Rated Excellent
Prague Airport Parking
All our car parks have anti-covid measures
Number of Car Parks
Best Priced per day
Best Rated Car Park
Closest Car Park

4

Holiday Parking Prague Airport

Kč84.35

Holiday Parking Prague Airport

Smile Parking Prague

0.18 Km
How to book Prague airport parking
If you're looking for a hassle-free way to book your parking spot, ParkVia is the solution for you. Simply input your travel dates into the search box and check for availability. You'll be presented with a diverse range of off-site parking options near Prague airport.
Booking with ParkVia is a breeze and can be completed in just three easy steps:
Step 1: COMPARE. In this step, you can quickly compare prices, services, reviews, availability, and distance from the terminal. Find the perfect long or short-term parking spot in either indoor or outdoor airport car parks.
Step 2: BOOK. After finding the ideal parking space, you can make your reservation and choose additional services like shuttle bus transfer or car valet. You can also pay securely online, with the best price guaranteed.
Step 3: PARK. With your parking spot reserved, you can enjoy peace of mind while travelling. Just show your booking reservation upon arrival and park your vehicle without any worries.
Compare car parks for parking at Prague airport
We have 4 reliable partnered car parks to provide you with a diverse range of secure parking options that cater to your specific needs. By booking your parking space with us ahead of time, you can enjoy a hassle-free start to your travel journey.
At ParkVia, we take pride in our outstanding service and commitment to customer satisfaction. Don't just take our word for it - our satisfied customers have left over 2,500 reviews, giving us an impressive rating of 4.82 out of 5. With our focus on providing high-quality parking options and excellent service, you can trust that your vehicle is in good hands while you're away.
For travellers seeking outdoor parking at Prague airport, ParkVia has got you covered. Our partnered car parks offer a variety of safe and secure outdoor parking options to cater to your parking requirements, whether you're planning a short-term or long-term trip from Prague airport. Our commitment to providing reliable and high-quality outdoor parking options ensures that your vehicle will remain safe and secure while you're away. You can trust that your vehicle will be well taken care of while you're away.
No matter if you're travelling for leisure or work, we have the perfect parking solution to suit your needs. Book your parking space with ParkVia today and experience the peace of mind that comes with knowing your vehicle is safely parked while you embark on your journey. Say goodbye to pre-travel stress and start your journey off on the right foot with ParkVia.
Flying from a different airport? Find parking in Brno.
What our customers say about parking at Prague.
Compare Parking at Prague
View and compare approved car park operators at this location
Car park map
Find the most conveniently located Prague car parks.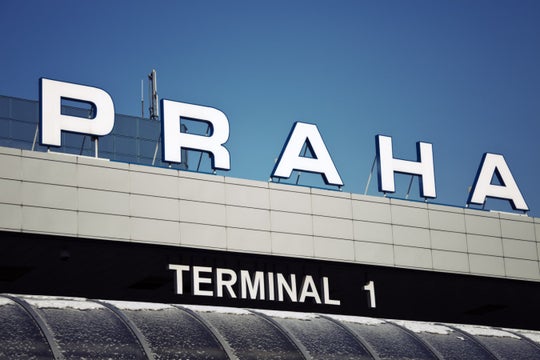 Cheap parking at Prague airport
ParkVia has partnered with various providers to offer an extensive selection of parking options at competitive prices, including premium services like meet and greet and individual transfers. Our partnerships allow us to pass on significant savings to our customers, making airport parking in Prague more affordable than ever.
To enjoy the lowest rates on airport parking, we recommend booking with us in advance. Our pre-booking rates are unbeatable, and we encourage our customers to secure their reservations as early as possible to take advantage of the best deals. With our easy-to-use online booking platform, you can effortlessly select your preferred parking dates and times and browse through available options to find the perfect parking solution for your needs.
We take pride in offering competitive pricing on a wide range of parking options. Our commitment to providing high-quality parking solutions at affordable rates is at the heart of what we do. We're so confident in our pricing that we offer a best-price guarantee policy to all our customers.
Our best price guarantee policy ensures that you will always pay the same price for your parking when booking with us as you would have paid when booking directly with the car park. If you discover that you could have booked your parking for less elsewhere, just let us know, and we will refund you the difference. Our policy is a testament to our dedication to offering our customers the best deals on airport parking in Prague.
At ParkVia, we believe that everyone should have access to secure, high-quality parking at a fair price. Our partnerships with leading providers and commitment to low rates make us the preferred choice for travellers seeking affordable airport parking solutions. Don't hesitate – to book your parking with ParkVia today and rest assured that you're getting the best deal possible.
Prague airport parking near terminals 1 and 2
Prague airport has two terminals, Terminal 1 and Terminal 2, which handle a variety of flights, including intercontinental, Schengen and non-Schengen flights, and domestic flights. Terminal 1 is used for flights outside the Schengen Area, while Terminal 2 is used for Schengen flights and other European destinations.
Terminal 1 at Prague Airport serves flights to destinations outside of the Schengen Area, including North America, Africa, Asia, the Middle East, and the United Kingdom. It operates with both domestic and international arrivals and departures and a total of 19 gates.
Prague Airport Terminal 2 is the primary terminal for Schengen Flights and European destinations. The terminal caters to both international and domestic arrivals and departures, making it a busy hub for travellers from all over the world. The terminal is equipped with several gates, a number of check-in desks, and a range of facilities designed to make your travel experience as comfortable and convenient as possible.
You can expect a range of services and amenities to help you make the most of your time at the airport. From restaurants and cafeterias to shops and duty-free stores, ATMs, banking services, exchange offices, and post office services.
For those who need to transfer between terminals, Terminal 2 is conveniently connected to Terminal 1, making it easy to navigate the airport and get to your next destination quickly and efficiently.
Valet Parking Prague is the closest to these terminals by distance and offers outdoor parking solutions that are equipped with high-security features including CCTV surveillance, perimeter fencing, and night patrol. Additionally, the car park offers an option for covered parking and has access to restroom facilities. The facility is fully insured, which provides customers with peace of mind during their travels.
Planning ahead can make your airport experience much smoother and stress-free. One of the things to consider when preparing for your trip is the distance between your chosen car park and the airport terminal. To avoid any inconvenience, we recommend booking your transfers in advance or making arrangements for them ahead of time. By doing so, you can ensure a timely and efficient journey, giving you peace of mind and allowing you to focus on enjoying your trip. Don't leave it to chance, plan ahead and make the most of your airport experience.
Shuttle bus transfers and other parking services at Prague airport
ParkVia provides a selection of car parks at Prague airport, most of which offer shuttle transfers to the airport terminals. These transfers are typically scheduled but may also be available at regular intervals. To optimize your visit, it is recommended that you verify shuttle times directly with the car park.
In addition, many of the car parks at Prague airport offer a range of additional parking services. With a diverse selection of options available, you can choose the ones that best meet your needs.
Go Parking Prague offers free shuttle transfers to the terminals at Prague airport, making your journey as seamless and stress-free as possible. Their shuttle service operates at regular intervals throughout the day, so you can be sure to arrive at the airport on time for your flight.
Smile Parking Prague provides a premier meet-and-greet (valet parking) service for customers seeking a convenient and stress-free parking experience. A member of their team will greet you at a designated pick-up point upon your arrival at the airport. You can then hand over your car to the staff member, who will take care of parking it safely and securely for you.
The meet-and-greet service is ideal for customers who want to save time and avoid the hassle of finding a parking spot at the airport. It is particularly suitable for those who have a lot of luggage or are travelling with children, as their staff will assist you with your bags and help you navigate the airport with ease.
Tips on parking at Prague airport
When you book a parking space at Prague airport, one of the things you need to decide is whether you prefer indoor or outdoor parking. Opting for indoor parking will provide your car with shelter from weather conditions and keep it in pristine condition. However, it typically costs more than outdoor parking, which may leave your car exposed to the elements.
Another factor to consider is whether you need short-term or long-term parking. Short-term parking rates are calculated by the day and are ideal for those who need to park their cars for a few days or less. Long-term parking, on the other hand, covers periods longer than 3 days and is more cost-effective for those who need to park for an extended period of time.
If you plan to use the shuttle service provided by the car park, it's recommended that you arrive at the airport at least three hours prior to your flight's scheduled departure. This will allow you plenty of time to transfer to the terminal and complete the check-in and security procedures. If you choose the valet parking service, you can aim to arrive two hours before your flight's departure time, giving you ample time to hand over your car and make your way to the terminal.
About Prague airport
Prague Airport, also known as Václav Havel Airport Prague, is the largest and busiest airport in the Czech Republic. The airport is located about 17 kilometres northwest of the city centre and serves as the main international gateway to the country. The airport offers a wide range of services, including restaurants and cafeterias, shops and duty-free stores, banking services, exchange offices, post office services, and first aid. Additionally, the airport provides several transportation options for passengers, including taxis, car rentals, shuttle buses, and public transportation.
Stay connected to receive exclusive deals & offers
Something went wrong.
Thank you!