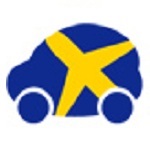 Pisa Park is only 3 minutes away on foot from Pisa Airport! It accepts cars and motorbikes, is open 24 hours a day. Meet and Greet available!
The car park doesn't offer the shuttle bus service. The car park is open around the clock and is close to Pisa Airport...so close that you can walk there in 3 minutes! (There is a pedestrian walkway that is illuminated at night) Vehicles are parked in an open air compound which is completely safe thanks to their 24/7 CCTV system and the continuous presence of staff at the site. There is also space to accommodate 4 motorcycles under cover to ensure their protection from possible bad weather. In case of bad weather, the friendly employees can assist those with children or heavy luggage by taking them directly to the terminal. After that, your vehicle will not be moved from the car park premises for any reason.
Do you need to check in heavy luggage, or do you just not fancy the walk!? No problem at all, Pisa Park will meet you at the airport! Thanks to the meet and greet service, you will be able to drive directly to the airport where a designated driver will pick up your vehicle and drive it back to the car park. On your return, you just need to call the car park and in a few minutes your car will be there, ready for you to collect from outside the terminal!
However, Pisa Park can offer you even more:

Refuelling service;
External or full car wash;
External motorcycle wash;
Free wi-fi connection.
On the website, please enter the dates and times for dropping off and collecting your car, and in a few clicks you will have booked your space at Pisa Park.
Directions
You will receive a booking voucher containing the car park's address and telephone number, along with any relevant instructions and directions, upon confirming your reservation.
To view the location of the car park, please see the map on the website.
Features
Insured Car Park

Meet and Greet

Night Patrol

Valeting Available

Wifi

Secure

CCTV

24 Hour
Customer Reviews
Davide
Monday, March 9, 2020

Gianni
Wednesday, March 4, 2020

Preciso di non avere utilizzato il servizio di trasferimento, ma non si può non compilare il campo.
Biagio
Sunday, March 1, 2020

matteo
Sunday, February 23, 2020

Una vergogna , non sono riuscito ad usufruire del parcheggio perché all'ora pattuita del mio arrivo era chiusooo !!! Ha lasciato un biglietto sull'ingresso con scritto " riapro alle 5 " . Ho passato la notte dormendo in macchina lungo la strada! Gli faccio causa !!!
L'aeroporto di Pisa chiude dalle 00.30 (Salvo Ritardi) e riapre alle 4.00 di mattina. Visto l'orario inusuale della sua prenotazione abbiamo tentato di contattarla tramite sms e whatsup e telefono ma nessuna risposta. Abbiamo aspettato fino alle 01.30 ma niente e visto che erano arrivati tutti i nostri clienti abbiamo chiuso. Se pensava di dormire all'aeroporto chiuso ha sbagliato di grosso. la maleducazione di certe persone non ha mai limite...almeno poteva rispondere al telefono
Elisa
Tuesday, February 11, 2020

SANDRO
Sunday, February 9, 2020

Ottimo ed economico , vicino aeroporto
Giacomo
Wednesday, February 5, 2020

Billone
Tuesday, February 4, 2020

Francesco
Monday, February 3, 2020

Loriano
Sunday, January 26, 2020

Marilena
Friday, January 24, 2020

GIANPIERO
Monday, January 20, 2020

Guglielmo
Friday, January 17, 2020

Elisa
Tuesday, January 14, 2020

barry
Tuesday, January 14, 2020

Giuseppe
Tuesday, January 7, 2020

Marco
Sunday, January 5, 2020

la prenotazione car valet non è andata a buon fine e nonostante le svariate telefonate fatte x accertarmi che tutto fosse a posto, all'arrivo mi è stato risposto in modo seccato e irritante: VOLETE PERDERE ALTRO TEMPO?- così ho dovuto farmela a piedi e di corsa fino al terminal. COMPLIMENTI X IL SERVIZIO!!!!!!!!
Roberto
Thursday, January 2, 2020

Alessia
Sunday, December 29, 2019

alfredo
Friday, December 20, 2019

Parcheggio di riferimento già utilizzato diverse volte impeccabile la mia ormai è una scelta preferita.-