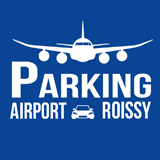 PARKING AIRPORT ROISSY is open 24 hours a day and offers CCTV, Shuttle Bus, Night Patrol, Tarmac.
Fully fenced with CCTV, open 24/7. Drop off your vehicle safely.

A private shuttle is available to take you to your terminal, usually within 10 to 15 minutes, and pick you up at the exit on your return.

Located a few kilometers from Roissy Charles de Gaulle airport.
Trucks over 12 m are not accepted
Night supplements:
-: 10 € will be asked for an arrival/exit and / or a return between 21H00 and 07H00
-10 € will be requested. for an arrival or exit and / or a holiday in France (eg November 1, November 11, December 25 ...). P>
For more than 4 people per vehicule: 5Euros/person
Directions
You will receive a booking voucher containing the car park's address and telephone number, along with any relevant instructions and directions, upon confirming your reservation.
To view the location of the car park, please see the map on the website.
Features
24 Hour

CCTV

Night Patrol

Secure

Shuttle bus

Tarmaced
Customer Reviews
Kristina
Monday, January 27, 2020

It wasn't easy to reach the parking, the coordinatea received should be updated. They are close but not correct. The staff was great, we were late for an hour or so but still someone showed up after the call. He didn't speak English so well but he was very polite and pleasant and we understood each other with a little effort. After we were picked off and came back to the car, the car was prepared already, heating was on and it was opened so that we could easily place our luggage. The whole experience was really great!
JACKY
Thursday, January 16, 2020

Laurence
Sunday, January 12, 2020

Un peu difficile à trouver (l'adresse n'est pas dans certains navigateurs) mais sinon service parfait et à un prix bien plus abordable que les parkings sur l'aéroport
Harry
Thursday, January 9, 2020

patrick
Monday, January 6, 2020

nous ne pouvons pas noter car nous avons été éconduits vers la sortie. Il n'y avait plus de place. mais rien n'a été fait pour nous prévenir. note 0 pour nous
Giulia
Sunday, January 5, 2020

The parking does not come up on Google by name so please be careful or you'll end up in the middle of nowhere as Parking Airport Roissy AEREL does not exist anymore. The staff can't speak english and are quite disorganised. One of the drivers is absolutely crazy and extremely rude. He yelled at me and at other customers then drove really dangerously while yelling at his mobile phone in french. This happened on both trips so it's more the norm than an exception. They charged me 30 euros to transport my dog to the airport and back in a carrier. When the crazy one tried to stack luggages on top of the crate and I told him to be careful, please, he said "next time drive your car' and then slammed the door really hard without any regard to my dog wellbeing. I yelled at him that I paid for the transport and I expected him to be careful he started screaming at me. Everyone on the van was shocked by his behaviour. Will not go back if I can avoid it.
Philip
Saturday, January 4, 2020

Patrick
Friday, January 3, 2020

.Parkvia est une ARNAQUE ! Pas de place, le parking a prévenu Parkvia qui ne nous a pas prévenus ! Heureusement que nous étions en avance => parking Px D'ADP à 90€. NE PAS UTILISER PARKVIA
CHAMTON
Thursday, January 2, 2020

Aucune expérience, refus de ma réservation à cause des grèves SNCF et failli annuler mon voyage, heureusement une place était encore disponible directement sur le parking aéroport en Terminal F2 à 115 € pour 3 jours, je ne réserverai plus sur ce site