Rated Excellent
Paris Charles de Gaulle Airport Parking
All our car parks have anti-covid measures
Number of Car Parks
Best Priced per day
Best Rated Car Park
Closest Car Park

10

Parking Roissy Voyage CDG

Blue Valet Meet and Greet Paris CDG - Open Air

0.30 Km
Compare Parking Charles de Gaulle Airport
If you're travelling from Paris cDG airport and arriving by car then you will be pleased to know that ParkVia makes it easy to compare a range of parking options and to book quickly and securely online. Whether you're looking for short term or long-term parking at charles de Gaulle with 19 official on site or off site car parks to choose from we make is easy to compare and find the best parking space at the best price.
About Paris charles de Gaulle airport parking
ParkVia offers private secure car parks for Paris charles de Gaulle airport with shuttle transfers. So you can arrive at the airport without the worry of having to find a parking space.
To check prices and availability simply enter the dates and times required and click on "check Availability". When you have completed your booking for charles de Gaulle airport parking you will receive a confirmation email with your booking reference the address and directions to the car park as well as important contact telephone numbers.
What our customers say about parking at Paris Charles de Gaulle.
Compare Parking at Paris Charles de Gaulle
View and compare approved car park operators at this location
Car park map
Find the most conveniently located Paris Charles de Gaulle car parks.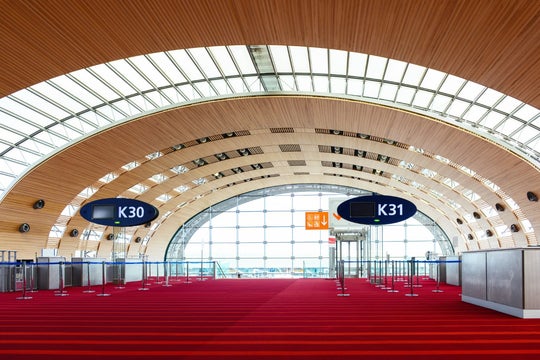 Cheap parking Charles de Gaulle airport
If you're looking for low cost parking as Charles de Gaulle, with ParkVia you can save up to 60% off the price your parking would have cost on the day. For extra peace of mind we offer our Best Price Guarantee, which means that you will never pay more when you book in advance online with ParkVia that you would have done if you had booked your parking on the day of your flight.
As a tip, the offsite parking near Charles de Gaulle is normally slightly cheaper than the official on site car parks. Whilst the on-site parking offers the ultimate convenience, allowing you to walk from your car to the terminal in just a couple of minutes, all off-site options provide a free and frequent shuttle service to take you to your terminal.
CDG Airport Parking Services & Options
To ensure that you book the right type of parking for you and enjoy the best possible travel experience, we offer a range of different parking options for your to choose from.
Park and Ride at Charles de Gaulle
Park and Ride or shuttle parking at CDG airport offers great value for a wide variety of travellers. Transfers to the airport are short and shuttles are free and run at regular intervals. Most car parks are open 24/7 and offer outdoor and covered parking at Charles de Gaulle.
Valet Parking Charles de Gaulle
Valet parking is great for the time conscious traveller as you're car will be collected by friendly professional staff outside the airport and will be delivered back to you at a convenient location upon your arrival. This option is also great for travellers with children or with heavy / bulky luggage. We recommend calling ahead to avoid waiting!
Disabled Parking at Charles de Gaulle
The official car parks and some off-site car parks also offer disabled parking but be sure to check before booking.
Other features available to book at an additional cost through ParkVia which will further enhance your journey include
Car washing
Car servicing
Luggage wrapping
Battery recovery
Additional offers such as discounts for airport stores and coffee and hot drinks on arrival
Paris Charles de Gaulle information
Aéroports de Paris is a company created in 1945 with the intention of unifying the airports around Paris. Paris Charles de Gaulle airport, also known as Roissy Airport, was built nineteen years later due to the saturation of the airports at Paris-Orly and Paris-Le Bourget.
The airport, is located 23 km north east of Paris. It has three terminals through which 62,052,917 passengers passed in September 2013, making it Europe's second busiest airport (after London Heathrow) in passengers served. The main airlines operating from this airport include Air France, British Airways, EasyJet, Iberia, KLM and Lufthansa. They fly to a huge number of worldwide destinations.
Stay connected to receive exclusive deals & offers
Something went wrong.
Thank you!