Paris-Beauvais Official Airport Parking P1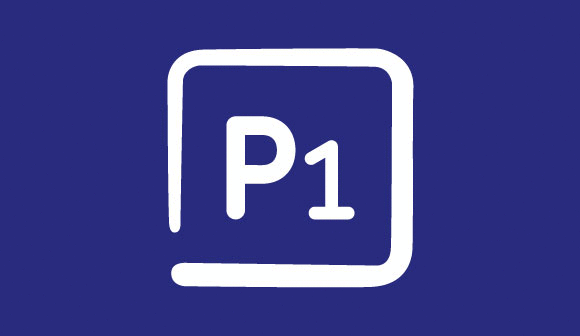 On the site of Beauvais airport, the Official Parking P1 has an ideal location! No need to take a minibus or to walk! In less than 2 minutes on foot, you will have reached Terminals 1! This Premium Parking is fenced, open-air with an entrance barrier and monitored by CCTV.
Why Book This Parking? Ideal location: less than 3 min walk from both terminals! Absence of stress and tremendous time-saving! Official car park open air, fenced and monitored by CCTV. Disabled Information 14 parking spaces are reserved for people who have difficulty in travelling. In addition, an assistance system is provided by the airport. If you wish to take advantage of this service, we advise you to indicate it when you book your car park. Further information The airport is closed from 23H00 to 06H00 in the morning. The car park can be used at night, but no assistance will be possible in case of problems or technical difficulties (barrier, code ...).
How it works Arriving at the airport, please follow the signs to P1. Enter your booking code and press "V" to validate and take your ticket back in order to enter the car park.
On your return to the airport go to your car, drive up to the barrier and insert your ticket at the barrier.
Directions
You will receive a booking voucher containing the car park's address and telephone number, along with any relevant instructions and directions, upon confirming your reservation.
To view the location of the car park, please see the map on the website.
Road disruption may happen on November 17th following a national mobilization. If you come by car or shuttle to the airport, we advise you to anticipate your trip to reach the airport. From Paris (Porte Maillot) to Aeroport Paris-Beauvais, shuttle will leave from 5.00 AM
Features
Alarm System

Barrier Entry

CCTV

Disabled Parking

Insured Car Park

Open Air

Perimeter Fence

PIN Entry

Secure

Tarmaced
Customer Reviews
GBAGUIDI
Sunday, February 23, 2020

STEPHANE
Monday, September 9, 2019

simple rapide efficace Tarif raisonnable (y compris le P1) manque plus qu'un parking couvert
Yoann
Wednesday, April 24, 2019

Personne a notre arrivée pour nous renseigner. Personne ne répond au téléphone quand on appelle.
catherine
Thursday, December 27, 2018

Béatrice
Wednesday, August 1, 2018

Bettina
Tuesday, July 31, 2018

Yann
Wednesday, July 25, 2018

zahari
Thursday, May 3, 2018

Kevin
Monday, November 27, 2017

Exit barrier did not accept pre-paid ticket, and asked for 70 euros! Had to phone for assistance, and barrier was opened. A bit of stress I did not need after my flight! All in allOK
didier
Sunday, October 1, 2017

pourqoui prendre le parking P1 alors qu,il faut aller chercher la carte de sortie au P2 autant ce garer au P2 et c,est moins cher de 10€ handicapé ,j,étais obliger d 'aller chercher le ticket qui ma fait un aller retour P1 p2 Ou est l'erreur du vol ou mal organiser ou etudier j,avais payé par internet c,'est nul
Serge
Friday, September 22, 2017

Difficultés lors de la sortie. Quoique le code communiqué lors de la souscription ait été communiqué à la borne lors de l'entrée, le montant correspondant au stationnement a été demandé à la sortie, apres introduction du ticket. Longue attente lors de la mise en relation avec un collaborateur lors de cet incident (appel à la barrière inopérante). Toutefois, à l'issue d'un contact abouti, le problème à rapidement trouvé sa solution et la barrière a été ouverte à distance.
Andrée
Monday, September 4, 2017

A l'aller, nous avons déposé la voiture en utlisant le QR code donné par internet , mais pour le retour, lorsque nous passons la carte, la machine ne tient pas compte de notre paiement par internet et ne nous demande mas notre QR code... Heureusement il y a un bouton d'appel pour la sortie ! Très efficace car la barrière a pu être levée... Ce fonctionnement n'est pas encore complètement opérationnel . Dommage !