Rated Excellent
Palma Airport Parking
All our car parks have anti-covid measures
Number of Car Parks
Best Priced per day
Best Rated Car Park
Closest Car Park

6

Larga Estancia AENA Palma de Mallorca Airport

€4.68

Larga Estancia AENA Palma de Mallorca Airport

Parking General AENA Mallorca 10-20 Days

0.00 Km
How to book Palma airport parking with ParkVia
Enter the dates you're travelling in the search box to check availability and start ParkVia's quick and easy booking process in just 3 steps.
COMPARE
Quickly and easily compare prices, services, reviews, availability and distance from the terminal. Find secure long or short-stay parking in indoor or outdoor airport car parks.
BOOK
Choose the best parking space for your needs. Shuttle bus transfer, luggage minding and other services are available. Pay securely online. Best price guaranteed.
PARK
Enjoy peace of mind with a safe and secure parking space for your trip. Just show your booking reservation on arrival. Take a short walk to the terminals or get free shuttle transfers.
Compare low cost parking Palma airport
Our ParkVia website offers travellers six different parking options to choose from at Palma Airport. We understand that each traveller's needs are unique, so we provide options for both short and long-term parking.
For those who require parking for less than three days, we recommend using the short-stay car park. This option provides a convenient and affordable solution for shorter trips. On the other hand, if you are planning to be away for an extended period, the long-stay car park is a great choice. With rates that are not calculated hourly, it offers a cost-effective way to park your vehicle.
In addition to your stay, we offer the choice of indoor or outdoor parking. Our covered parking option provides protection from the elements, ensuring your vehicle remains in pristine condition during your absence. This option is especially beneficial during the hotter months of the year when temperatures can reach scorching levels. If you are looking for a more budget-friendly solution, our open-air parking option is available.
We take pride in providing our customers with safe and secure parking options at Palma Airport. Our parking facilities are equipped with security cameras and are staffed 24/7, ensuring the safety of your vehicle while you are away. With our easy booking process and competitive pricing, you can rest assured that your parking needs are taken care of.
What our customers say about parking at Palma de Mallorca.
Compare Parking at Palma de Mallorca
View and compare approved car park operators at this location
Car park map
Find the most conveniently located Palma de Mallorca car parks.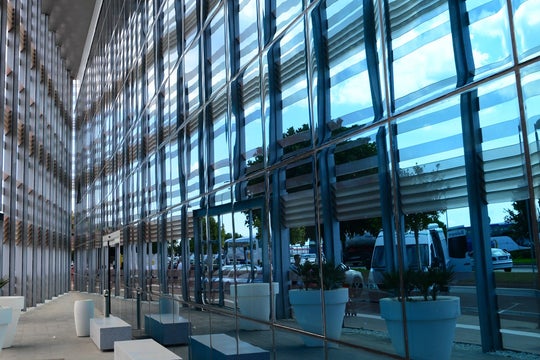 Advantages of booking Palma airport parking in advance
At ParkVia, we understand the importance of finding affordable parking options at Palma Airport. Thanks to our partnerships with third-party and on-site providers, we offer competitive pricing on a wide range of parking options. We believe that finding a suitable parking spot should not break the bank, and that is why we offer our customers fantastic prices on all our parking options. Also, by booking in advance with ParkVia, customers can save up to 60% compared to booking on the day of arrival.
Booking in advance through ParkVia also guarantees that you reserve the car park that suits your needs, providing the most relevant services and security. While all of our car parks are secure, we understand that some customers may have specific preferences when it comes to their parking options. By booking in advance, you can ensure that you find the perfect parking spot for your individual needs.
In addition to our already low prices, we also offer our customers the Best Price Guarantee policy. This means that if you find a cheaper rate for the same Palma Airport parking that we offer on our website, we will refund the difference. This policy ensures that our customers are always getting the best price available.
About Palma de Mallorca Airport
Palma de Mallorca Airport is the third-largest airport in Spain and is located just 8 kilometres east of Palma, the capital of the island of Mallorca. The airport serves as a gateway to one of Spain's most popular tourist destinations, attracting millions of visitors each year.
The airport has a single terminal building, which is divided into four modules, and offers a wide range of services and facilities, including shops, restaurants, duty-free stores, car rental desks, ATMs, and currency exchange counters. There is also a VIP lounge for business and first-class passengers.
PMI airport handles both domestic and international flights, with airlines such as Ryanair, easyJet, and Vueling offering low-cost options, and major airlines such as British Airways and Lufthansa operating regular flights to and from the airport.
To get to and from the airport, there are several transportation options available, including taxis, buses, and car rental services. The airport is also easily accessible by car, with several major roads leading directly to the terminal.
Palma airport parking terminal
Palma Airport has one main terminal building which is divided into four modules: A, B, C, and D. The terminal features a wide range of amenities such as restaurants, cafes, duty-free shops, and retail stores, as well as free Wi-Fi and charging stations. Palma Airport's terminal also provides various services including luggage storage, currency exchange, and car rental facilities. The airport's terminal is designed to provide a comfortable and convenient travel experience for passengers, with an easy-to-navigate layout and efficient check-in procedures. Overall, Palma Airport's terminal is a modern and well-equipped facility that caters to the needs of modern-day travellers.
Stay connected to receive exclusive deals & offers
Something went wrong.
Thank you!