AparcaMadrid Barajas Airport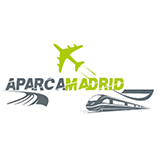 Economic Meet and Greet service for all Madrid Barajas terminals. The car park has 24hr security, a perimeter fence and your car will be parked only 5 min away from the terminals.
The car park offers you everything you need to have a relaxing journey. Your car will be parked in a safe environment. AparcaMadrid Barajas Airport offers good value for money with the best quality service.
The Meet&Greet drivers will help you start your journey in a professional and responsible way.
How does it work?
The service works as follows:
Book online for the dates and times you are travelling to and from the airport. You will receive a confirmation with all your reservation details.
On the day you are flying out of Madrid, please call the telephone number provided in the confirmation, about 20 minutes before you arrive at the airport. This phone call allows for early arrivals or delays.
Drive to the terminal building you are departing from. The driver will meet you at the drop off area. After a quick inspection of your vehicle, you proceed to checking in or boarding your plane, while the chauffeur drives your car to the secure compound.
Your vehicle will remain here until your return. When you arrive back, after you have collected your luggage and passed passport control, please call the same telephone number. At this point a chauffeur will drive your car back and meet you at the same location where you first met.
Directions
You will receive a booking voucher containing the car park's address and telephone number, along with any relevant instructions and directions, upon confirming your reservation.
To view the location of the car park, please see the map on the website.
Features
Meet and Greet

Secure

Tarmaced

Barrier Entry

Insured Car Park

CCTV

24 Hour
Customer Reviews
ANGELICA
Monday, March 16, 2020

Me llega el mensaje de coche entregado antes de que me lo entreguen y el chofer ni se molesta en decirme que se ha encendido el aviso de falta de aceite en el ordenador del coche. Tras muchos años usando servicio de aparcacoches, de lo peor. Con la página de parkvia muy satisfecha, como siempre.
Juan Carlos
Monday, March 2, 2020

Monica
Monday, February 17, 2020

Tuve que pagar ticket de salida cuando me entregaron el coche.
FERNANDO
Sunday, February 16, 2020

Rui
Sunday, February 16, 2020

Tive alguma apreensão quando fiz a reserva. Em Madrid! No aeroporto! Mas tudo foi muito fácil e a disponibilidade de quem me atendeu ao telefone foi total. Não tive tempos de espera nem na chegada, nem no regresso. Fiqueio habituado. E no fim até uma garrafa de água me foi oferecida. Parabéns. Não precisam melhorar. Só manter.
Yolanda
Saturday, February 8, 2020

Cuando llegué al aeropuerto llamé al conductor y éste me informó que no disponían de chófer para hacerme la entrega de mi vehículo según lo estipulado. Vinieron a recogerme y me desplazaron a toda velocidad, una conducción bastante agresiva hasta el parking de Parkvía, con la pérdida de tiempo que me conllevó. Hay multitud de empresas que se dedican a esta actividad y jamás me había ocurrido ésto con otras empresas
FERNANDO
Saturday, February 8, 2020

Juan Carlos
Tuesday, January 28, 2020

CRISTINA
Wednesday, January 15, 2020

No nos pareció correcto que tengamos que esperar nosotros cuando se indica el vuelo de llegada y se os avisa cuando llega el avión.
Alfredo
Wednesday, January 8, 2020

Rubén
Tuesday, January 7, 2020

La devolución tardó demasiado. El resto, bien.
RAUL
Tuesday, January 7, 2020

Maria esther
Sunday, January 5, 2020

Genial! Recomendable... Y lo volvere a utilizar en mi proximo viaje
Fco. Javier
Saturday, January 4, 2020

Se produjeron tres incidencias que debieran mejorar, a saber: 1. En la ida, a pesar de haber llamado con 25 minutos de antelación y haberme dado el ok de recogida, tuve que esperar otros 25 minutos más con el consiguiente problema por el estacionamiento con la Policía Local. 2. En la recogida del vehículo me encontré con dos aspectos desagradables: el cajón debajo del apoyabrazos delantero extrañamente abierto (desconozco ahora mismo si me pudiera faltar algo) y el coche bastante más sucio de como lo dejé.
Fco.Javier
Saturday, January 4, 2020

Excelente servicio. Totalmente recomendable.
Gonzalo
Thursday, January 2, 2020

Fatal la experiencia. Llame 20 minutos antes de llegar al aeropuerto y tardaron otros 20 minutos más en llegar. El coche lo deje limpio y me lo entregaron helado con agua y barro. Está claro que el coche ha estado en un descampado. Y además he tenido que pagar 2.90 euros de más porque llegaron tarde
Celestino
Thursday, January 2, 2020

sonia
Wednesday, January 1, 2020

JOSÉ ÁNGEL
Tuesday, December 31, 2019

Claudia
Monday, December 30, 2019

Maravilloso servicio, aconsejable para cuando hay que dejar el coche.